Yokota wrestlers striving for a new standard
by
Dave Ornauer
February 9, 2006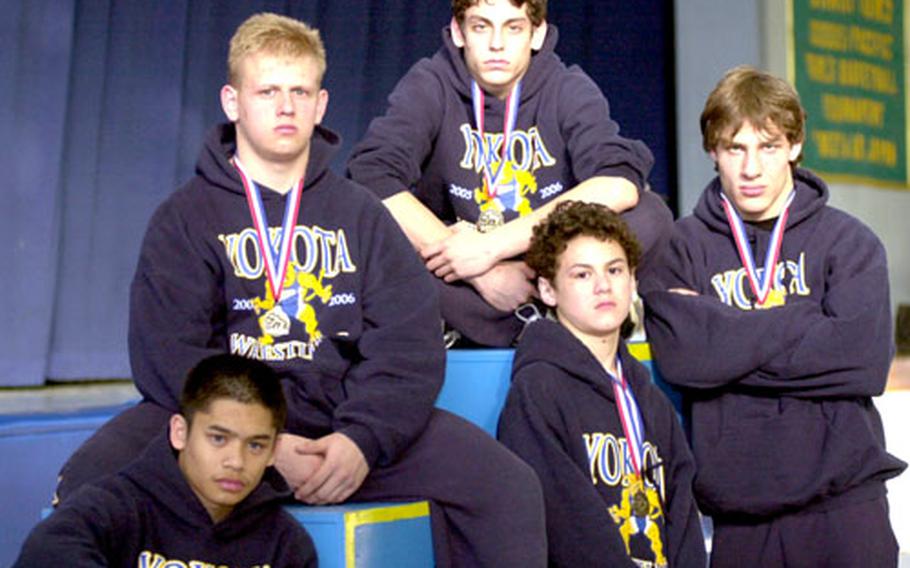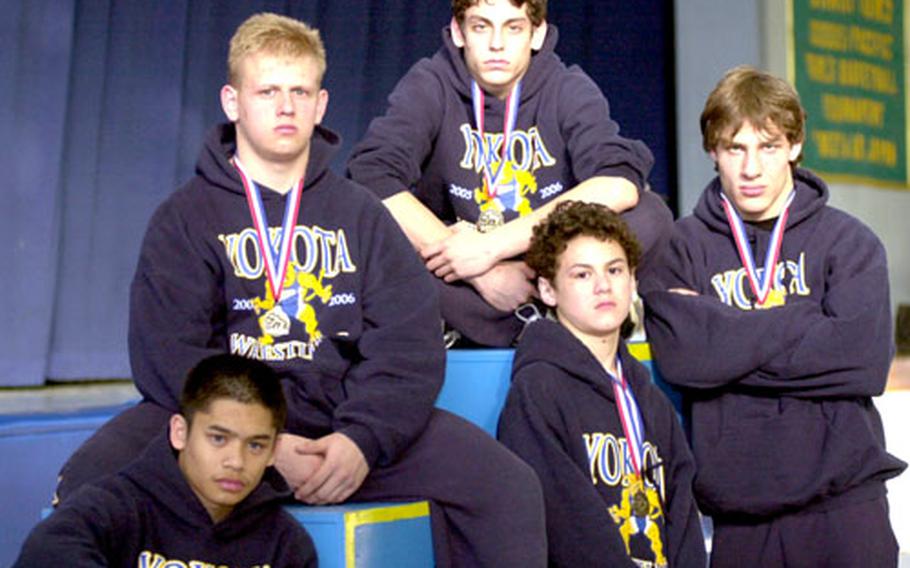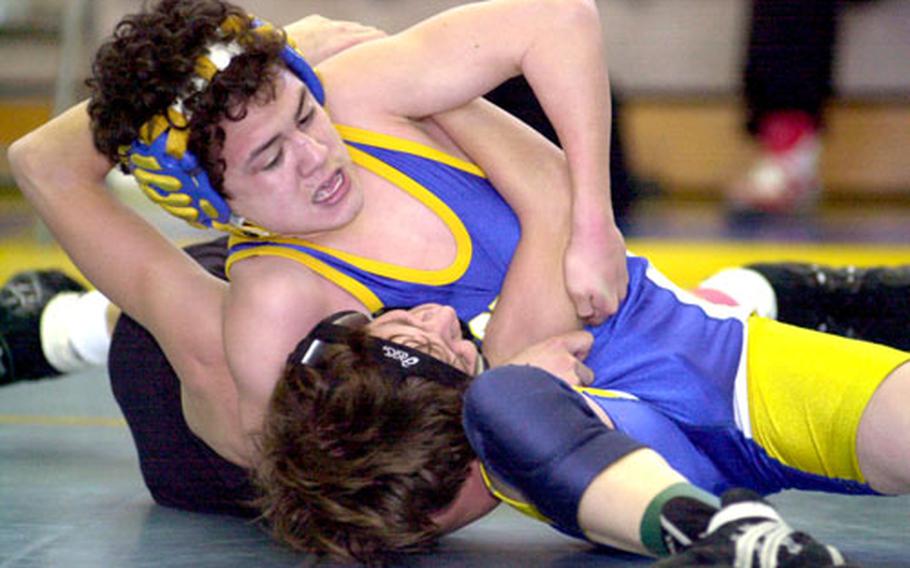 YOKOTA AIR BASE, Japan — Brian Kitts rose from his chair, pumped his fist in triumph and turned to the crowd at Capps Gym, smiling ear to ear.
Nick Guzman (108 pounds) had just bested Robert D. Edgren's Moose Dietrich, giving the Yokota Panthers the first of five gold medals, leading to the team title in Saturday's first-ever Department of Defense Dependents Schools-Japan wrestling tournament.
But Kitts was also celebrating the future. "Guzman," he said. "Another freshman. He'll be here until he graduates."
Kitts and the Panthers say they're not satisfied with being DODDS-Japan champions, not even with their first Kanto Plain Association of Secondary Schools regular-season title in 22 years, their first unbeaten dual-meet season since 1978-79 and three in-season tournament titles.
"We someday would like to be known as the 'Yokota football of wrestling,'" Kitts said. "We're setting the table for becoming what I hope turns into a Pacific power."
A tall order, considering that Panthers football squads hold seven straight Japan Football League and Kanto Plain gridiron titles and a 62-7 overall record since Tim Pujol became head coach in 1999. Compare that to Yokota wrestling, which has only three Kanto Plain titles since 1978-79, and two Far East tournament titles: one in 1978; the other in 2002.
"It has to start somewhere," said wrestler Zach Dopslaf, a 2005 180-pound Far East gold medalist. "Football had to start somewhere."
Yokota football wandered in the wilderness before Pujol came along. Wrestling was in similar shape until Mark Hanssen arrived for the 1999-2000 season.
Coaches around the theater say continuity is key: keeping the same wrestlers, learning from the same coach using the same system. But given DODDS' environment, most wrestlers and coaches seem as if they're navigating revolving doors.
Even more important than continuity, said Kinnick assistant coach Go Yamada, is for coaches to know every wrestler's tendencies, their good moves, their weaknesses, their moods. "If you build each individual wrestler, you build a solid program."
He points to his own mentor, Scott Smith, whose teams won four titles for Kinnick. "He knew his wrestlers like the back of his hand," Yamada said.
He said Kitts, an assistant under Hanssen for four years, is one example of such coaches. So are Steve Schrock of Kadena, with his program since 1996; Julian Harden, Seoul American's coach since 1993; and Terry Chumley, assistant and head coach at Kubasaki since 1997.
"That's why those schools have strong teams," Yamada said.
Yokota has some of the pieces in place. Eight of Kitts' 14 regular wrestlers will return, including defending Far East champions Patrick Pamintuan (115) and Jason Rodriguez (122).
"All the wrestlers are starting to understand the basics," said Scott. "They're interested in learning the game. They inspire each other to work harder."
Also returning for Yokota will be DODDS-Japan champion and freshman Mark Meade (101), sophomore Robert Rodell (129), a wrestler since middle school, junior Kyle Shimabukuro (141) and sophomore Darnell Murphy (148).
"I've gotten lucky with a great group of kids," Kitts said. "We have a good middle-school program that feeds into the high school. I have great role models as coaches and the support of the school."
Those factors have helped pull Yokota wrestling so far out of its mid-1990s dark days that now the team eyes achievements greater than just a Far East tournament title, Kitts said.
"Mark (Hanssen) took a laughingstock, the biggest joke in Asia, and in four years he turned it into a winner. I have some big shoes to fill," Kitts said.
"Hopefully, we're building the right mentality, the same one the football team has when it steps on the field, not that they're going to win, but by how much."