Yokota wins DODDS-Japan softball title
by
Dave Ornauer
May 17, 2004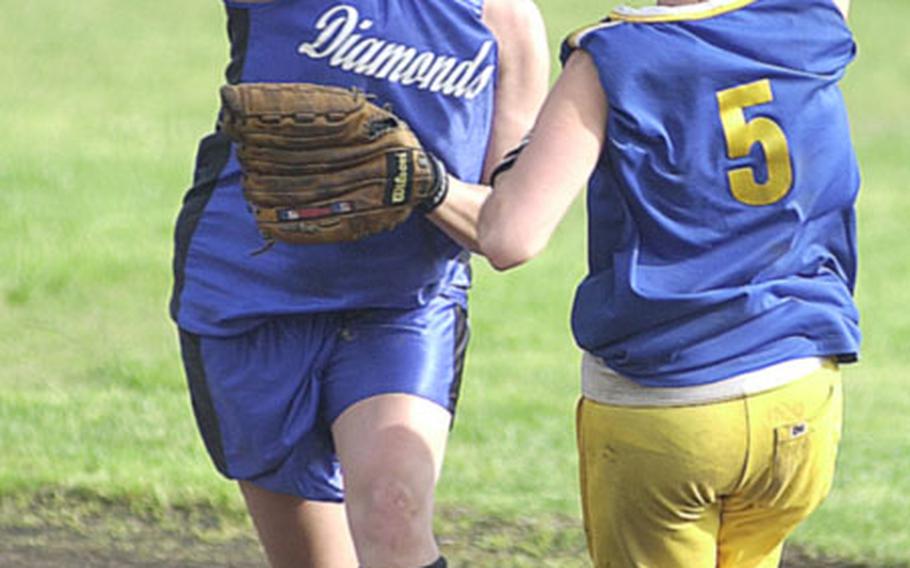 ATSUGI NAVAL AIR FACILITY, Japan — All weekend, Brittany Grizzard waited for Misawa Diamonds pitcher Sheryl Stake to throw her an outside pitch that the Yokota Panthers third baseman could drive to right field.
In the fourth inning Saturday, Grizzard got her wish — and Yokota got the break it needed to win the Department of Defense Dependents Schools-Japan girls softball tournament title.
"She'd been giving me inside pitches, then she finally pitched me outside. I took it to right field and ran the whole way," Grizzard said of her two-run, inside-the-park home run that tied the game 2-2 and propelled Yokota to a 10-6 victory.
"That boosted our entire team," said Darlene Seeley, who drove home the tiebreaking run in the fourth and gave Yokota a lead it held thereafter. "That woke everybody up. That was everything for us."
Yokota fell behind 2-0 in the first on a two-run, inside-the-park homer by Diamonds first baseman Langley Yard.
The Panthers (18-1) have won six straight league titles and went 5-0 in the tournament despite 50 percent of the team being freshmen.
"It was a good way to end it," coach Bonnie Seeley said, emphasizing that teamwork brought the championship to Yokota. "It was so awesome. We would not be in this championship game without everyone. Such great teamwork."
The Panthers also got a boost from the boys baseball team, which came over from Camp Zama to Atsugi's Ranger Field to cheer for the girls after finishing fourth in the Kanto Plain Invitational Tournament.
"Look at those guys," Seeley said as the boys congratulated the girls on their title. "It's all about Yokota teamwork."
The Panthers added a run in the fifth on Monica Fletcher's RBI single. Carla Bruschuk's two-run single and Lisa Lee's run-scoring single were the highlights of the Panthers' six-run sixth that broke the game open.
The Diamonds cut the gap by four in the seventh, helped by RBIs by Ryan Smith and Sarah Campbell, but it was as close as they would get.
Host Trojans settle for second in Kanto Invitational baseball
CAMP ZAMA, Japan — Rubber-armed John Logue was too much for Zama American to handle in Saturday's Kanto Plain Association of Secondary Schools Invitational Baseball Tournament championship game.
Pitching his second complete in as many days, the St. Mary's International right-hander gave up six hits and three walks, struck out eight and hit a fourth-inning single as the Titans defeated the Trojans 12-6.
"It's amazing how you can pitch two complete games in two days," Trojans coach Tom Allensworth said of Logue, who allowed nine hits and struck out nine in a 12-3 victory over the Yokota Panthers on Friday. "He hung in there."
Logue's two-run single was sandwiched between a two-run single by Seob Yoon and an RBI hit by Takuma Nakamoto as the Titans broke open a close battle with a five-run inning. St. Mary's tacked on four runs in the fifth — three on Chris Terai's bases-loaded triple — to seal it.
Three Trojans pitchers allowed nine hits, issued 13 walks and hit two batters. Zama committed three errors and allowed five stolen bases, four in the second inning. Logue and Yoon each went 2-for-3 with two RBIs.
Will Badillo went 2-for-3 with a triple and two RBIs and Miguel Vega and Nick Villasana each drove in runs for Zama.
Despite the defeat, Allensworth expressed pride in a young team that lost five of its first six games but won 12 of its last 17.
"They played really well," he said. "The last month and a half, they really came together. We just had no depth. Once I had to go away from our starting nine, it really showed our weakness."
Zama lost its first two games against St. Mary's in March, but last month swept the Titans at home, a fact not lost on Titans coach Tom Molina.
"Zama's a team that can always come back," he said, noting that before the fourth inning, "it was anybody's ballgame. They [Trojans] kept the pressure on. It was a question of who got the first break. We did and we hung on."