Yokota thumps Kadena to remain perfect
by
Dave Ornauer
November 3, 2012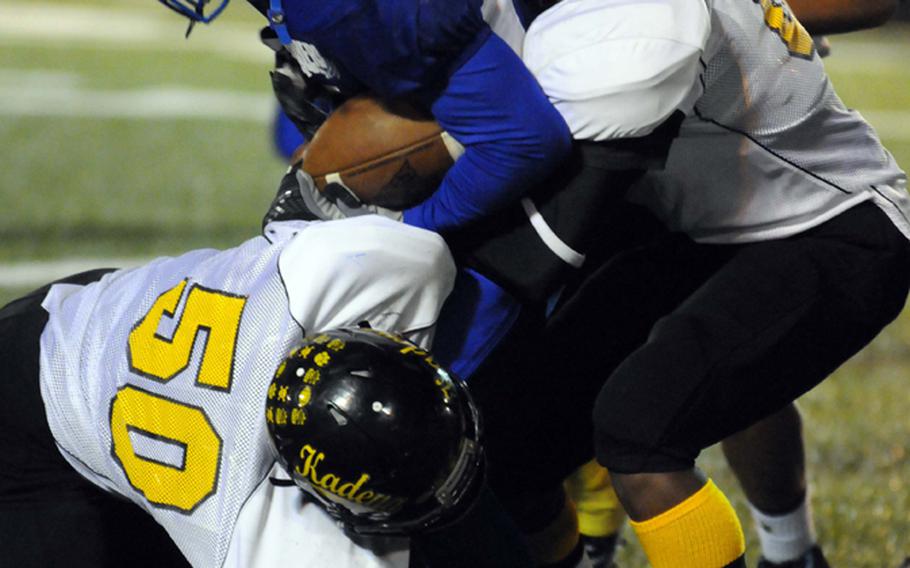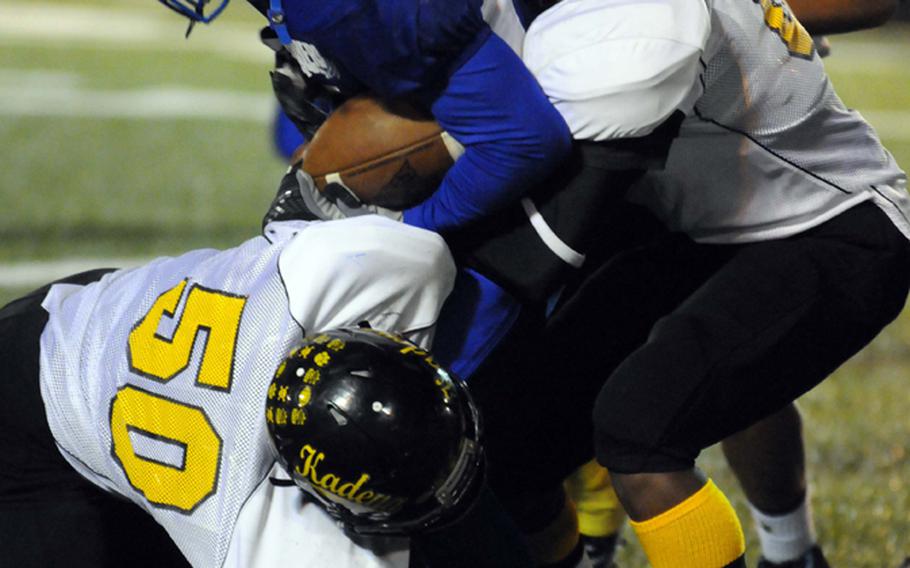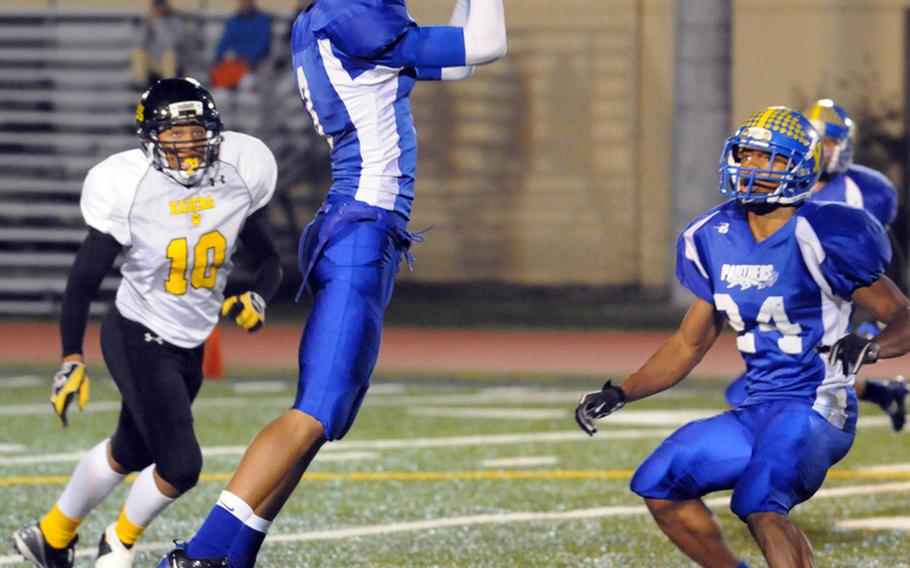 YOKOTA AIR BASE, Japan – For a guy who says his primary sport is basketball, Mikey Henagan is proving rather fair as a pass interceptor.
The senior defensive back picked off two passes, one he returned for a touchdown and the other which set up a score, and six different running backs ran for TDs as Yokota vaulted back to the Far East Division I title game Saturday with a 52-12 romp over Kadena.
Yokota (10-0 overall, 5-0 D-I) will host Kubasaki (6-3, 4-1) on Nov. 17 in a rematch of the Panthers' 34-6 win over the Dragons last Nov. 12.
"It feels really good," said coach Tim Pujol, whose Panthers reached their fifth D-I championship game since 2007. "We're in position to play for what we want on the field we want to play for it."
Henagan's first interception, which set up Morgan Breazell's second of two TD runs, and Henagan's pick-six on the next possession were instrumental in Yokota seizing a 34-point lead in the game's first 15 minutes, 27 seconds. The rest of the game was played with a running clock.
While Yokota's offense outgained Kadena's 333-174, the Panthers pressured quarterback Dom Shea all night, sacking him three times, twice by Ke'Ondre Davis. Shea threw three interceptions and wildcat QB Justin Sego threw two. Stanley Speed had two of the picks for Yokota.
"All night, the defensive front line got good pressure" on Kadena, Pujol said. "If you do that, you can force mistakes and capitalize on them. The pass rush and secondary were tested and did quite well."
On the other side of the ball, Donavan Ball rushed five times for 99 yards and a touchdown, while Breazell added 38 yards on eight carries, becoming the second Yokota back with more than 1,000 yards this season. Raymond Butler, the other one, added 59 yards and a TD on five tries.
It's the first time since Darren Taylor and Jo-Jo Anthony in the 2000 season that Yokota has had two 1,000-yard rushers.
Other Yokota RBs with touchdowns were Speed, Jacob Davis and J.J. Henderson. Butler had the fifth Yokota interception.
Yokota's win negated a stellar performance by Kadena's Justin Sego, who caught a TD pass, ran for another score and had 171 all-purpose yards on 19 touches. Teammate Joey Dyer added 125 total yards on six touches.
"Coach Pujol has a really special group of players; I've had teams like that," Kadena coach Sergio Mendoza said.
It's been a struggle of a season for Mendoza and his Panthers (3-4), who closed with four losses in five games, had to play two of their games at Kubasaki's home field while their home field was being turfed and lost six players to undisclosed code of conduct violations at midseason.
Despite Kadena finishing with its first losing record since the 2005 season, "I'm proud of my guys," Mendoza said. "We went through some hardships that many people don't know about. We had some victories not on the scoreboard that I'm really proud of."