Yokota teen skating in Japan junior-high championships
---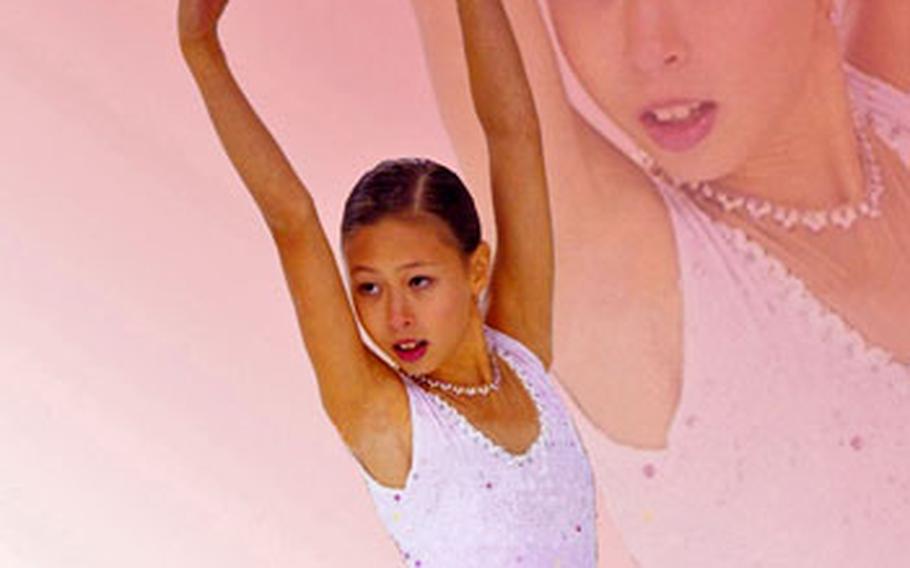 YOKOTA AIR BASE, Japan — Just days before the world's finest figure skaters head to Turin, Italy, for the Winter Games, a Yokota middle-school student sets out for what might be the first step toward her Olympic dream.
Mariko Heimbach, an eighth-grader at Yokota Middle School, travels Friday to Kushiro, on Hokkaido in northern Japan for the Japan Amateur Skating Federation's national junior-high figure skating championships, scheduled for this weekend.
"I'm excited, anxious," Heimbach said Monday at Yokota Middle School. "I just want to get out there and do what I can. I just want to have fun and try my best."
Mariko is the second Heimbach to aspire to higher-level competition in her respective sport. Her older sister, Elliko, is a former Japan national high school champion swimmer who qualified for the 2004 Japan Olympic trials.
The daughter of Dr. Rick Heimbach, educational technologist at Yokota West Elementary School, Mariko, who's lived in Japan most of her life, began skating five years ago at the Akishima Showanomori, about 10 miles outside of Yokota's east gate.
She did it merely for fun, she said … until two years ago, "when I started landing all my jumps," Mariko said. "I just thought I was doing it for fun, but suddenly I realized I was getting good."
Mariko improved to the point where she signed up for the Japan Amateur Skating Federation's qualifying test.
She failed to qualify for the junior-high championships the first time she tested last year, but four months ago achieved "level 6," or junior status, by hitting a double axel, double flip combination and double lutz. The highest possible level is 7, or senior status.
Mariko hasn't landed a triple jump yet, "but I'm working on it," she said.
The competition at Kushiro lasts three days. Mariko will first skate school figures, followed by a short program. If she grades high enough, she'll qualify for the long program on the final day.
She admitted to no aspirations other than "having fun" at Kushiro.
For his part, Rick Heimbach is happy that both his daughters are thriving in what he termed "lifetime sports."
"I'm just happy that they're happy, healthy and involved in something productive and that will stay with them all their lives," he said. "If anything comes out of it, great."
---
---
---
---