Yokota's little big man enjoying breakout year
by
Dave Ornauer
October 27, 2005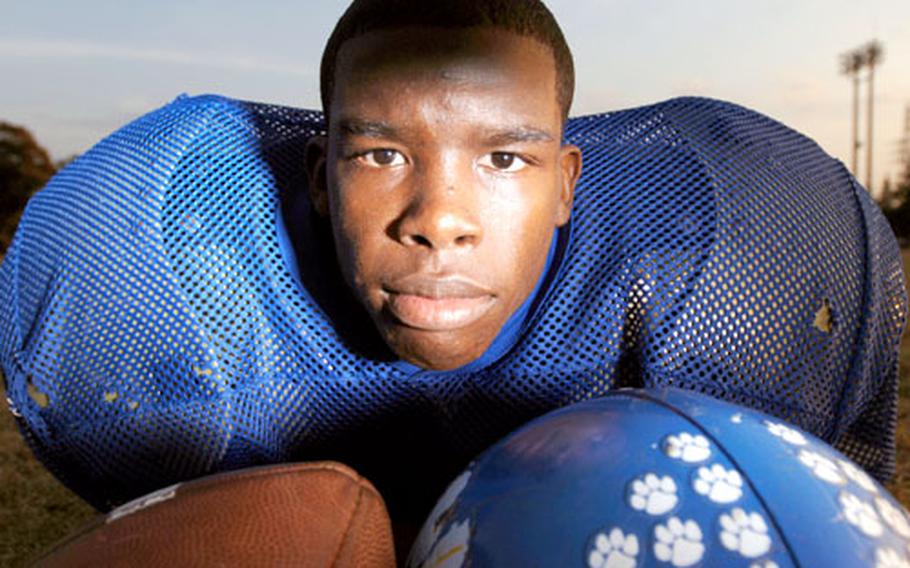 YOKOTA AIR BASE, Japan — At first glance, eyes might open as wide as teacup saucers when one views Anthony McNeill on a football field.
At 5 feet 3 and 125 pounds, most of his teammates tower over him, and all but one outweigh him by at least 20 pounds.
"Some people mistake me for my age," said McNeill, a sophomore who turned 15 last week. "Some people think I should be in ninth grade. Others mistake me for an eighth-grader."
But there's no mistaking the fact that McNeill has emerged as Yokota's go-to back, which at the start of this season seemed to be the missing puzzle piece in the Panthers' push for a seventh straight Japan Football League title, which it won last Friday.
McNeill's size belies the fact that he leads the Panthers in rushing, with 665 yards and three touchdowns on 81 carries.
"It kind of surprised me," McNeill said of his breakout year, after spending last season on Yokota's junior varsity.
Without a star running back, Yokota coach Tim Pujol planned to use a running-back-by-committee approach, with McNeill, senior Scott Monahan, junior Justin Hudson, sophomore Patrick Pamintuan and others toting the ball as needed.
But out of the gate, McNeill made it clear who the top dog would be. In Yokota's 49-0 season-opening victory over Zama American, he made the most of his opportunity by gaining a team-leading 99 yards.
"They put me in and I showed what I could do," McNeill said. "I didn't expect this. I'm surprised and pleased with it."
Not surprised at all by McNeill's success is Pujol, who said he felt that McNeill showed good potential on JV last year.
"We knew he could run the football, and he's a good strong safety and is good on special teams as well," Pujol said. "We just didn't expect him to play such a prominent role on offense."
"He can cut on a dime and give you nine cents change," Pujol said, adding that McNeill is a "different type of runner" than his predecessors. "He has quick feet and is a good north-south runner, which you would not expect because of his size. But he's tough."
Originally from Fayetteville, N.C., McNeill transferred to Yokota 18 months ago. While McNeill learned under JV coaches Brian Kitts and Joe Howell, his older brother, Jamal, became a star in football, basketball and soccer.
He looked up to his older brother, as well as former JFL rushing champion Chris Roach, whom Anthony McNeill said was "like a bigger brother to me," and credits them and his coaches for his development.
"Chris taught me to hit the hole as hard as you can and don't look back," McNeill said. "My brother always told me to play my game, to step up and keep my focus."
Kitts and Howell worked with him on staying low and finding open spaces, and to make his size work for him. With the JFL title sealed, McNeill and the Panthers now face even more of a challenge than the Rising Sun Bowl — the new Far East Class AA playoffs, which Yokota begins Nov. 5 with a semifinal date at Seoul American.
"Hopefully, we'll go over there and do what we have to do, go there, do our best, win a championship and keep the tradition alive," McNeill said.
All of what's been accomplished and what may yet await the Panthers at the end of the playoff trail is "overwhelming," he said. "It was a blessing to come here and be a part of this tradition. It's special."