Pacific football players of the year
Yokota's line cleared way to first Far East title
by
Dave Ornauer
November 25, 2011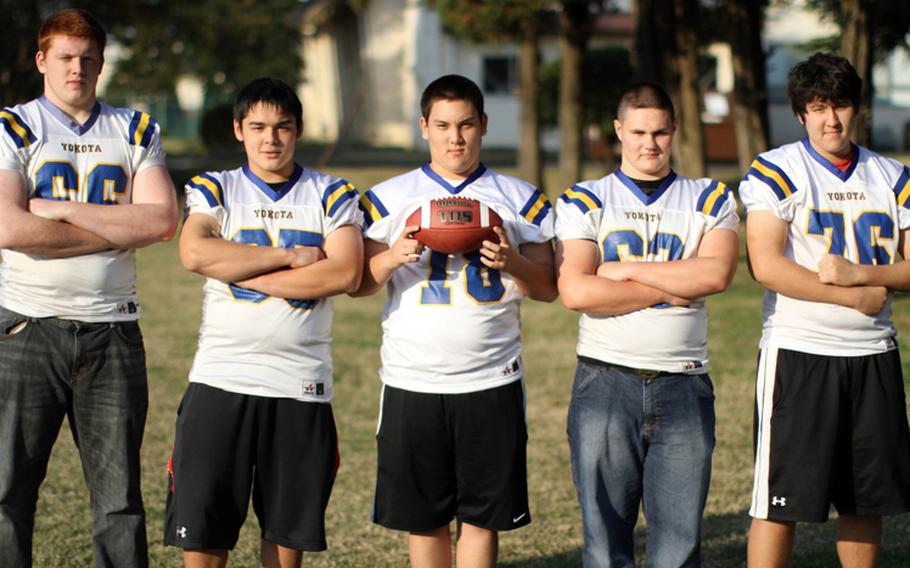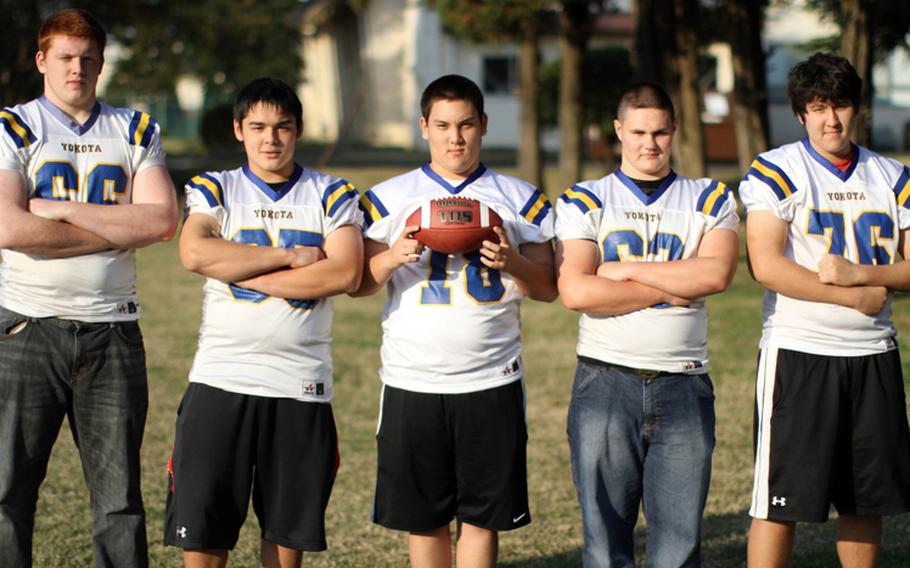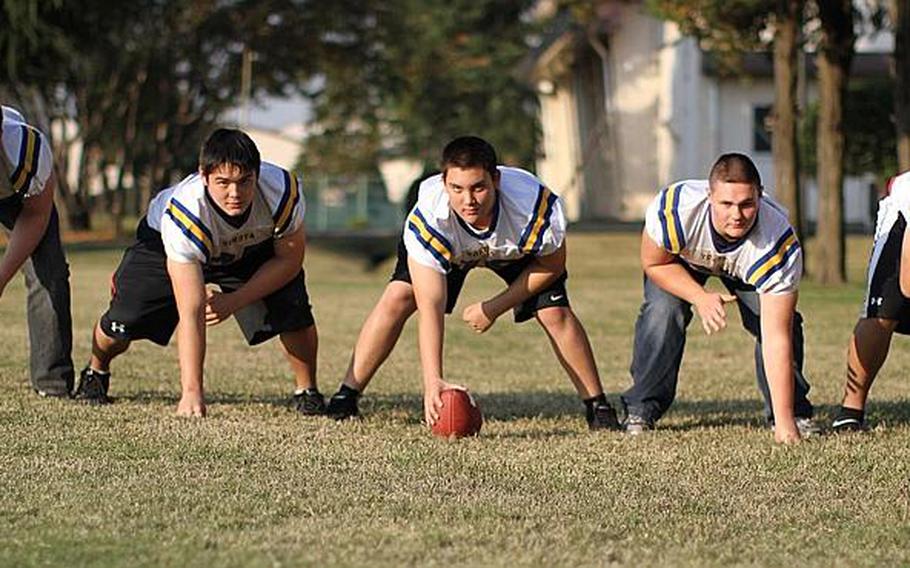 From virtually the time two-a-day practices began on Aug. 9, everybody acknowledged Yokota football's fate rested with the play of its offensive line.
Tackles Max Lester and Jesse Hogan, guards Jake Jackson and Dylan Kessler and center Victor Madaris did not disappoint.
They plowed the road for more than 3,500 rushing yards and 45 rushing touchdowns as the Panthers won another DODDS Japan championship and a share of a Kanto Plain league title before achieving heights never before reached in school history: a first Far East Division I football title.
For that effort, plus helping no fewer than seven Panthers running backs reach triple figures in yards, the Yokota offensive line share Stars and Stripes Pacific football Players of the Year honors.
"They all realize they're not going to be in the public eye," coach Tim Pujol said, "but they don't mind doing the dirty work if it means victory. Our backs enjoyed fantastic seasons and yard totals thanks to the guys up front."
From left to right tackle, with Hogan maxing out at 265 pounds, all five linemen tipped the scales at over 200 pounds – a luxury Pujol has not enjoyed since 2001, when the Panthers won their second straight Rising Sun Bowl all-DODDS Japan title.
Then as in the season just completed with Yokota's 34-6 D-I title-clinching win over Kubasaki, "we still ran our full complement of plays, still ran options, traps, counters; we just didn't have to go to them as often as we did when we were outsized," Pujol said.
Opposing coaches were just as quick to praise Yokota's line work.
"Cohesive, powerful unit," said Steven Merrell, whose Zama American team lost twice to Yokota by a combined 80-7.
Kadena, which beat Yokota 50-23 for the 2010 D-I title, had the tables turned on Oct. 29 as Yokota routed Kadena 42-6 in the D-I semifinal.
"Good technique, good execution," Kadena coach Sergio Mendoza said. "Things they tried to do on us last year, except they didn't have the size and experience. It was a matter of growing a little and they did."
"Efficient," Kubasaki coach Fred Bales said. "They were good at moving the line of scrimmage. They came off the line hard and hit somebody and kept with their blocks. It's a matter of doing it week after week, game after game, and they did."
All five linemen are juniors, having completed their second season as a unit, and the same line is expected to return intact for Yokota's 2012 season. All told, Pujol said, 16 starters should return, 10 on offense.
"I can't think of a time I've looked at a depth chart and seen a better collection of athletes coming back for Yokota High School," Pujol said.
"That's good for them, tough for the rest of us," Merrell said.
---
---
---