Yokota's Harvin seeking football, hoops titles
by
Dave Ornauer
September 24, 2009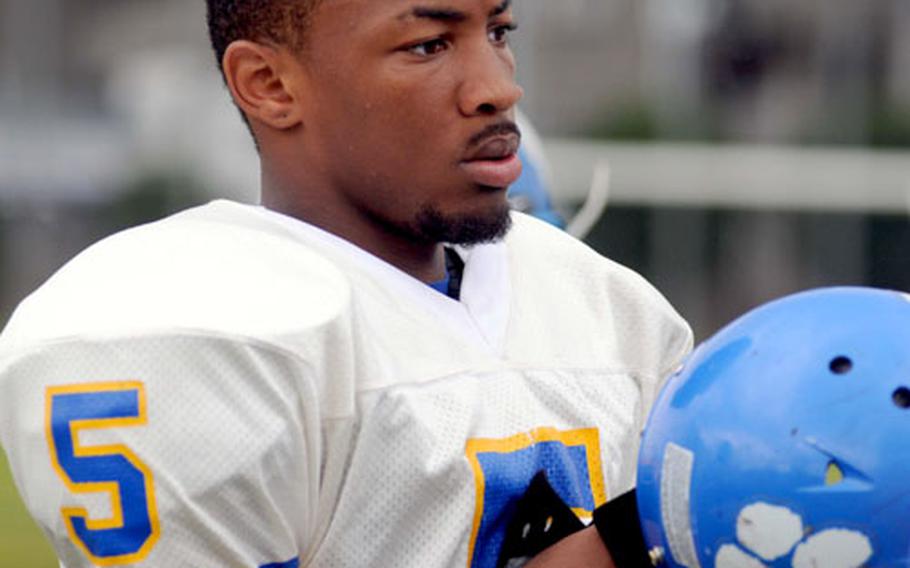 YOKOTA AIR BASE, Japan — DeEric Harvin's tone sounded imploring, almost urgent. His Yokota football team had just walked off the field 21-7 winners over Kubasaki, but the Panthers' senior quarterback wanted his teammates to remember one part of the contest in particular.
"You come out every game like we did in the second half, we'll win a championship. I guarantee, we'll win a championship," Harvin said of a seven-minute stretch in which Yokota scored on consecutive possessions, grinding the ball down the field like Panthers teams of yore.
If the senior quarterback's tenor sounded urgent, well, it was.
You see, Harvin wasn't supposed to be at Yokota this school year, or last. He was able to stay only because his father Dwyane, a technical sergeant with Yokota's 374th Medical Group, got an extension that allowed DeEric to stay until graduation.
That gave him an opportunity to settle some unfinished business. Yokota has come up short every year since the Far East Class AA football playoffs began in 2005, and Harvin wants to end that streak.
He'd also love to close the basketball book on a successful note — his team lost last season's Far East Class AA final 35-33 to St. Mary's International on Yokota's home court.
Harvin has that opportunity, along with the "do-or-die" pressure that comes with it.
"I don't dwell on it," Harvin said before last Saturday's victory over Kubasaki. "As the year goes by, I feel pressure, but that's part of being a leader, trying to get the team where it needs to be. It's part of being Yokota. Everybody's out to get you."
This is Harvin's fourth season in Yokota's program. The Panthers have relished DODDS-Japan and Kanto Plain titles every year since 1999, but they've not closed the Far East playoff deal.
"He's tasted some success, but the last three years have ended with a loss, two of them as a starter," coach Tim Pujol said. "I'm sure there's a sense of unfinished business for him."
Some things one simply can't control, such as a sure touchdown pass dropped in the end zone in last year's 19-16 football semifinal loss to Seoul American. Or Keron Brown's half-court shot that bounced off the rim at the buzzer, giving St. Mary's the Class AA hoops title.
"It's all God's will. It's how things fall sometimes. Maybe it [last year] wasn't our year to win," Harvin said.
So far, the 2009-10 script has played out well. Yokota football is 4-0, with Harvin 25-for-42 for 449 yards and five TDs. Still, Harvin feels his Panthers have room to improve.
"Little things, like timing mesh points, timing of a play, getting the ball out of my hands quickly, blockers running right," he said.
"We have to increase the intensity every game, take it to the next level," said fellow senior fullback Rainey Daley — another Panther who'd been due to leave last year.
A home victory Friday over Kinnick will punch Yokota's ticket to its fifth straight Class AA semifinal berth.
This year's playoffs are all on Okinawa, with DODDS-Japan facing the Okinawa Activities Council champion in the second semifinal on Nov. 9. The title game is on Nov. 14.
Harvin says part of forgetting Yokota's football past is to not look back. "I get flashbacks. But you can't look back on what you've done. I've always looked forward. That's what gets the team where they need to be," Harvin said.
"My mom always told me to look forward, not behind," Daley said. "I'm just trying to get my mind focused on what's to come."
Whether that includes a Class AA title remains to be seen. Harvin says what's important is not what's on the scoreboard, but what the team leaves on the field.
"I'm going to give it 100 percent all the time," he said. "As long as we put everything out there … play as a team, that's all I care about. That's all that matters."
That said, what does Harvin feel Yokota can accomplish?
"We're going to get it," he said. "No doubt about it. We want the gold. Anything we can get our hands on."
---
---
---
---