Yokota runs over Kinnick in decisive home victory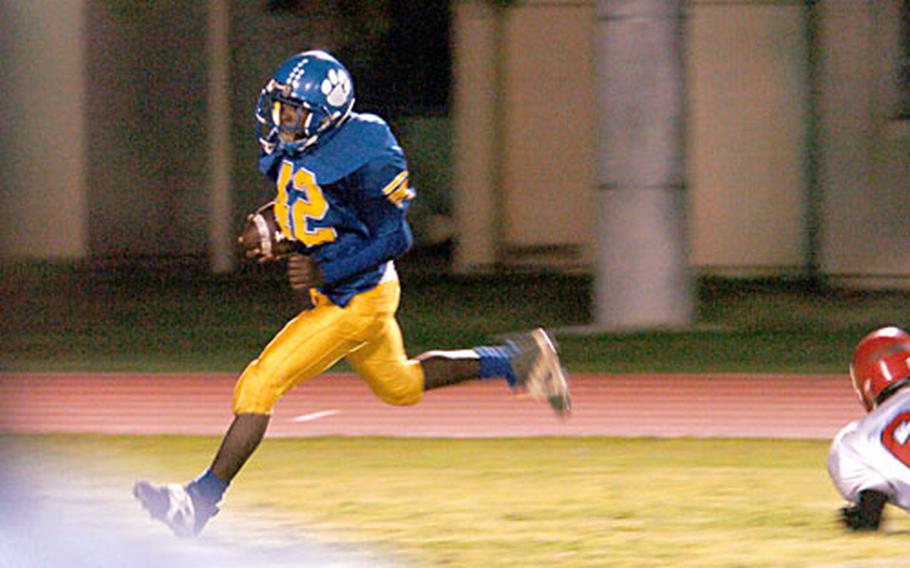 Using a "running-back-by-committee" approach has paid dividends this season for Yokota.
Seven backs carried the ball for the Panthers, and four scored touchdowns. Justin Hudson scored three times as Yokota pummeled Nile C. Kinnick 52-0 on Friday night at Yokota's Bonk Field.
"If you go back every year, you can call out one name," Yokota coach Tim Pujol said. Since taking the Panthers' helm in 1999, he's usually counted on one featured back — Jo-Jo Anthony, Darren Taylor, Mike Chamberlain and Roy and Chris Roach — and a solid supporting cast.
"Going into this season," he said, "we all thought the running game would be done by committee. It's OK to have it like this. It's just something we're not used to. As long as we win, it doesn't matter who gets the carries, as long as we get yards, first downs and touchdowns."
Hudson has scored five TDs in the Panthers' first two games, accounting for 30 of their 101 points.
"Last year on JV, he was kind of their go-to guy," Pujol said. "He has a nose for the end zone and he's certainly finding the end zone here."
Hudson scored on runs of 6, 2 and 12 yards, finishing with 37 yards on seven attempts. Anthony McNeill contributed a 25-yard TD run and carried 13 times for 107 yards, and fullback Mark Dixon had 43 yards on five carries, including a 4-yard touchdown run.
Quarterback Doug Bloom went 4-for-9 for 73 yards and ran five times for 54 yards, including a 12-yard scoring run. Patrick Pamintuan returned an interception 45 yards for a touchdown, and Stefan Welch booted a 42-yard first-quarter field goal and went 7-for-7 on extra-point kicks.
Yokota has won 50 straight games on the field dating to the 2000 season. That includes the first two of the 2002 season that were forfeited after Yokota found it had used an ineligible player.
"They have a well-coached team. They're strong and fast," first-year Red Devils coach Bill Schofield said after a markedly different end from Kinnick's two encounters last season with Yokota. The Devils led both games but lost 7-6 and 24-7.
This time, Kinnick opened with a 30-yard pass play from Jeff Galang to Jeff Battle and forced three turnovers but had little else to cheer about.
"I think any team can be stopped," Schofield said of Yokota. "You just have to have the will to do it."
Christopher B. Stoltz / S&S
Sophomore Anthony McNeill runs the ball upfield for the Yokota Panthers at Yokota Air Base on Friday night. Yokota beat Kinnick 52-0.
Pacific H.S. football
Pacific H.S. football
Japan Football League
W L Pct. PF PA
Yokota 2 0 1.000 101 0
Edgren 1 1 .500 13 20
Kinnick 1 1 .500 14 58
Zama 0 2 .000 6 56
Kanto Plain Association of Secondary Schools
W L Pct. PF PA
Yokota 2 0 1.000 101 0
ASIJ 1 0 1.000 15 0
Zama 0 1 .000 0 49
Kinnick 0 2 .000 0 67
Friday's game
Yokota 52, Kinnick 0
Saturday's game
Zama at ASIJ, 1 p.m.
Guam football
W L Pct. PF PA
Father Duenas 3 0 1.000 84 8
G. Washington 2 0 1.000 81 6
J.F. Kennedy 2 0 1.000 45 6
Guam High 0 2 .000 12 64
Simon Sanchez 0 2 .000 4 52
Southern 0 3 .000 6 94
Friday's game
Father Duenas Memorial 34, Southern 0
Saturday's games
Guam High vs. Simon Sanchez at Ramsey Field, John F. Kennedy High School, Upper Tumon, 10 a.m.
John F. Kennedy at George Washington, 7 p.m.