Far East D-II baseball
Yokota rallies past Perry to defend title
---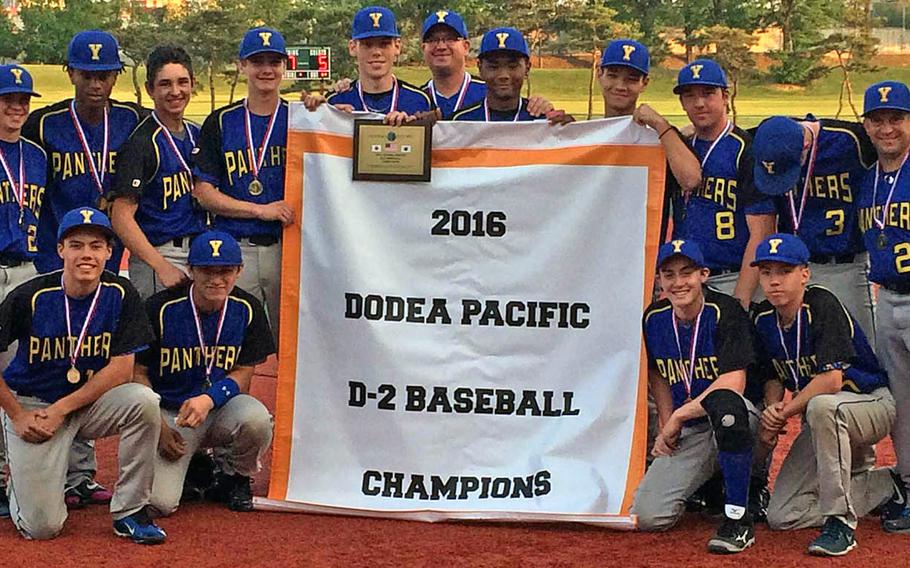 OSAN AIR BASE, South Korea — Capturing Division II Tournament titles continues to be routine for Yokota.
T.J. Reney scattered six hits and helped himself at the plate by driving in three runs as the Panthers rallied from an early 5-3 deficit to beat Matthew C. Perry 10-5 on Wednesday for their second straight Far East D-II Baseball Tournament title.
This title was different from the one Yokota won a year ago, also at Osan, where the Panthers needed two games to stave off then-defending champion Zama. Yokota scored three runs in each of the first three innings and was never threatened by the Samurai after that.
"After months of hard work, we finally brought our goal to full fruition," coach Steven Ferch said.
Yokota continues to pile up the D-II trophies. Since being moved to the small-schools division in November 2014, the Panthers have won 14 Far East tournament titles. The Panthers also repeated the D-II softball title on Wednesday, beating Edgren 3-2.
In Wednesday's baseball final, Reney doubled in a first-inning run and the Panthers also scored two unearned runs to go up 3-0. The Samurai answered with two fielder's choice RBI grounders and Garrett Macias' three-run homer.
But the 5-3 lead didn't last long. Reney and Jacob Mansberger each drove in runs and Sotah Silversmith knocked in the go-ahead run with a single in the second. Mansberger singled in a run in the third and hit an RBI double in the fifth to cap the scoring.
"He's an awesome kid," Ferch said of Reney, a sophomore. "He's fantastic. He's a hard competitor. He plays really hard. Jacob, he's been coming through for us all four years he's played."
Yokota's rivalry with Perry this season has seen its twists and turns. Macias no-hit the Panthers in an 8-1 win earlier this season, before Yokota answered with a 16-1 win last month in the DODEA Japan tournament finals.
Coach Frank Macias "always does a fantastic job, always seems to bring good teams to tournaments," Ferch said. "You have to tip your cap to him."
Mansberger batted 2-for-4 and Reney 2-for-2 and the two combined to drive in seven runs. Silversmith and Easton Gladue each had two hits for the Panthers. Macias went 2-for-4 and Billy Eagmin 2-for-3 for the Samurai, who have finished second in D-II twice in the last three years.
---
---
---
---