Prep roundup
Yokota quartet looking for relay record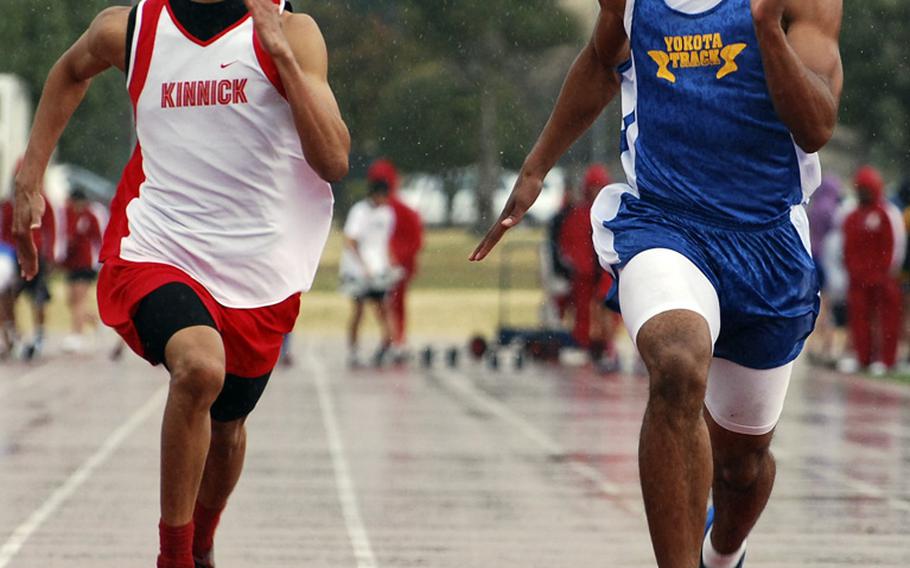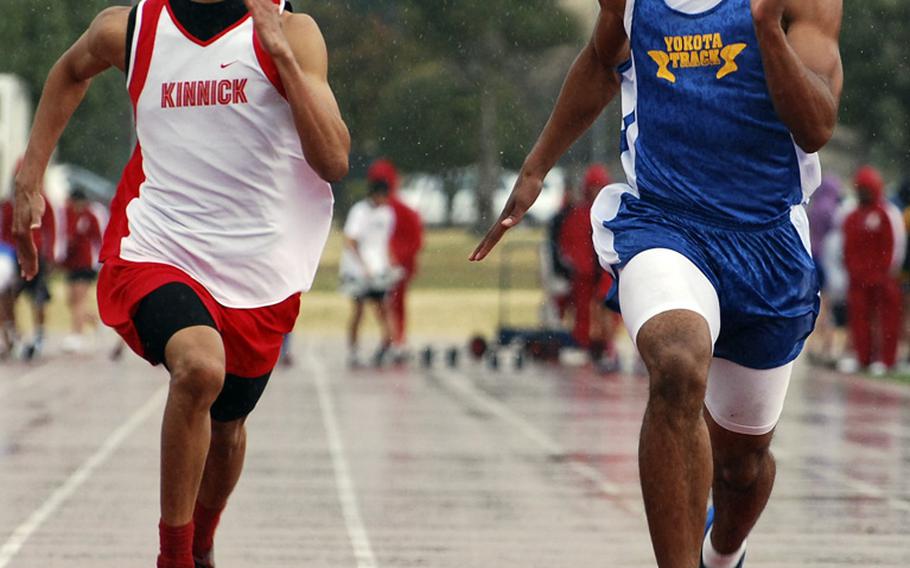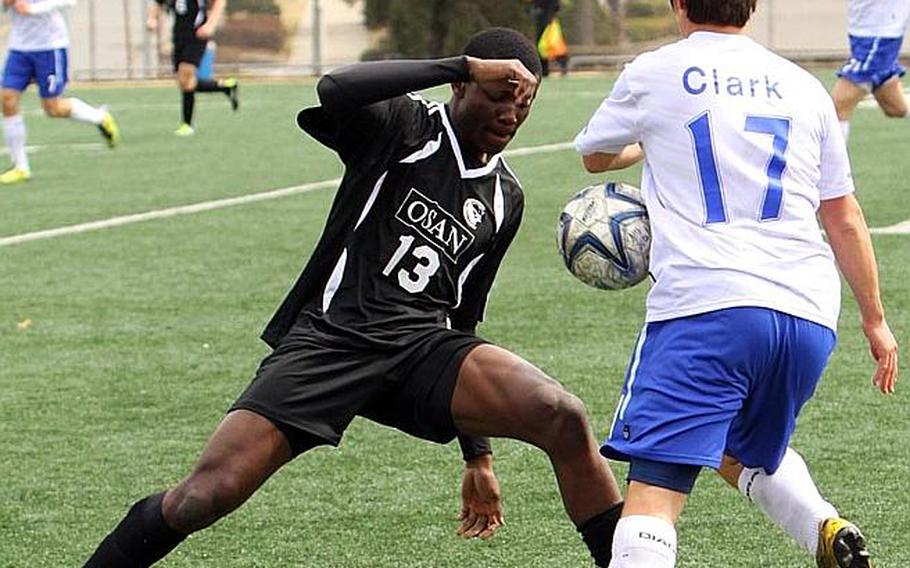 They felt like they had a chance going down the backstretch, the wind at Yokota's sprinters' backs as they made a bid Saturday to top the 15-year-old league record and 1-year-old Pacific mark in the 400-meter relay.
But as anchor Stanley Speed hit the home stretch, he also hit a stiff headwind, slowing Yokota just enough to cross the line in 44.02 seconds. That's .32 seconds off the Kanto Plain mark set in 1997 by American School In Japan and .68 shy of the 43.34 run by Kubasaki at last May's Far East meet.
"The wind was definitely a factor" down the stretch, said Speed, who along with relay mates Fred Gustafsson, Donovan Ball and Preston Brooks had vowed in the run-up to Saturday's meet to take down the record.
"If there's no rain and no wind, we've got this. Guaranteed," Gustafsson said.
Aside from their bold, brazen predictions, "they've got fast feet, too," Yokota coach David Popielski said, adding that the "stars will have to align" for them to crack the record. "They're a good group. They have a shot at it."
In a meet that ended in driving, sideways rain that washed out the 1,600 relay, Nile C. Kinnick stood out above the crowd, led by junior sprinter Val James, who swept the 100, 200 and 400 on what coach Al Garrido calls James' "favorite track."
"All my sprinters like that track," said Garrido, adding that this year's Red Devils look "very similar" to the group that won Far East in 2010, with James taking a leading role. "She shows up and just flat goes. And she hasn't even peaked yet."
Zama American throwers Christian Garner and Roland Cote, who had run the table in three meets, suffered their first defeats of the season.
In Saturday's DODDS Korea meet at Camp Casey's Schoonover Bowl, two-time Far East cross-country champion Amanda Henderson of Seoul American qualified for the Far East meet in the 1,500, clocking a 5:17, to go with her qualifying in the 3,000 a week earlier.
"We took her out of the 3,000, she needed a 5:25, wanted her to concentrate on the 1,500 and it worked," Falcons coach David R. Abbott said.
In Okinawa's fourth quadrangular of the season, Derrick Taylor of Kadena matched Rahman Cairnes of Okinawa Christian International with three boys golds. Kubasaki's Far East cross country champion Erik Armes was a late scratch; Akira Shavers of Zion Christian Academy won the 800 and 1,500, and Armes' training partner Andrew Kilkenny of Kadena won the 3,000.
Armes teammate Allie Reichenberg remained unbeaten in distance events, capturing the 800, 1,500 and 3,000.
Seoul American's Winchip, Edgren's Wolfewicz toss no-nosSenior Chung Winchip got Seoul American's baseball team off to a flying start, tossing a six-inning no-hitter and boosting the Falcons past Osan American 9-1 to open the DODDS Korea season. Alex McDonald drove in two runs as the Falcons topped Daegu 5-3 in the second game of Saturday's twin bill.
Christian Wolfewicz almost matched Winchip's effort, tossing five innings of no-hit ball as Robert D. Edgren opened a DODDS Japan weekend series by blanking E.J. King 20-0. Wolfewicz allowed three walks and struck out 12. Edgren completed the series with a 22-2 rout.
Sophomore Julia Ring has, for now, answered Seoul American's girls softball team pitching-depth issue, getting two wins and making Yun Hui Danforth's debut as coach a successful one. Seoul American beat Daegu 10-0 and Osan 9-7, with Ring striking out 12 batters.
On Okinawa, Richard Allen tossed a complete game and belted a three-run home run in the second game of a doubleheader as Kubasaki swept Okinawa TRY, winning the opener 11-4 and taking the nightcap 3-1.
E.J. King, which came up just short in its bid to win the DODDS Japan softball tournament a week earlier, swept a pair at home from Robert D. Edgren 11-1 and 17-5. Nikka Stephens got both wins and helped herself at the plate by going 3-for-5 with two RBIs in Friday's game.
---
---
---