Yokota, Kinnick to meet in JFL showdown
---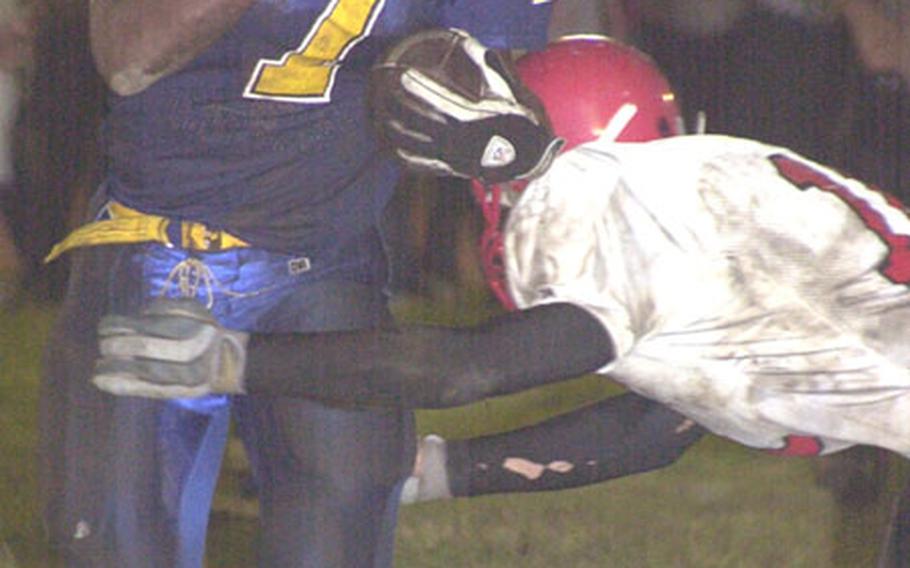 Robert Stovall chuckled. The voice on the other end of the phone, discussing Friday's Japan Football League showdown between Nile C. Kinnick and Yokota, said he "wouldn't be able to sleep" if he missed the contest.
"I don't think I'll sleep until Friday," Kinnick's coach replied.
Both teams, featuring powerful rushing attacks and stingy defenses, take 3-0 marks into a contest many are calling the biggest game in Japan in the last five years. Three weeks into the season, Kinnick holds a half-game lead over Yokota for the JFL lead.
"It will be one of those not-to-be-forgotten games," Yokota coach Tim Pujol said.
A packed house is expected at Bonk Field. Kinnick is trying to line up two spectator buses and another for its marching band, while Yokota plans a pep assembly at 1:45 p.m. Friday inside Capps Gym, among other festivities.
What they'll see are two evenly matched teams, at least on paper.
The Panthers have outscored three opponents 119-34 and piled up 1,009 yards rushing and 15 touchdowns. Leading the way is senior tailback Roy Roach (532 yards, six TDs, 52 carries). Senior fullback Jeremiah Pearcey (228 yards, five TDs, 33 carries) has also been productive.
The Devils, who have scored 101 points and allowed 20, rely on their own power ground game, which has amassed 1,054 yards and 14 TDs. Senior Richie Korth is the pointman, with 485 yards and five TDs on 54 carries.
It's also a battle of Virginia transfers. Yokota boasts Roach and his brother, junior Chris Roach (142 yards, three TDs, 13 carries), while Kinnick suits up senior fullback Brenden Lynce and junior quarterback Leonard Lynce, who have accounted for 348 yards and seven TDs.
So who'll have the advantage?
"It will be a hard-hitting, closely fought battle that will probably turn on a key turnover or a big individual play," Pujol said.
That would be a dramatic departure for a series that's been one-sided the past four seasons. Yokota has beaten Kinnick eight straight times and outscored the Devils 221-13 in that span, with six games ending in shutouts.
Pujol insists the series isn't as one-sided as it appears. Yokota won the two games in 1999 by scores of 14-6 and 8-0, and opened the 2000 season by squeaking past Kinnick 12-7.
Though the Panthers won last season's two games by a combined 77-0 margin, Pujol said "that didn't stop Richie Korth," who gained 175 yards on 58 carries.
"And on his 28th and 29th carries, he'd run as hard as he did on his first. There's no quit in that team. They may have been outmatched in size and talent, but they outmatched us in emotion."
If there's a difference now, Kinnick might hold an edge in size and experience along the line of scrimmage.
The Devils, led by senior center Jacob "Rock" Parker, average 6-foot-1 and 210 up front. The Panthers don't feature a returning starter from last year's Rising Sun Bowl championship line, and senior captain Karl Gerstner, the team's center, remains sidelined with a left knee injury suffered three weeks ago.
Pujol praised sophomore Joe Saffold for his work in relief of Gerstner. "But how can you replace a senior who's been on a championship team? We'd love to have our No. 1 guy in there," Pujol said.
Stovall feels his team's start is just the tip of the iceberg. "We haven't played our best game yet," he said.
"This is our first test to see how we react in a big game against an equally skilled team. Expect us to come out, play hard, not give up and as a team gain respect from Yokota."
---
---
---
---