Yokota ends long drought with Class AA boys title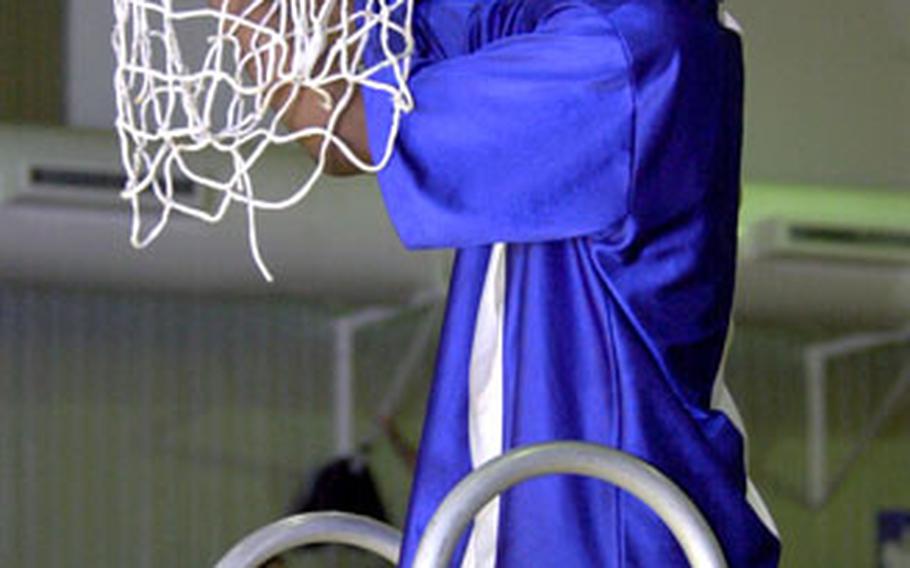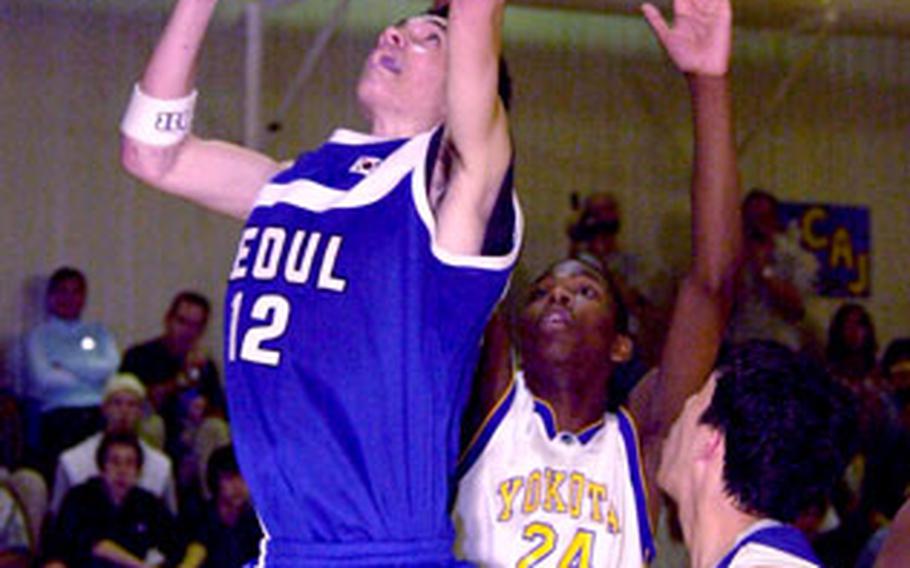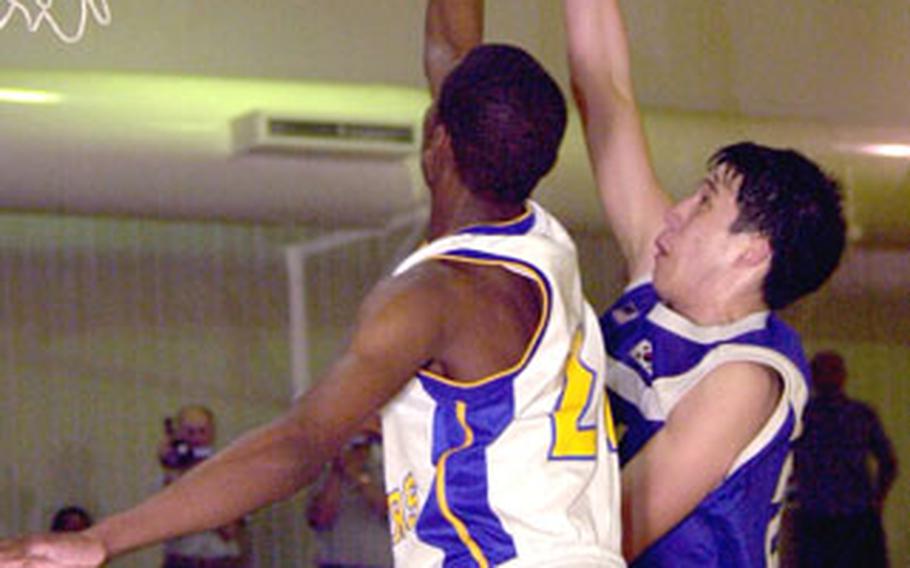 KADENA AIR BASE, Okinawa — The Yokota Panthers' long wait is over.
Caiveon Thomas scored 25 points and Cameron Cooper 16 as the Panthers led from wire to wire, defeating the Seoul American Falcons 72-51 Saturday at Kadena High School for their first Far East High School Boys Class AA Basketball Tournament title since 1976.
"It's too good for words. It feels great," said coach Paul Ettl, adding that the drought-ending victory "wasn't just for us. We tried to win it for all the good Yokota teams that couldn't do these past 30 years what we did today."
Ettl said it was fitting Saturday's victory pushed the Panthers' winning streak to 30 games. They last lost 47-45 to Robert D. Edgren on December 3 at Misawa Air Base — part of a weekend when the Panthers suffered their only three losses of the season.
"We won 30 games in a row and 30 years of frustration (is now) over for Yokota," Ettl said.
The victory also salved the bitterness of Yokota's 66-62 loss in 2005's Class AA title game to Kadena, on the same court.
"That was definitely a motivator," said senior Cooper, who was chosen as the tournament MVP. "That was our goal, to get back to the championship game."
Once there, the Panthers rode the scoring of Cooper and Thomas and played stingy defense, led by senior Jason Ricks, who shadowed the Falcons' senior point guard Jamaal Mohn the entire game.
Yokota led from the start, but broke it open in the second quarter after Mohn was called for an offensive foul.
"From that point, it was all downhill for us," Falcons coach Steve Boyd said. "I could see the momentum shift."
The Falcons had a strategy, Boyd said, to neutralize Cooper and Thomas but "they turned the tables on us. Cooper and Thomas simply played outstanding ball."
Still, the Falcons were within reach until the third quarter. Then the Panthers gradually pulled away, leading by 18 entering the final eight minutes.
"They just kept extending the lead and we could never get back on top of it," Boyd said. "Yokota simply wanted it more than us, and they played like it."
Saturday also was sweet for Ettl. He won his first Class AA championship in four years as Yokota varsity coach, after taking the Panthers to the final twice.
"This was just a continuation of the success of last year," he said. Then, Yokota shared the Japan Basketball League and Kanto Plain Association of Secondary Schools titles with Kinnick. "I hope it's more than a one-year deal."
Notes: In five previous championship game appearances since 1982, the Panthers lost to Faith Academy that season, to American School In Japan in overtime in 1983, to Kadena in 1984 and 2005 and to Kubasaki in 1988. ... Seoul American now is 3-for-5 in Class AA title games; the Falcons beat Kadena for the 1996 championship and topped Kubasaki and Kinnick in 2003 and '04. Seoul American also won the 1994 final 50-48 in double-overtime over Hong Kong International but had to forfeit the victory for using an ineligible player. ... Yokota's victory was the first time the home team had not won the Class AA title since 2002, when St. Mary's International of Tokyo won its second of two titles on Guam.
Boys Class AA tournament
At Kadena High School, Kadena Air Base, Okinawa
Single-elimination playoffs
Wednesday's games
Nile C. Kinnick, Japan, 70, John F. Kennedy, Guam, 44
Zama American, Japan, 76, Southern, Guam, 51
Morrison Christian Academy, Taiwan, 44, St. Mary's International, Japan, 38
Yokota, Japan, 60, Christian Academy In Japan 46
Seoul American 60, Guam High 50
Hong Kong International 57, Father Duenas Memorial, Guam, 48
Kadena, Okinawa, 62, American School In Japan 41
Kubasaki, Okinawa, 77, Simon Sanchez, Guam, 44
Thursday's games
Southern 54, John F. Kennedy 52
St. Mary's 44, CAJ 37
Father Duenas 46, Guam High 34
ASIJ 54, Simon Sanchez 46
Zama 58, Kinnick 50
Yokota 55, Morrison 52
Seoul American 78, Hong Kong Int'l 65
Kadena 61, Kubasaki 55
Southern 92, Kubasaki 70
St. Mary's 45, Hong Kong Int'l 39
Morrison 53, Father Duenas 48
Kinnick 58, ASIJ 46
Friday's games
John F. Kennedy 45, ASIJ 43
Father Duenas 54, CAJ 44
Hong Kong Int'l 64, Guam High 49
Kubasaki 62, Simon Sanchez 45
John F. Kennedy 35, Father Duenas 33
Hong Kong Int'l 67, Kubasaki 59
St. Mary's 56, Southern 39
Morrison 67, Kinnick 62
Yokota 61, Zama 56
Seoul American 77, Kadena 62
Saturday's games
John F. Kennedy 61, Hong Kong Int'l 33 (ninth place)
Kinnick 60, Southern 52 (seventh place)
St. Mary's 47, Morrison 40 (fifth place)
Kadena 73, Zama 67 (third place)
Yokota 72, Seoul American 51 (championship)
Awards
Most Valuable Player: Cameron Cooper, Yokota.
All-Tournament Teams: First team, Cameron Cooper (two-time selection), Caiveon Thomas (two-time selection), Yokota; Jamaal Mohn (two-time selection), Jeremy Christopher, Seoul American; Wilberto Badillo, Zama American. Second team, Travis Ekmark (three-time selection), Nile C. Kinnick; Shmarua Phelps, Anthony Soroka, Kadena; David Willis, St. Mary's International; Elliott Tan, Morrison Christian Academy. Honorable mention, Gerald Paulino, Southern; Jerry Torres, John F. Kennedy; T.J. Gavlik, Hong Kong International; Alex Mierzejewski, Kadena; Aaron Tabor, Zama American; Paul McDonald, Morrison Christian Academy; Jude Martinez, Father Duenas Memorial; Vance Maxey, Kubasaki; Jason Ricks, Yokota; Andrew Luna, Seoul American.
Team Sportsmanship Award: Father Duenas Memorial.
Saturday's summaries
Championship
Yokota 20 17 23 12 72
Seoul 16 11 15 9 51
Leading scorers: Yokota, Caiveon Thomas 25, Cameron Cooper 16; Seoul American, Jeremy Christopher 15, Andrew Luna 13.
Third place
Kadena 26 15 15 17 73
Zama American 21 17 15 14 67
Leading scorers-Kadena, Jamil Barney 18, Alex Mierzejewski 13, Marquis Newton 12; Zama American, Wilberto Badillo 23, Aaron Tabor 18, Ben Bishop 17.
Fifth place
St. Mary's 14 11 8 14 47
Morrison 2 11 15 12 40
Leading scorers: St. Mary's International, Young Do Yeon 16; Morrison Christian Academy, Paul McDonald 17, Elliott Tan 11.
Seventh place
Nile C. Kinnick 22 10 17 11 60
Southern 11 11 18 12 52
Leading scorers: Nile C. Kinnick, Travis Ekmark 20, Emanuel Wuyckoff 19; Southern, Jarvis Duenas 19.
Ninth place
Hong Kong International 11 2 11 9 33
John F. Kennedy 14 17 13 17 61
Leading scorers: John F. Kennedy, Merwin Martin 25, Eric Alsaris 18; Hong Kong International, David Mock 8.