Yokota downs Misawa, takes lead in USFJ-AFL
---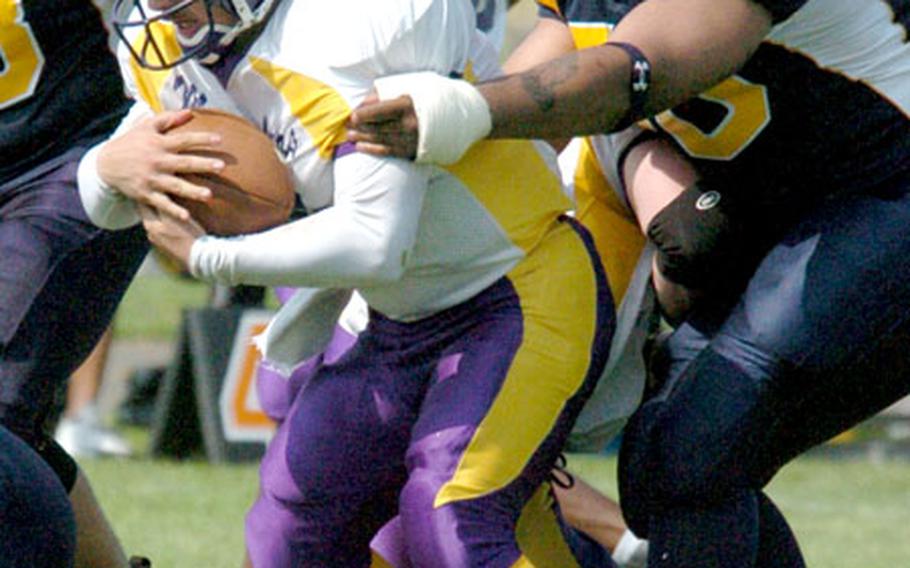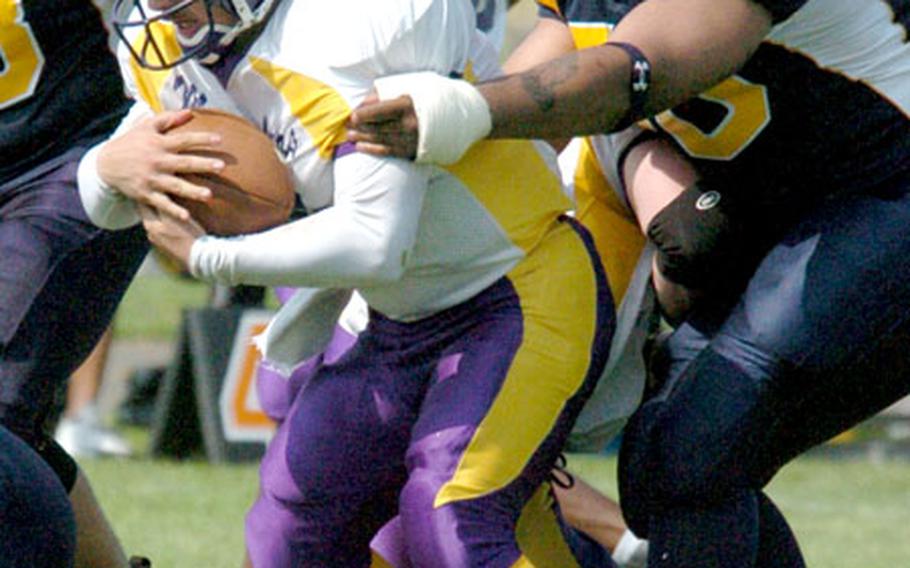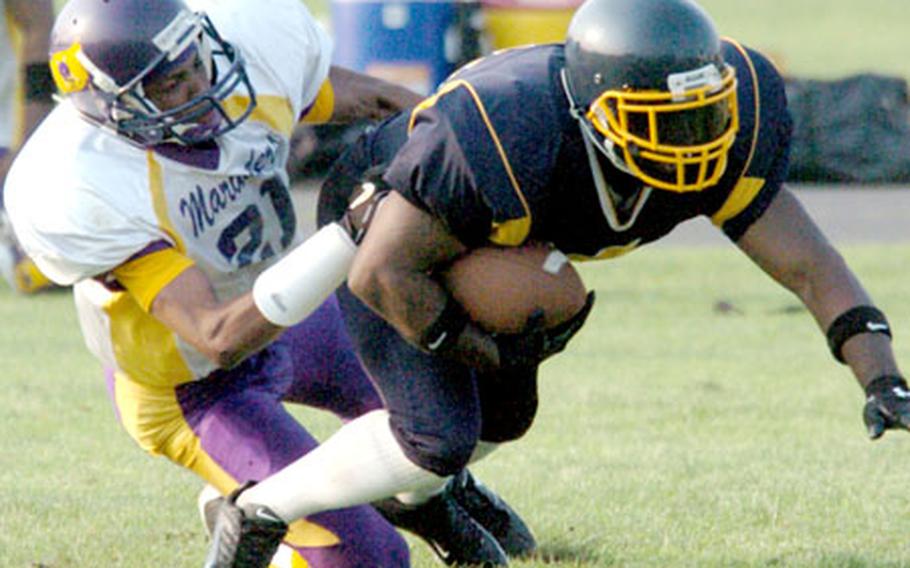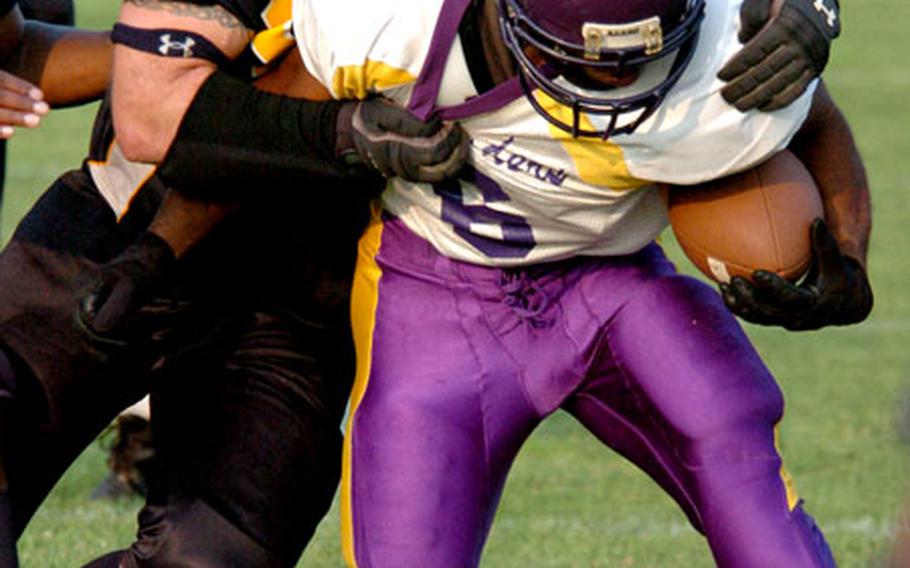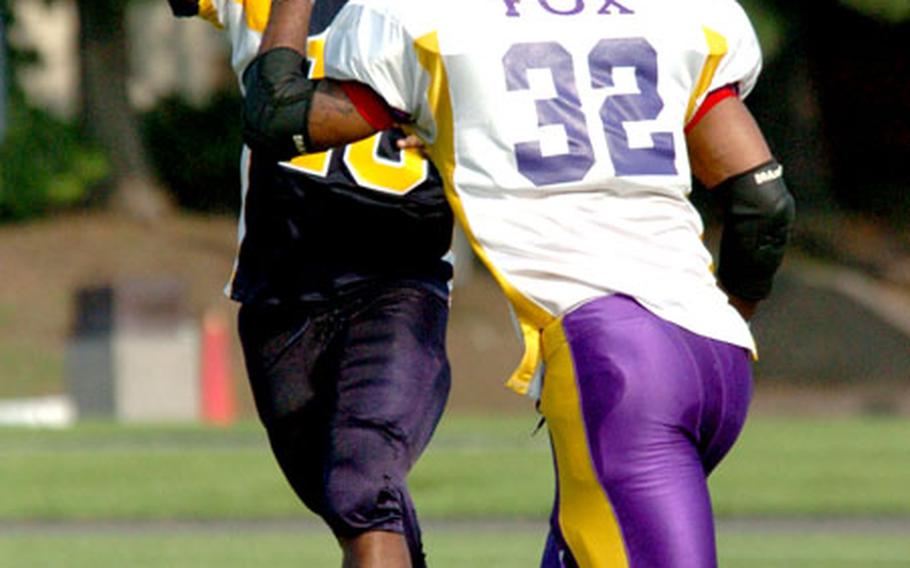 ATSUGI NAVAL AIR FACILITY, Japan — Jacob Dowdell wants to change the perception that his Yokota Warriors football team lives and dies by the pass.
Striving to achieve offensive balance, Dowdell tossed a touchdown pass and Bobby Boone ran for Yokota's other score, each in the first quarter, and the Warriors' defense snuffed the error-prone Misawa Marauders 12-2 on Saturday.
It was the first game of a rare U.S. Forces Japan-American Football League doubleheader with all four teams playing at the same site. The Warriors-Marauders game was scheduled as a home game for Yokota, but with no field available at Yokota Air Base, all the Warriors' games have to be played on the road this season.
In Saturday's nightcap, defense ruled the day as Yokosuka opened defense of its five straight league titles by defeating host Atsugi 6-2. All eight points were scored by the defense.
Yokota 12, Misawa 2: Dowdell, forced to play quarterback with regulars Bruce Turner, L.C. Ooten and James McNulty unavailable due to duty or injuries, went 12-for-23 for 185 yards, including a 45-yard TD strike to Patrick Mitchell on the game's first drive.
But what gratified him, he said, was the team's ground game, which netted 120 yards on 32 carries, including Boone's 10-yard scoring burst — a vast improvement on the 43 rushing yards Yokota gained in its 24-13 victory June 18 over Atsugi.
"We were trying to get a good mix, a balance on offense," Dowdell said. "That allowed us to play a good, solid game from start to finish."
He was pleased with the play of the offensive line, which opened holes for the running game and providing Dowdell with "good protection," he said. "They were the MVP of this game," Dowdell said of the line.
Boone ran six times for 31 yards, Jerrick Nunn led the team in tackles with 10 and added 26 yards on 10 carries, Mardie Wilson ended the game with an interception and ran 10 times for 34 yards and Kurt Boykins added 29 yards on six attempts. Ronnie Hicks and Corey Fields intercepted passes.
The Marauders could answer only with linebacker Orentlal Steward's second end-zone tackle for a safety this season. Misawa had all but two of its first downs wiped out by penalties.
"We were outplayed and outclassed," Misawa coach John Hemphill said. "Our defense did great. It was a lack of execution on offense."
Yokosuka 6, Atsugi 2: Daylon Banks scored the Seahawks' only points, intercepting an Atsugi pass and running it 18 yards for the game's only touchdown. The only other points came on an Atsugi safety when Yokosuka was called for holding in the end zone in the third quarter.
Though the White Dolphins lost for the 10th straight time, they've been outscored by only 13 points in two games. Floyd White had 15 tackles, two forced fumbles and one recovery, Calvin Lewis ran 12 times for 35 yards and D.J. Johnson caught three passes for 32 yards.
"We're going to get over the hump soon," said Atsugi coach Daniel Estrada. "We're gaining experience every week with these close ones. But hats off to Yokosuka. They're a five-time champion for a reason."
USFJ-AFL standings
W L Pct. PF PA
Yokota 2 0 1.000 36 15
Yokosuka 1 0 1.000 6 2
Misawa 1 1 .500 30 12
Atsugi 0 3 .000 15 58
Saturday, June 25
Yokota 12, Misawa 2
Yokosuka 6, Atsugi 2
Saturday, July 2
Yokosuka at Misawa, 2 p.m.
Saturday, July 9
Yokota at Atsugi, 6 p.m.
Misawa vs. Yokosuka at Ikego Heights Naval Housing Facility, 4 p.m.
USFJ-AFL standings
---
---
---
---