D-II baseball final
Yokota cruises to repat on the diamond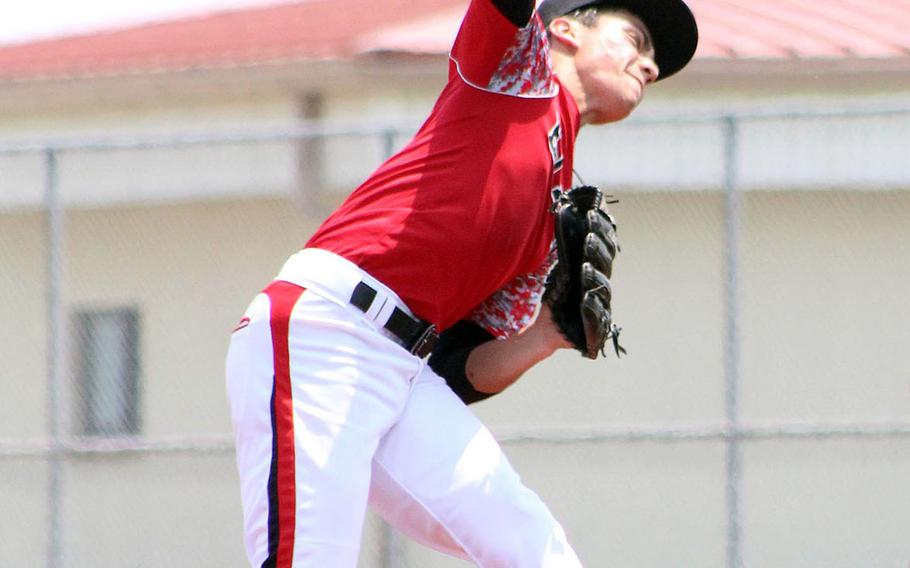 CAMP HUMPHREYS, South Korea – Riley DeMarco's pitching and the bats of Nick Yingling, Luke Wiedie and Jeff Mullarkey helped Yokota continue its Far East Division II baseball tournament dynasty.
DeMarco tossed a one-hit shutout and Yingling, Wiedie and Mullarky combined to bat 6-for-9 with three RBIs as the Panthers blanked E.J. King 10-0 for their second straight D-II title and fourth in the last five seasons.
With the win, the Panthers finished the campaign 19-7, including the D-II title and the championship in the DODEA-Japan tournament, which Yokota hosted last month.
"It feels great," said first-year coach LeSean Thomas, who the last three years assisted former head coach Steven Ferch, who now coaches Kadena.
"The kids worked hard all season, they never backed down," Thomas said. "It's great that they got this experience and take it (title) home with them."
Defense, Thomas said, was key in the Panthers' Far East title drive. In their four games, Yokota outscored its opponents 78-1, but more importantly committed just one error in the tournament.
"We cut down on our mistakes; that was one of the things we stressed, being fundamentally sound, aware, and playing our best ball at all times," Thomas said.
DeMarco allowed no walks and struck out six in the victory. Leo Schinker had the lone Cobras' hit and took the loss, allowing seven hits and three walks while striking out four in 3 2/3 innings.
It was the Cobras' first D-II title-game appearance, coming two years after King was unable to field a team.