Yokota clinches seventh straight Japan football title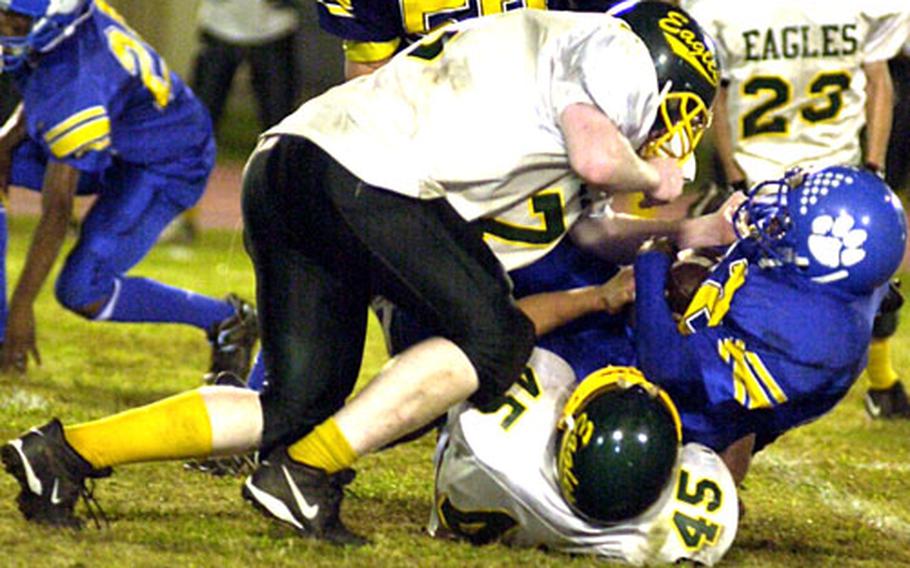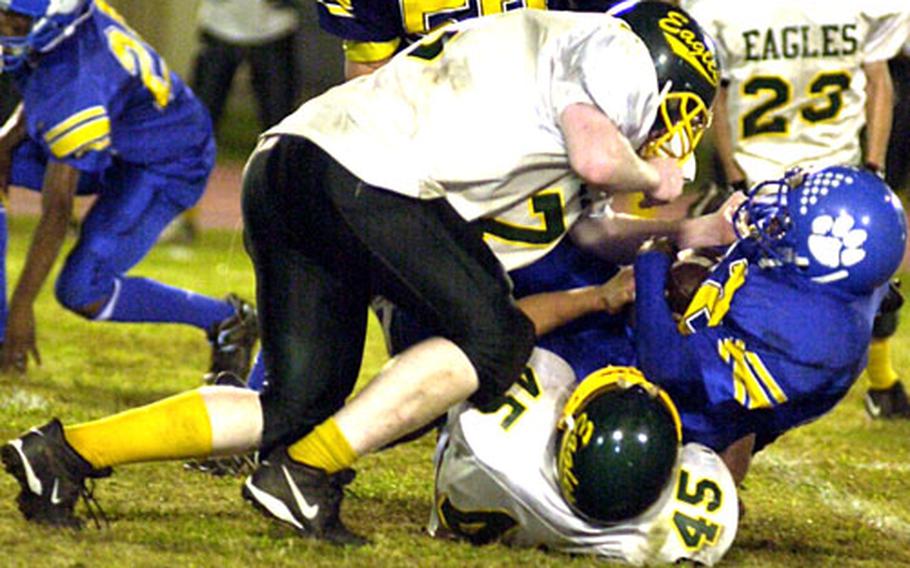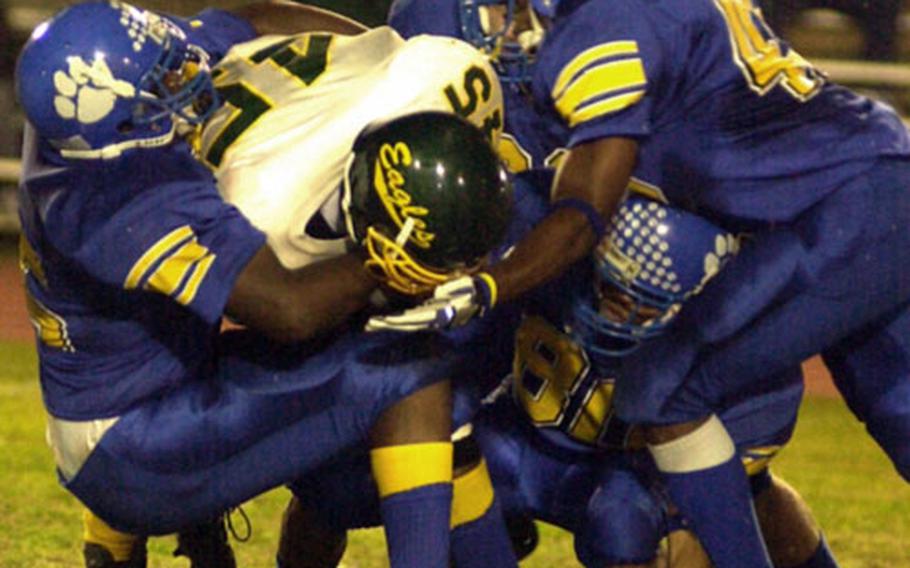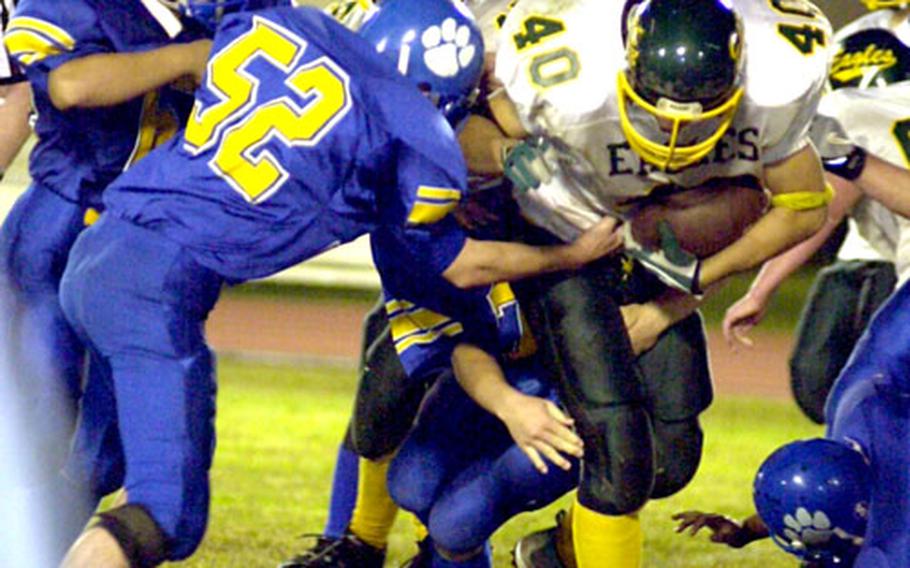 Homecoming Friday served up sweet surprises for teams bearing the Panther mascot.
Kadena lived to play another day, outlasting the Kubasaki Dragons 7-6 in overtime at McDonald Stadium to tie their best-of-three Okinawa Activities Council series 1-1. The winner of Friday's rematch at Kubasaki plays Guam High on Nov. 5 at Guam Naval Station in the Far East Class AA semifinals.
Meanwhile, Yokota sealed a berth in the other semifinal Nov. 5 at Seoul American by capturing its seventh straight Japan Football League title. Inspired by a crowd of more than 1,000, including 150 alumni at Bonk Field, Yokota routed Robert D. Edgren 52-0.
Homecoming wasn't so sweet for Zama American, which raced to a 14-0 lead before American School In Japan responded with seven unanswered touchdowns in a 48-14 romp at Trojans Field.
Kadena 7, Kubasaki 6 (OT)At Kadena Air Base, Okinawa, it was gut-check time for a Kadena team that gift-wrapped last week's 35-3 Kubasaki victory with three turnovers that led to touchdowns.
"We worked hard in practice all week," said senior kicker Ted Awana, who drilled the game-winning extra-point following quarterback Alex Mierzejewski's sneak from inside the 1-yard line. "We knew what was on the line. Games don't get much better than this."
"It was a great game," Kubasaki coach Fred Bales said. "We have to do this again next week. Both sides played hard. You can't ask for much more."
Neither team scored in regulation in a contest marred by intermittent rain. Kubasaki, which lost senior tight end Stephen Thompson early to an injury, was held to 76 yards. Kadena got most of its 200 yards on the ground and completed only one pass.
The Dragons won the overtime coin toss and elected to go on offense first. On second down, fullback David Motu bulled 8 yards for a touchdown, but Jack Schwartz's extra-point kick was blocked by Jeremy Williams and Charles Jones.
On Kadena's possession, Eric Robinson ran twice to bring the ball to 2-yard line. Awana bulled closer to the end zone, then Mierzejewski scored. Awana's kick sealed it.
"We just have to turn it up a notch next week," Kadena coach Brian Wetherington said.
Yokota 52, Robert D. Edgren 0At Yokota Air Base, Japan, Senior quarterback Doug Bloom went 4-for-5 for 179 yards, hitting Cameron Cooper for a 76-yard scoring pass, finding Jason Ricks in the corner of the end zone from the 14-yard line and finding Caiveon Thomas in stride for a 65-yard TD toss.
"You can't get much more efficient than that," Yokota coach Tim Pujol said.
Yokota rushed for 284 yards and averaged 9.8 yards per carry. Diminutive sophomores Anthony McNeill (117 yards, nine carries) and Patrick Pamintuan (101 yards, eight carries, 25-yard TD) led the ground assault.
"They may not be the biggest guys on the field, but they play hard," Pujol said of Pamintuan, who stands 5 feet 4 and 130 punds, and McNeill, 5-3 and 125.
Mark Dixon ran for touchdowns of 17 and 8 yards, Justin Hudson added a 2-yard scoring run and Stefan Welch kicked a 22-yard field goal.
Of the seven JFL titles Pujol has won at Yokota, he said this might have been the most rewarding because the Panthers returned just three players from last year's Rising Sun Bowl championship team. He credited junior varsity coaches Brian Kitts and Joe Howell for grooming 17 players who moved up from the JV.
"We built this on what the JVs did last year," Pujol said. "That's a key element to a healthy program, to have guys who can step in and do the job."
Eagles coach Jim Burgeson was impressed by Bloom, Pamintuan, McNeill and the rest of the Panthers.
"They're class," Burgeson said. "It's no accident. Just good hard football. They'll represent Yokota well in the playoffs."
American School In Japan 48, Zama American 14At Camp Zama, Japan, Zama opened strongly, with quarterback Ben Bishop throwing touchdown passes of 1 yard to Wilberto Badillo and 35 yards to Emra McCoy.
But, closing in on a third touchdown, the Trojans failed on three attempts from ASIJ's 1-yard line, then fumbled on fourth down.
"That took the starch out of us," Zama coach Victor Rivera said.
From that point, the Mustangs kicked it into gear, led by senior quarterback Shawn Seevers, who ran a sweep for one touchdown, took a bobbled punt snap into the end zone for another and caught a pass for a third TD.
Rafai Eddy caught two touchdown passes, Tyler Christianson caught one and Kahn Fukui rambled 45 yards for another score as the Mustangs closed their season 5-1 — their best record since sharing the Kanto Plain title with Zama American in 1994.
The Trojans fell to 0-7 overall and finished the Kanto season 0-6.