Yokosuka shuts out Misawa to win USFJ-AFL title
by
Dave Ornauer
September 10, 2006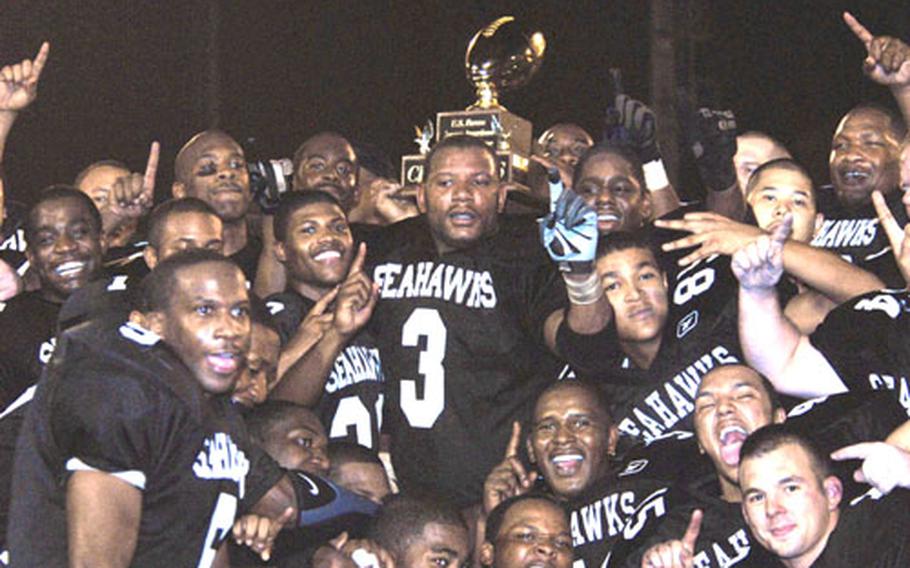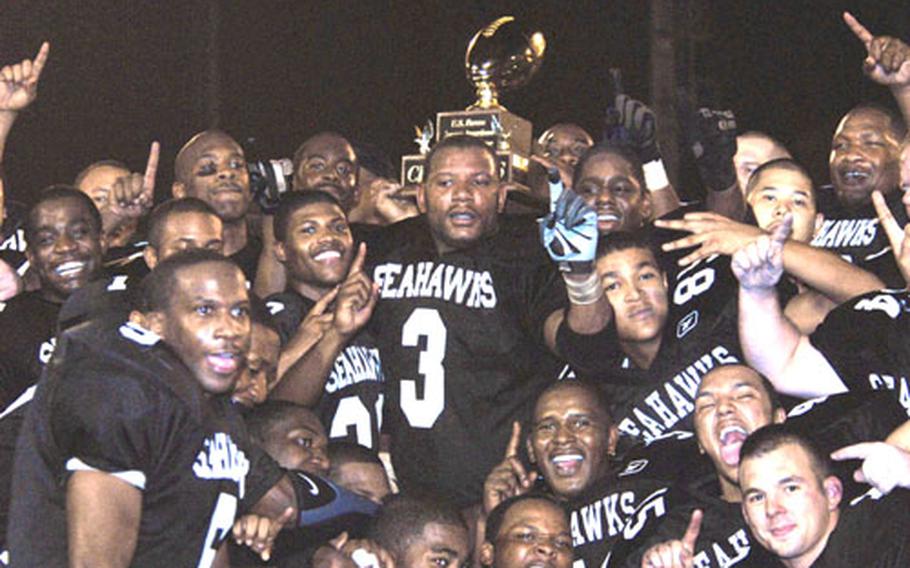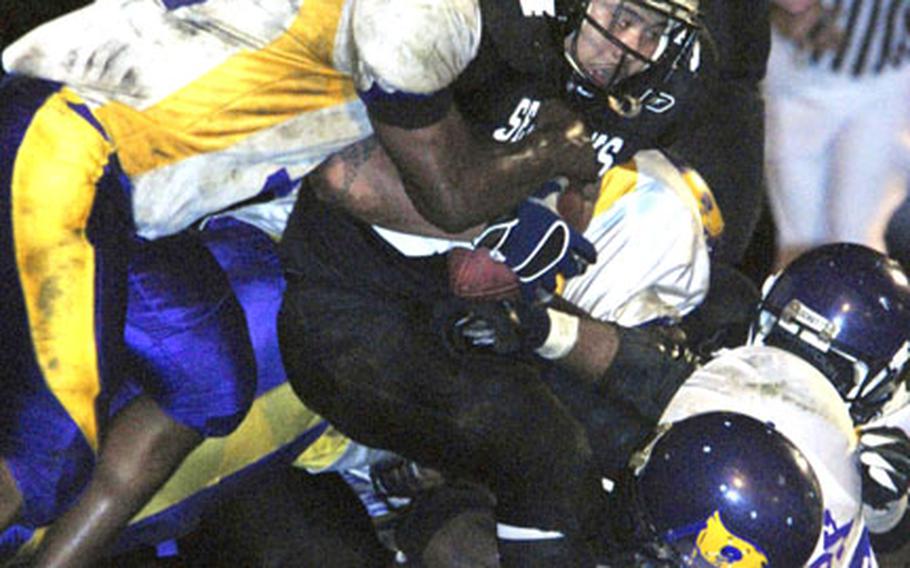 YOKOSUKA NAVAL BASE, Japan — Everywhere the ball was Friday night, Yokosuka Seahawks do-everything guy Jamar Davenport seemed to be nearby.
Davenport caught a touchdown pass, made a touchdown-saving tackle, intercepted two passes and downed a punt deep in Misawa territory as Yokosuka reclaimed the U.S. Forces Japan-American Football League championship by dethroning Misawa 12-0 in the Torii Bowl at Berkey Field.
He "played an awesome game," Yokosuka coach Robert Cole said. "I'm glad we got to send Davenport off the way we did." Davenport, who works for Yokosuka Morale, Welfare and Recreation and is due to transfer stateside in October.
Cole said Davenport's play was emblematic of the Seahawks' philosophy: Teamwork.
"If everybody's not doing what they're supposed to be doing ... he doesn't get that touchdown, he doesn't intercept those passes, he doesn't make that tackle, he doesn't get downfield to down that punt. It's a team effort."
On Friday, that effort included a defense that held the Marauders' Jamey Crawford, reigning league MVP, to 65 yards on 16 carries and forced four turnovers, including three of Yokosuka's seven interceptions in the playoffs.
Seahawks running back Damien Williams rushed for a game-high 120 yards on 23 carries.
"Our defense did it again, setting it up for the offense," Cole said. "And we have the best defensive coach in the league in James Price."
The title capped a rebound from two late regular-season losses, one at Misawa, that almost cost Yokosuka home-field advantage throughout the playoffs.
"They put it to us really good at Misawa and we beat ourselves at Yokota but we came together and did what we needed to do," Cole said. "We have a good core of players here."
Friday marked the fourth time the Seahawks won the Torii Bowl, all four coming at home and the last three against Misawa.
Though Misawa outgained Yokosuka 271-214 and had 11 first downs to the Seahawks' eight, "we couldn't get anything generated," Marauders coach Dwight Abel said.
His team drove into Seahawks territory five times. Four possessions ended in turnovers and one was short-circuited by three consecutive illegal-procedure penalties.
All the scoring came in the second quarter. Luke Raimo dove 1 yard for the first touchdown halfway through the period. Then came Davenport's scoring catch, a quick out pass from William Batten. And thanks to a solid block from Cameron Haines, Davenport skirted the left end and ran untouched to the end zone.
Larry Latimer had the Seahawks' other interception and Brandon Virgil recovered a fumble caused by Robert Early's sack of Misawa quarterback Fred Ellis.
Ellis was 5-for-17 for 142 yards. Fullback Mat Hildreth led the Marauders with 66 yards on eight carries.