Yokosuka runners prepare for Sunday's Tokyo Marathon
by
Allison Batdorff
February 17, 2007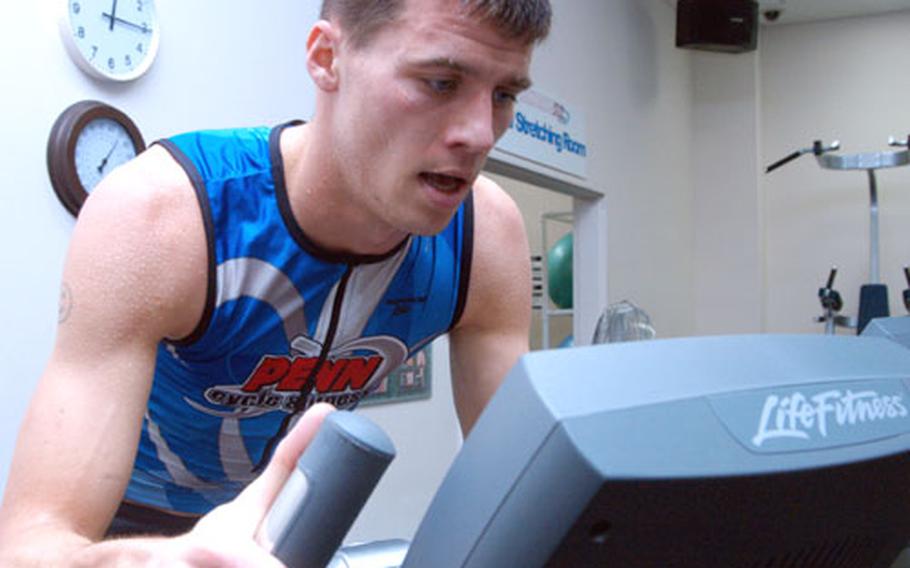 YOKOSUKA NAVAL BASE, Japan — What Joe Sanders calls "therapy," others call 26.2 miles of grueling torture.
Sanders's medicine is marathons. The 55-year old Navy spouse has crossed finish lines in more than 100 marathons around the world.
So what advice does this veteran runner give to those tackling Sunday's Tokyo Marathon?
"Wear a garbage bag to keep the rain off," Sanders told first-timers Kyle Rhodus and Michael Hardebeck Wednesday at Yokosuka Naval Base. Race day is forecast to be rainy and cold but 14 people from the base can't wait to pound across one of the world's largest cities.
Rhodus — Yokosuka's 33-year-old athletics director — admits marathons aren't for everyone but he felt compelled this year to check that box on his lifetime to-do list.
"It is an absolute crazy thing to run for four hours straight. Most people don't even like to drive that far," Rhodus said. "Maybe that is why I decided to do it, because very few people I know have completed one."
At least Tokyo's course is "relatively flat — which is a good thing," Rhodus added.
The track crisscrosses through the city, passing the Imperial Palace, Hibiya, Shinagawa, Ginza, and Asakusa before the finish line. The 25,000 registered runners were chosen by lottery and the race is larger than the Boston Marathon.
"I wasn't going to do another marathon but this is Tokyo!" said Capt. Michael Krentz, the 60-year old commanding officer of U.S. Naval Hospital Yokosuka. Sunday will be his third marathon. "I had to do it just for the fun of the experience."
Fun is a relative term, as each of the 14 runners had to go on a strict training program to prepare for the race. Sacrifices ranged from fried foods to lazy weekends.
Going from "Sunday jogger" to "road warrior," is no walk in the park, said Hardebeck, a 46–year-old a civilian computer specialist at the Ship Repair Facility.
"There is a huge difference between running for 20 minutes and four hours," Hardebeck said. His training lasted three months as he wanted to run with his son, James, on their "last adventure" together before James heads to college, Hardeback said.
"James is a cross-country team captain and he will finish about an hour before me," Hardebeck predicted. "We will start together and hopefully see each other at the finish line."
The best part of the training so far was meeting the other runners, he added.
Yokosuka's marathon team formed a network through Morale Welfare and Recreation, said Fitness Programs Coordinator Debbie Deutsch.
"When we started, I wanted to establish a support group for these runners, a team that would help to push each other at times when they felt like giving up," Deutsch said. Of the initial 18, four dropped out. But while pre-race concerns range from "hitting the wall" to injuries, those going appear set on crossing the finish line.
"I can crawl the last mile if I have to," said Krentz.
"Once I start, it will take a car to run me over to get me to stop," Rhodus said.
Besides, finishing isn't what's most miraculous about marathons, said 40-year-old Chief Petty Officer Erle Hunter. Quoting Runner's World columnist John Bingham, he said, "The miracle isn't that I finished. The miracle is that I had the courage to start."
---
---
---
---