Würzburg speedster Bryant off to fast start in Div. II
by
Rusty Bryan
September 28, 2006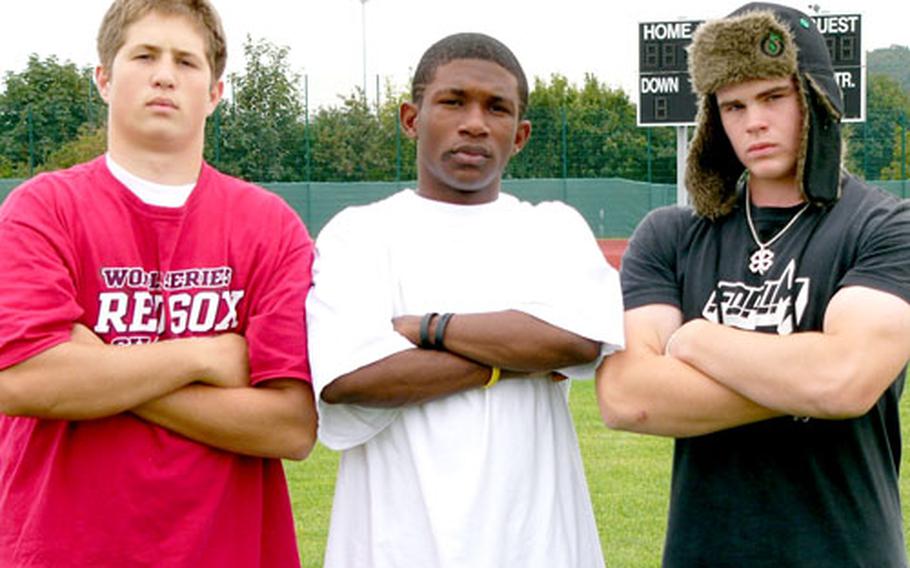 WüRZBURG, Germany — Wherever in the desert you are, Sgt. Cynthia Pitre, don't worry. Your son, Donald "D.B." Bryant, passed his Würzburg High School ball-carrying exam with flying colors Saturday.
Flying is the operative word for Bryant, 17, a 5-foot-9, 170-pound senior who claims a 4.4 time in the 40. He was at full speed in Vicenza on Saturday, rushing for an astonishing 437 yards and eight touchdowns in Würzburg's 80-48 romp over the Cougars in the Wolves' Division II opener.
He ran 32 times, seven of them into the end zone, and averaged 13.5 yards per carry. He added a TD on a 70-yard kickoff return.
His mother, deployed with the the 299th Force Support Battalion out of Schweinfurt to the Middle East, would have been proud.
"Normally, we'd have taken him out," Würzburg coach Eric Mead said of Bryant. "But he'd been out the previous week and we wanted to get him some carries."
Bryant, who transferred to Würzburg from the state of Washington after last football season, gained 152 yards in that game, a 50-22 loss at Patch, despite leaving the game six minutes into the second half with an injury.
Saturday, he went the distance.
"I had good blocking," said Bryant, whose brother Brandon, a freshman, is Würzburg's fullback and lead blocker.
"He makes us look pretty good," said guard Dan Riley, a junior playing his first season with the Wolves.
"It's a good feeling to know our blocks are working."
Added Sean Hipe, also a junior guard, "It's great to look up and see him 50 yards downfield."
Riley, a 205-pounder, and Hipe, who weighs 185, were key factors in springing Bryant on what the speedster called his favorite play, "28-sweep."
"I love pulling," said Riley, who gets to do just that on 28-sweep. "You know you're going to be cracking somebody."
In addition to the sweep, Bryant gained big yards on the crossbuck. For the game, he scored on runs of 3, 8, 22, 10, 56, 36 and 50 yards.
"He had a 60-yard run to the 3-yard line," Mead said. "He scored on the next play."
But don't worry, Sgt. Pitre, about your son exhausting himself, even though he ran the ball a quarter-mile on Saturday following a 12-hour, all-day bus ride over the Alps on Friday, and a practice session Friday night that was followed by a night's sleep on a gymnasium floor.
"I wasn't tired," said Bryant, an All-Europe second-teamer in basketball who considers hoops his favorite sport.
"We work hard on conditioning."
Given the patchy state of the DODDS-Europe record book, no one knows whether Bryant's 437 yards are a record. Marcus George of Ansbach, the unofficial historian of high school football in Europe, said he can't remember anyone going over 400 since he arrived in 1985, but quoted former Wiesbaden coach Darryl Schwartz as saying he had a back gain 400 yards a couple of times before that.
Whether 437 is the most or just one of the most yards ever gained in one game, Würzburg's linemen say they don't intend to let Bryant stop there.
"We want to get him 500 yards," Riley said.