Würzburg boys off to good start in DODDS-Europe hoop tourney
by
Rusty Bryan
February 23, 2006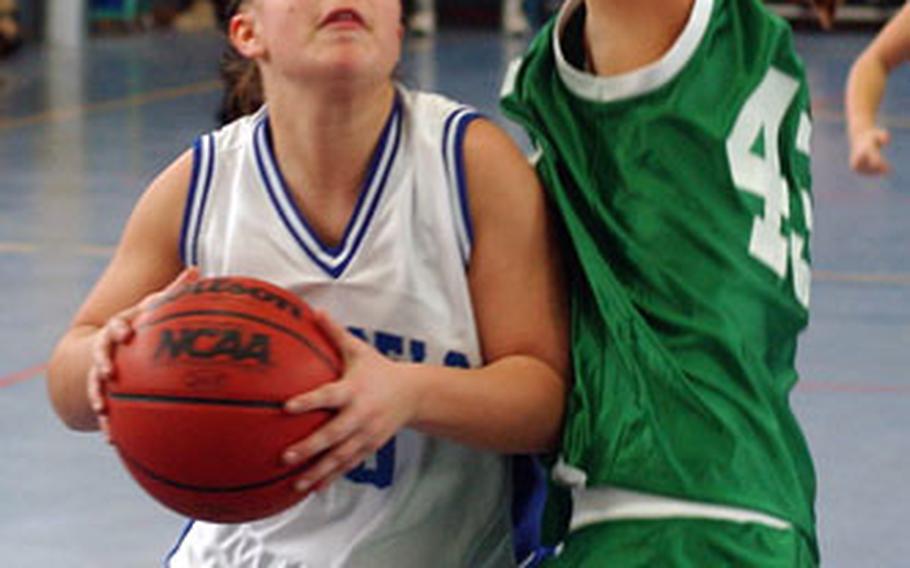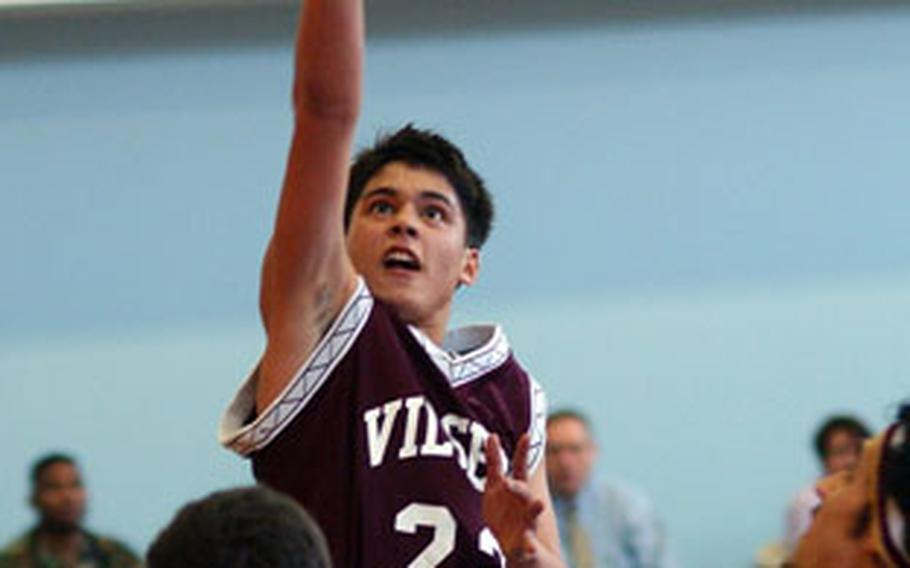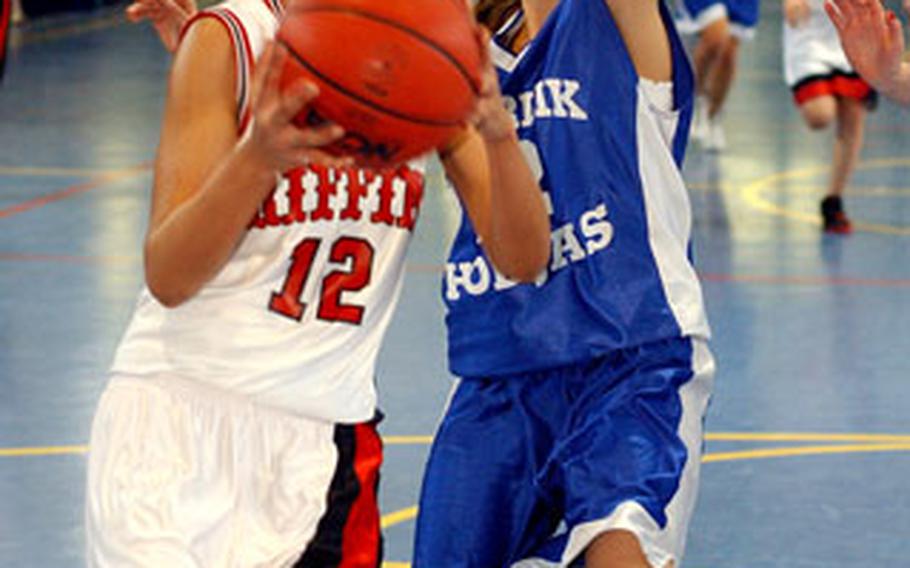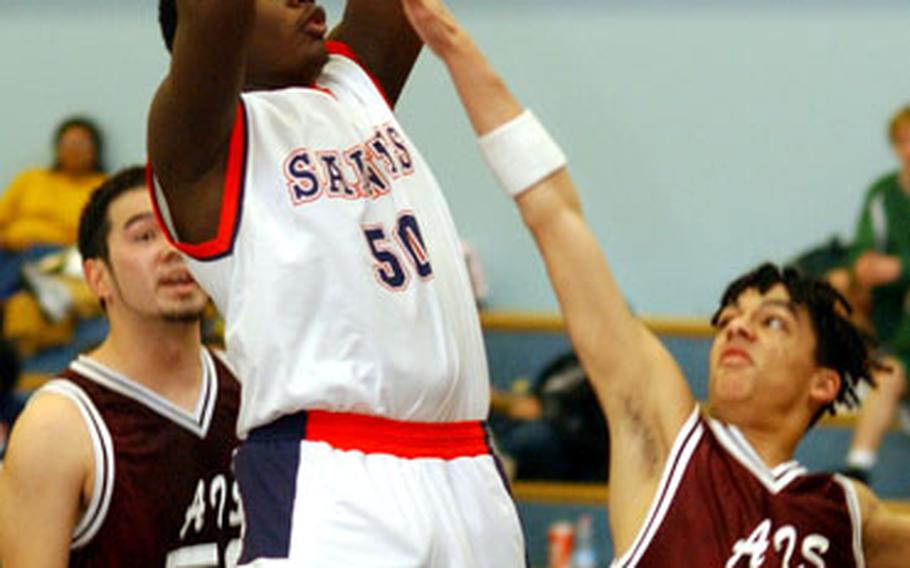 MANNHEIM, Germany — Würzburg began defense of its Division I basketball crown with victories in pool play Wednesday on the opening day of the DODDS-Europe boys basketball championships.
In pool play of the girls Division I tournament, Kaiserslautern and International School of Brussels opened with victories and appear to be on a collision course for the title.
Divisions II and IV also tipped off the pool play portions of their tourneys Wednesday. Division III begins Thursday.
In Division I boys, second-seeded Würzburg downed No. 3 Kaiserslautern, 39-36, in the morning, then came back after lunch for a 72-32 victory over seventh-seeded Lakenheath.
"My thinking is that if you win the first game you can breathe easier," Würzburg coach Allen Archie said after his squad pressured Lakenheath into turnover after turnover during a 21-2 run to open the game.
Donald Bryant scored 10 of his 17 points during the opening onslaught. Doiminick Lee added eight first-quarter points before Archie turned to his bench.
The victories ensured Würzburg, which plays sixth-seeded ISB on Thursday, of reaching the semifinals.
In other Division I games, Ramstein's Whitney McCloud tipped in a missed shot at the buzzer to force two extra minutes, and the Royals went 6-for-6 from the free-throw line to defeat top-seeded Wiesbaden 45-40.
The loss left Wiesbaden in a must-win situation against Heidelberg later in the day. Heidelberg, fueled by 19 points from Damon Fleming, opened its tournament with a 41-36 win over Ramstein.
Division II: Top-seeded Aviano reduced its workload with a 59-19 courtesy-rule victory over AFNORTH in less than 20 minutes.
Title rivals Hanau, Bitburg and SHAPE kept pace with double-digit victories over Vilseck, Mannheim and AFNORTH, respectively, but third-seeded Naples ran into a shocker against Vilseck, falling 59-31.
Division IV: In the tournament for Europe's smallest schools, unbeaten Incirlik, seeded fifth, and Alconbury, seeded second, claimed courtesy-rule victories. Incirlik downed No. 8 Livorno, 49-9, and Alconbury thumped No. 9 Milan 52-12.
Top-seeded Giessen played two late games Wednesday.
In the girls tournaments, top-seeded Kaiserslautern took a 28-4 first-quarter lead and romped to a 39-26 victory over fifth-seeded Würzburg, while second-seeded ISB demolished third-seeded Lakenheath 40-27. With the rest of the field coming off .500 or worse seasons, K-town and ISB again established themselves as the dominant teams in Division I.
"This helps us psychologically," said ISB's Megan Gibson after her 15-point effort against Lakenheath. "Playing a good team right away helps us focus."
ISB put its game away with a 14-3 second-quarter run. K-town led Würzburg 28-4 at the end of the first seven minutes.
Defending champion Ramstein, the fourth seed, needed two OT periods to claim a 47-39 victory over Würzburg in the tourney's opening game.
ISB followed its victory with a 39-32 victory over Wiesbaden later in the day to go 2-0. K-town was playing Ramstein later in the evening.
Division II: At Heidelberg High School, eighth-seeded Bitburg upended No. 5 Naples 32-26, while seventh-seeded Patch downed sixth-seeded Aviano in overtime.
Top-seeded Hanau, the defending Division II champion, stopped Vilseck 37-24 and second-seeded SHAPE turned back AFNORTH 44-31, as did No. 3 Black Forest Academy, 35-30.
Division IV: At Tompkins Barracks, defending champion Alconbury, seeded second, opened with a 31-28 squeaker over Lajes, while top-seeded Brussels whipped Ankara 29-12.
Boys tournament scoreboard
Wednesday, Feb. 23
Division I
Heidelberg 41, Ramstein 36
Würzburg 39, Kaisersalutern 36
Int'l School of Brussels 55, Lakenheath 33
Ramstein 45, Wiesbaden 40
Würzburg 72, Lakenheath 32
Kaiserslautern 50, ISB 42
Division II
SHAPE 59, AFNORTH 39
Patch 45, Black Forest Academy 41
Hanau 63, Vilseck 28
Bitburg 66, Mannheim 55
Vilseck 59, Naples 31
Aviano 59, AFNORTH 19
SHAPE 41, BFA 35
Division III
No games scheduled
Division IV
Incirlik 49, Livorno 9
Alconbury 52, Milan 12
Brussels 49, Lajes 23
Ankara 38, Menwith Hill 35
Girls tournament scoreboard
Wednesday, Feb. 23
Division I
Ramstein 47, Würzburg 39 (2OT)
International School of Brussels 40, Lakenheath 27
Wiesbaden 42, Heidelberg 32
Kaiserslautern 39, Würzburg 26
ISB 39, Wiesbaden 32
Division II
Mannheim 40, Vilseck 29
Bitburg 32, Naples 26
SHAPE 44, AFNORTH 31
Patch 33, Aviano 31 (OT)
Black Forest Academy 35, AFNORTH 30
Hanau 37, Vilseck 24
Division III
No games scheduled
Division IV
Giessen 35, Milan 27
Alconbury 31, Lajes 28
Brussels 29, Ankara 12
Incirlik 32, Giessen 30