Girls basketball player of year
Wright helped Daegu take back crown
by
Dave Ornauer
March 7, 2012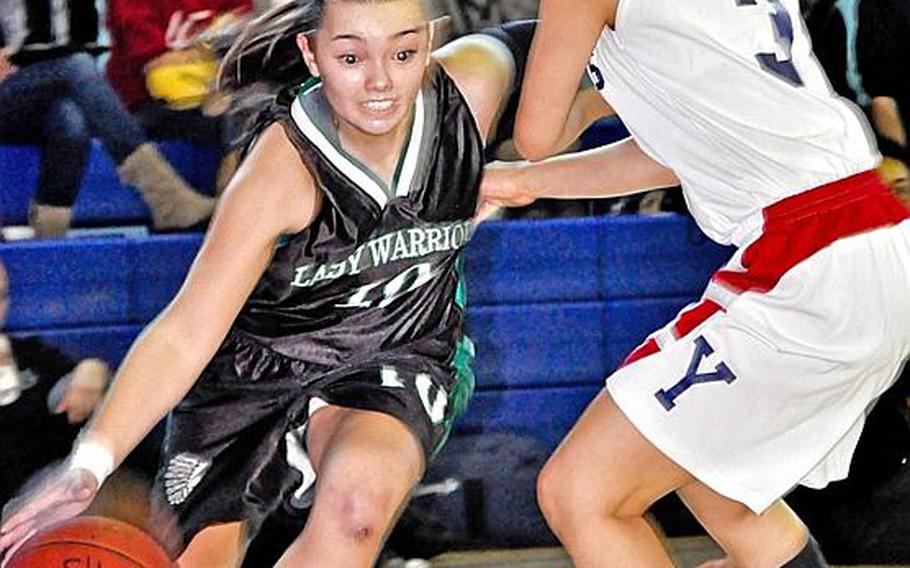 They were not expected to compete, much less contend for a Far East High School Girls Division II Basketball Tournament title, not with their "Big Three" that led Daegu to the 2010 title, lost to graduation.
The successors of Kristina Bergman, Gulee Kwon and Angie Robinet thumbed their noses at that notion. Sophomores Sarah Wright and Lari Robertson and senior transfer Raven Calloway duplicated the feats of their predecessors two years ago, winning the D-II title 32-20 over host Robert D. Edgren.
That came on top of a Korean-American Interscholastic Activities Conference regular season title, the first in Warriors history. They stumbled a bit in the KAIAC tournament, finishing third, but rebounded to cap a 24-2 season with the D-II championship.
"She was like a coach on the court," said Daegu Athletic Director Ken Walter, head coach since early December.
For the Warriors, their second D-II title in three years sandwiched a heartbreaking two-game double-elimination finals loss last year to St. Paul Christian of Guam. It was Daegu's third D-II title in school history.
Wright, Stars and Stripes' player of the year, served as trigger person for the Warriors' offensive attack, averaging 12.5 points, 10 assists 10 steals – a season-long triple-double – and earning all-tournament honors.
"She was the point guard who made everything happen," Walter said.
But it was things that don't show up on a stat sheet, on both offense and defense, that made Wright stand out above all others, Walter said.
"She understood the offense completely. Every play, she knew where everybody was supposed to be," he said.
If Wright wasn't in the lineup, "we wouldn't have been able to beat the press as easily," Walter said.
At times, Walter would move Wright from point guard to shooting guard, hitting long-distance perimeter jump shots to spark rallies.
"Once she started doing that, the defense would come out on her and we could feed the ball inside" to 6-foot center Maleah Potts Cash for easy baskets.
It could have been easy for the current Warriors to say they were trying to fill the shoes of their predecessors, but Wright felt somewhat differently about it.
A month before the D-II Tournament, Wright told Stripes: "We want to write our own ending."
On that note, the Warriors succeeded.
2011-12 Stars and Stripes Pacific high school All-Star girls basketball team
Division I
Kelly Hardeman, Grace Fern, Faith Academy; Maria Vaughan, Kadena; Mecca Perkins, Seoul American; Erika Ettl, Yokota.
Division II
Sarah Wright, Daegu; Jen Black, Robert D. Edgren; Rebekah Harwell, Courtney Beall, Matthew C. Perry; Karen Yates, Morrison Academy.
---
---
---