Wrestling teams in Korea, Japan get a look at the future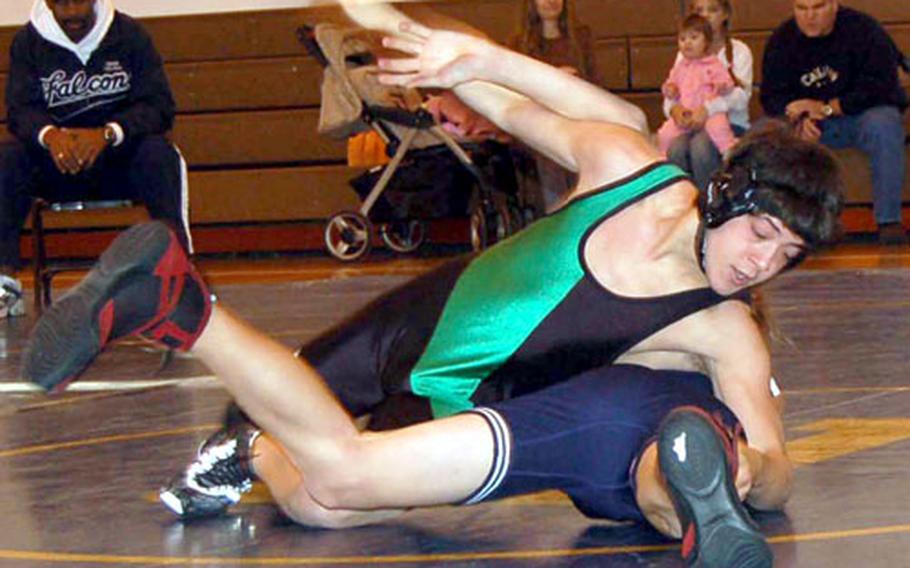 Stars and StripesPacific edition, Monday, December 4, 2006
It was a day of firsts as the Department of Defense Dependents Schools-Korea high school wrestling season opened Saturday at Taegu American School:
E.J. King of Sasebo Naval Base wrestled in Korea for the first time.A girl won her weight class — a first in the Pacific for any meet featuring DODDS schools.Taegu American, fielding a full lineup (12 of 13 weights) for the first time, also recorded a school first: Beating six-time defending league champion Seoul American."We're excited," said Bill Riggs, a veteran coach in his first year at the Warriors' helm.
Unlike 2005, when the Warriors brought only six wrestlers to the Far East tournament, 31 tried out for the team this season and 25 have continued to work out. The school has its own mat — inherited from Seoul American — for the first time.
That Riggs is the first Taegu high school teacher to coach the team since the 1980s, has made a huge difference in team building, he said.
"I'm there, I see kids during the day, they come into my classroom for fruit and water," he said, adding that he told prospective team members on the first day of tryouts, "We're family and we emphasize that."
The team also does the "little things" that keep a program healthy and winning, Riggs said. He's enlisted four student managers who take care of everything down to frequent bleaching and mopping of the mats.
Riggs heard from wrestlers that four came down with ringworm last season. "This year, nobody's gotten sick yet," he said.
Taegu's victory in its first regular-season event shows that the program has begun to turn the corner, Riggs said.
"The team has bonded and they have heart," he said.
Taegu scored 118 points, edging Seoul American by two, in the four-team tournament also featuring Osan American. Competitors wrestled about eight hours from 9 a.m. in round-robin format; wrestlers in full weight classes got three bouts each.
"Taegu has a chance to be a legitimate team," said Seoul American coach Julian Harden, whose team has lost one dual meet since 2000.
Improving Taegu's odds was sophomore Emily Albonetti, who spent much of last season losing and learning. On Saturday, she won two bouts by pin and a third by forfeit, capturing the 101-pound weight class.
"She looked good," Riggs said. "She knows what she's doing."
Harden said it was "worth the trip" despite four of his regulars staying in Seoul to take SATs. "We appreciated … that E.J. King got a chance to come over."
E.J. King could have gone instead to the Robert D. Edgren Invitational at Misawa Air Base in northern Japan but travel to Misawa Air Base by high-speed train would have cost about $500 more per wrestler. Instead, the Cobras bused to Hakata port, sailed by high-speed boat to Pusan and bused from there to Taegu.
"They told us it was looking good for them to return on the 16th," Riggs said.
Japan wrestling teams 'get the nerves out'With only five Far East tournament gold medalists returning this season, and many other standouts transferred or graduated, DODDS-Japan teams took Saturday's Edgren Invitational as an opportunity to look at their future.
Many freshmen and sophomores getting their first taste of competition dotted the four teams' lineups — and one coach said he liked what he saw.
"A lot of young guys who we thought could be good now have a chance to become good wrestlers," said Brian Kitts, whose Yokota Panthers placed third with 54 points, trailing host Robert D. Edgren (58) and tournament champion Nile C. Kinnick (64). Tenichi, a Japanese school, placed fifth with 40 points but won four weight classes.
As examples, Kitts cited Adam Godfrey, a Zama American junior who "dominated" at 148 pounds. At the same weight, Yokota sophomore Tony Presnell "has some potential." The tournament's only returning Far East champion, Kinnick heavyweight Phil Ergus, "clearly dominated his weight class," Kitts said.
In addition to giving youngsters their first bouts to "get the nerves out," Kitts said, the tournament also is a good warmup for the DODDS-Japan schools wrestling in the Kanto Plain Association of Secondary Schools season, which begins Wednesday.
"That's when we get down to business," he said.