Home Team
Wrestling's postseason begins with sectionals
---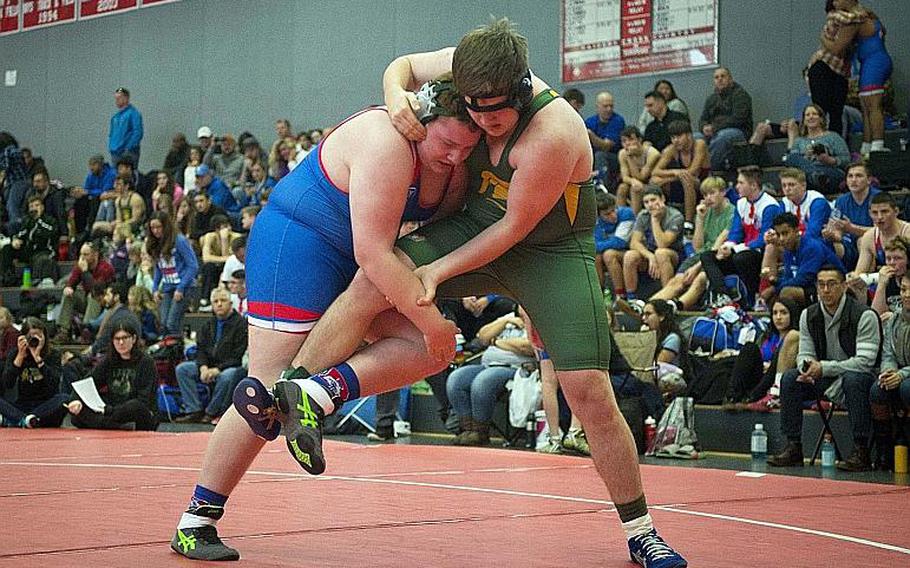 No team scores will be compiled at this weekend's DODEA-Europe wrestling sectional qualifying meets, and any wrestlers with a chance to win individual championships in their respective weight classes figure to advance easily.
But that doesn't mean there's nothing at stake this weekend.
Saturday's three sectional meets - the northern sectional at Lakenheath, the central at Ramstein and the southern at Aviano - will determine the bulk of the field for the European wrestling championships, set for Feb. 16 and 17 at Wiesbaden. DODEA-Europe officials will fill out the brackets with wild-card selections in the days after Saturday's qualifiers.
While team and individual championship will be determined at the two-day finals next weekend, a successful qualifying round is a prerequisite for contending for those titles.
That task was made more difficult for the Stuttgart Panthers, chasing their fifth consecutive Division I championship, and the Ramstein Royals, their closest rival. DODEA-Europe's two largest wrestling programs will share space in the central qualifier at Ramstein.
While that makes for a rigorous qualifier for the Royals and Panthers, both should find plenty of slots to send their best grapplers on to Wiesbaden. Neither program is overly concerned with the arrangement.
"We believe the best wrestlers will still qualify," Ramstein coach Thomas Wright said.
"Sharing a sectional with Ramstein does not change our approach or strategy," Panthers coach Norm Matzke said, adding that the sectional meet provides a final chance to record each wrestler's matches and "make final adjustments" ahead of the finals. "This year's championship will be another close one and we are looking forward to the competition."
The Royals have bested Stuttgart consistently this winter when the two programs shared a common meet. That includes a 14-point edge on the Panthers on Feb. 3 in a huge meet that was the regular season's closest facsimile of a European championship environment.
Wright is careful not to read too much into those results, explaining that every meet prior to the finals, including this weekend's qualifier, is "practice to prepare for the main event" of the European championships.
"It's hard to determine the outcome of Europeans based on the season tournaments," Wright said.
Still, Ramstein's success against Stuttgart this winter was encouraging for the program, and may have revealed foundational advantages that might play out again next weekend.
"Throughout the season, each team has ups and downs," Wright said. "I believe we were able to outscore Stuttgart during the regular season because of our depth."
As Royal and Panther wrestlers pack the brackets at the central sectional, smaller teams assigned to that meet face a monumental challenge. But that's nothing new for teams like Rota, which is already hindered by a light regular-season schedule.
"We have 25 percent of the competition repetitions of other teams, so even our best wrestlers are at an experience disadvantage," Admirals coach Luke Spencer said. "Any opportunity for them to wrestle is important."
Spencer cited the importance of building a "culture of excellence" at Rota, a project he said can't be fully measured by brackets or point totals.
"This year we want our wrestlers to find success, not so much in wins and losses, but in their own performance elements," Spencer said. "We care more about culturally shaping the program than stats at this point."
Aviano, the defending Division II team champion and host of the southern sectional, plans to use its home turf for motivation this weekend.
"I tell my squad to wrestle the best matches of the year in front of the home crowd," Saints coach Robin Clement said. "I would like my wrestlers to walk off the mat knowing that they have wrestled their best."
Spangdahlem, Wiesbaden and reigning Division III champion Baumholder round out the field at Ramstein. Visiting German schools Hohenfels, Vilseck and Munich join Italian programs Vicenza, Sigonella and Naples at Aviano. The northern sectional features host Lakenheath and neighboring Alconbury alongside mainland visitors Brussels, SHAPE, Kaiserslautern and AFNORTH.
Twitter: @broomestripes
---
---
---
---