Wrestling postseason begins with three qualifiers
---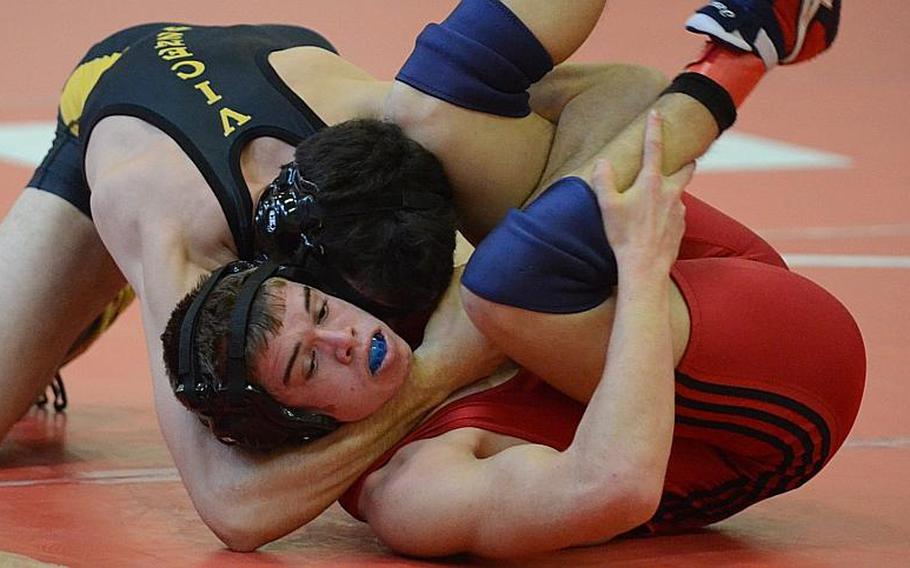 A week before they all converge in Germany to crown European champions, DODDS-Europe wrestlers will disperse to three sites around the continent to determine the contenders.
Saturday's sectional qualifiers at Brussels, Kaiserslautern and Vicenza will establish the bulk of the field for the two-day European championship meet set for Feb. 14 and 15 at Wiesbaden.
The qualifying works like this. At each sectional, the top three finishers in each weight class will automatically advance to Europeans. In weight classes with three or fewer participants, only the champion will receive that automatic berth.
With three qualifiers apiece from three sectional meets, Saturday's sectionals will fill nine of the 12 slots available in each weight-class European championship bracket. A panel led by DODDS-Europe athletic director Karen Seadore will convene early next week to determine wild-card entries and complete the field.
While the roster of teams participating in each meet is mostly based on geography, DODDS-Europe took a step toward balancing out the odds by splitting its six Division I schools evenly among the three sites. Here's a look at each field:
Vicenza German Division I schools Patch and Vilseck will make the trip south to crash the Italian party, joining American Overseas School of Rome, Aviano, Naples, Sigonella and the host Cougars in the seven-team field.
The Panthers finally lost their long-held grip on the Division I championship last year, but seem well-equipped to snatch it back. After spending the season competing in its familiar German and northern European circle, Patch head coach Norm Matzke said his team is excited to "go to Italy and see the teams that we would normally not see until Europeans."
Patch and Vilseck will leave their respective campuses around 5 a.m. Friday morning, meet up near Munich to board a shared bus for the duration of the trip and wake up early the next morning to compete. But neither team's coach is overly concerned with the itinerary.
"The kids will have ample time to rest and sleep," Vilseck coach Evan Watson said. "I don't see this as a factor."
Matzke was similarly undisturbed by the schedule, which by DODDS-Europe standards is not particularly arduous.
"Our travel plans should not affect us very much," Matzke said. "It is just a longer bus ride."
Kaiserslautern While the Panthers and Falcons make the long trip over the Alps, Kaiserslautern will gather what advantage it can from staying home to open the postseason. Division I Wiesbaden and rising Division II power Baumholder represent the Raiders' most formidable opposition; Ansbach, Black Forest Academy, Hohenfels, Incirlik and Rota round out the eight-team field.
"Travelling does take a little out of you and sleeping on the gym floor isn't the greatest," Kaiserslautern coach Brian Daly said. "But we all have to do it throughout the season, so by now most teams should be used to it."
Baumholder, meanwhile, has flirted with Division I team upsets all season. With three qualifying slots available per class, the Bucs are in a good position to qualify the majority of their roster for a run at a Division II team championship in Wiesbaden.
Brussels With a central location that is convenient for visitors from Germany, the United Kingdom and the Benelux, the small Brigands are no stranger to sharing the mats with large-school opponents. In fact, Brussels has seen a Division I school in each of its five meets this regular season and faced multiple Division I schools on two of those occasions, including a home-gym Jan. 25 meet featuring visiting Wiesbaden and Lakenheath along with Division II schools SHAPE and Alconbury.
While the stakes are higher, this weekend's meet will feature a similar collection of talent.
The field includes Lakenheath, the United Kingdom school that is the only Division I program outside of Germany and a domineering weekly presence at northern meets, and the smaller-school regional rivals it routinely overwhelms at those meets, namely AFNORTH, Alconbury and SHAPE.
Bitburg and Ramstein were brought in from Germany to fill out the seven-team field.
Defending Division I champion Ramstein will make the trip to Belgium hoping to qualify enough of its wrestlers for a shot at retaining its team title despite losing some of the depth that fueled its win over Patch.
Twitter: @broomestripes
---
---
---
---