Wrestling a growing sport at Perry
by
Dave Ornauer
December 2, 2011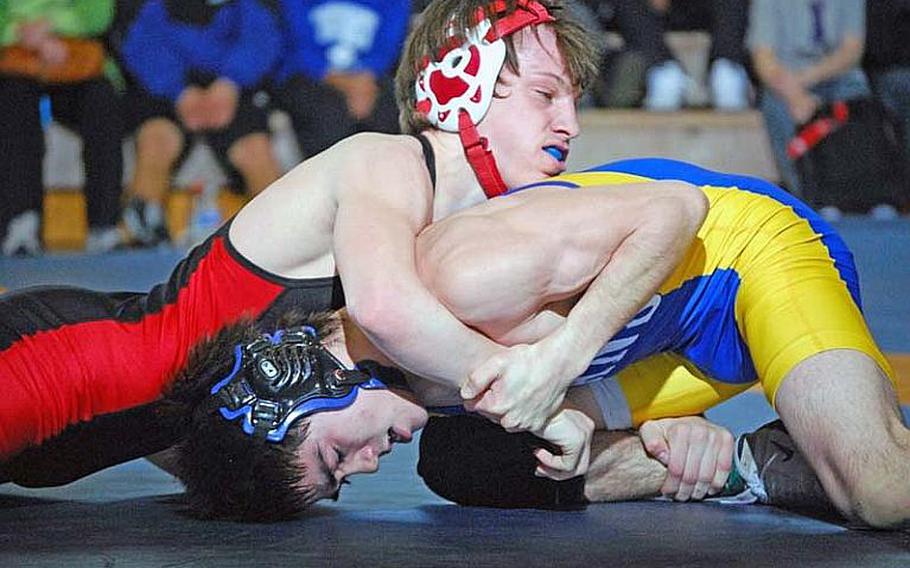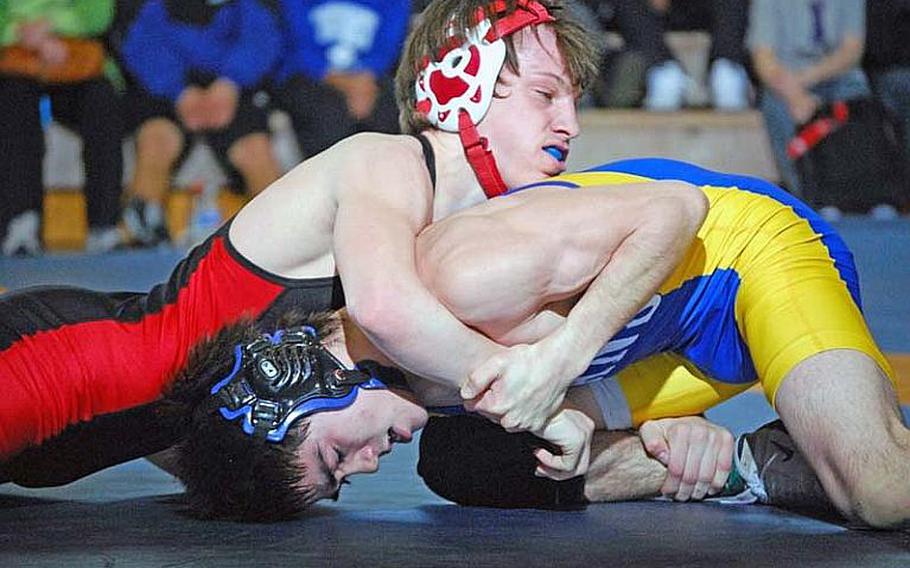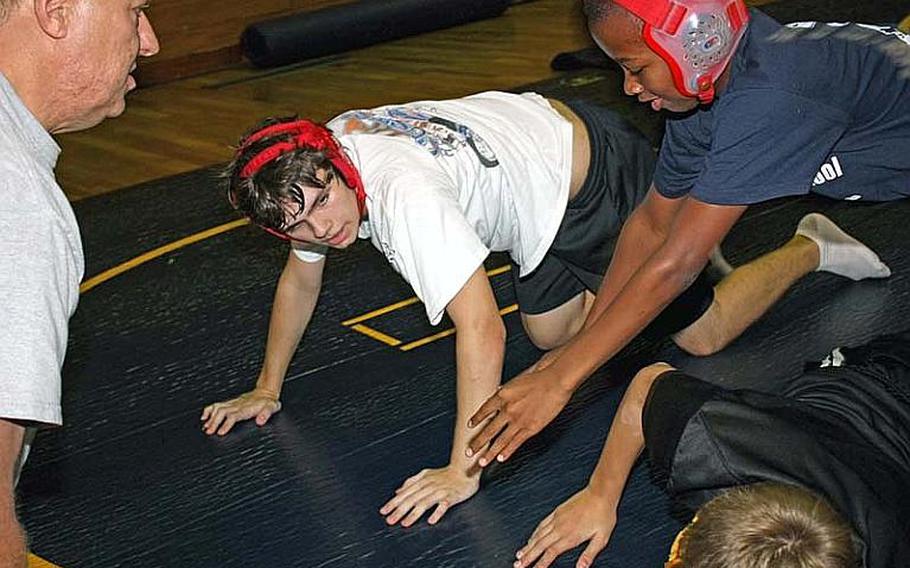 Fresh off two seasons of wrestling at Camp Lejeune High School in Jacksonville, N.C., R.J. Traylor transferred to Matthew C. Perry in Japan in July 2010 – only to find the small high school at Marine Corps Air Station Iwakuni had no wrestling program.
Instead of complaining, Traylor lobbied principal Morgan Nugent – also new to Perry and DODDS – to start a program and gathered a handful of fellow students to work out after school in the base's Ironworks Fitness & Sports Center.
The result: 18 months after arriving at Iwakuni, Traylor is now the lone senior among six high-school students and eight middle schoolers working out daily under the watchful eye of coach Frank Macias, also new to Iwakuni after transferring from Mannheim, Germany.
"I know the sport. Why not pitch it to the kids? Why not have more kids try to put more banners in other sports up in the gym?" Traylor said, adding that the school seemed "incomplete" without wrestling. "I felt the school was missing out."
For his part, Nugent said he was very receptive to the idea, just one of several initiatives Perry is taking athletically. The school will resume football in the fall after a nine-year hiatus, and is also looking at adding softball and track, Nugent said.
"I'm really excited. It definitely fills a need for a lot of our kids," Nugent said. "It takes a special kind of person (to wrestle). You have to be mentally tough to put your body through that … for 3½ months."
Traylor, a 141-pounder, is joined by his freshman brother Zachary (122) and juniors Steven Brown (148), Connor Hadlock (168) and Charles Van Allen and Kyle Lemos (215). Hadlock has some experience, Macias said, adding that Van Allen has done some mixed martial arts in the past.
Wrestling will be a club sport at Perry this season with the plan to make the Samurai a full-fledged varsity team in 2012-13, coach, principal and DODDS Pacific officials said.
DODDS Pacific athletics director Don Hobbs said Perry's participation in the Far East Tournament Feb. 13-16 at Nile C. Kinnick is being discussed, with a decision to be made later this month.
For now, the Samurai are scheduled to wrestle in two DODDS tournaments in January, at E.J. King and Yokota.
All the Samurai wrestlers – as well as Macias – must make the conversion from collegiate folkstyle rules used in the States to international freestyle, used in the Pacific.
"It's a change for me," said Macias, who coached for three years in Germany and seven in Riverside, Calif., before coming to Iwakuni.
Perry has suited up wrestlers in previous years, but never fielded a full team. In 2008, Craig Bell won the 122-pound gold medal, and in 2004, Adam Krievs captured bronze at 180.
Should Perry get the OK to wrestle at this season's Far East, it will join a Division II team title chase that should be wide open. Defending champion Zama American will suit up without 2011 Outstanding Wrestler Michael Spencer for the first time since 2008.
Three DODDS weight-class gold medalists return, Steven Walter (101) of Kubasaki, Thomas Cioppa (108) of Kadena and Marcus Boehler (122) of Nile C. Kinnick. Boehler will wrestle at 135 this year and is trying to become just the third to win four Far East championships.
Two Division I powers, Kadena and Kinnick, with 13 Far East titles between them, welcome new coaches. Chris Riley becomes Kadena's third head coach in three seasons; Gary Wilson returns to Kinnick's helm, where he won a Far East freestyle team title two years ago.
Yokota, with its deepest contingent in Brian Kitts' eight seasons as coach, is expected to battle defending Far East D-I champion St. Mary's International for top spot in the always competitive Kanto Plain.