Wrestlers take to the mats in England
by
David Hodge
December 4, 2010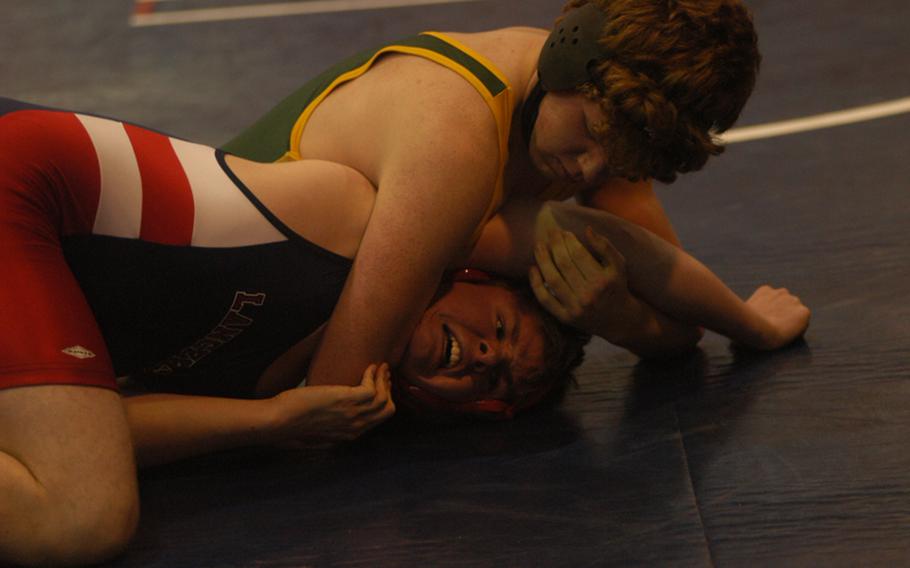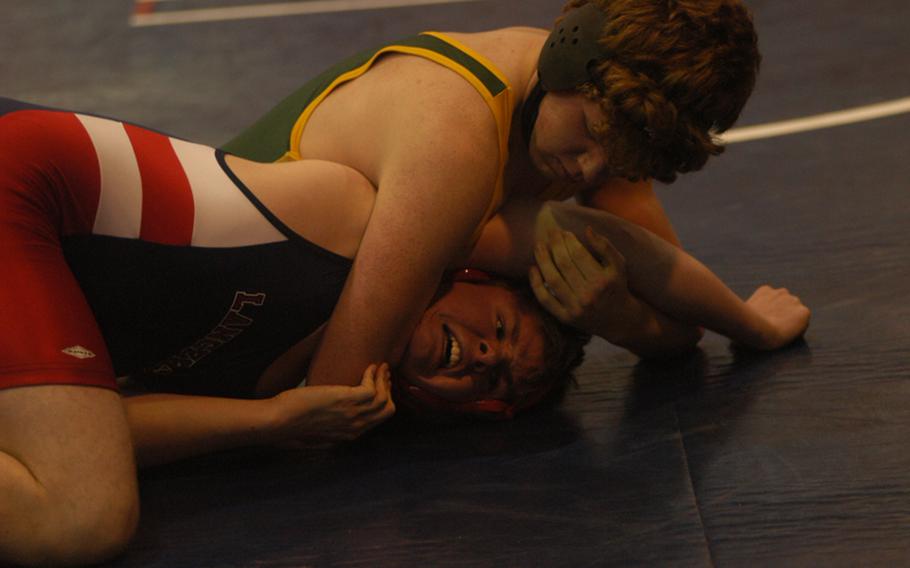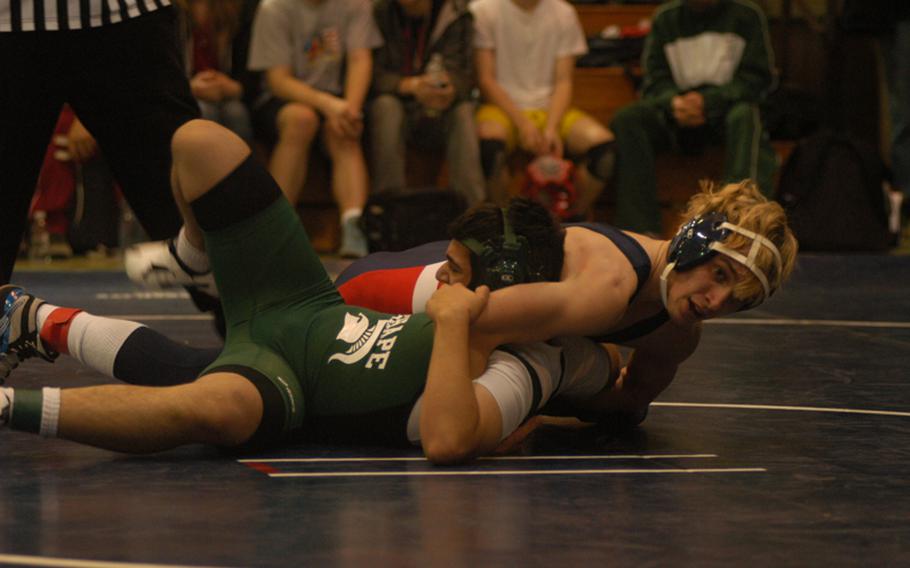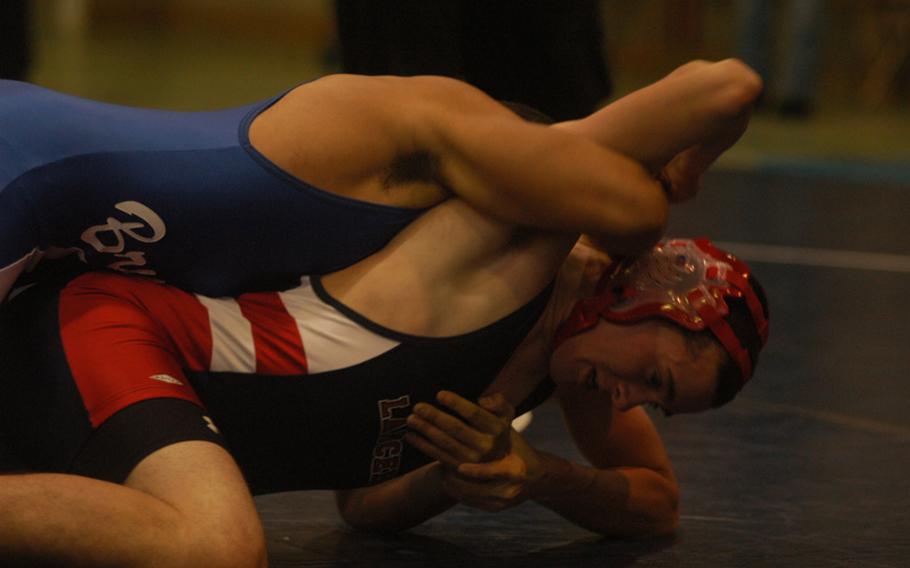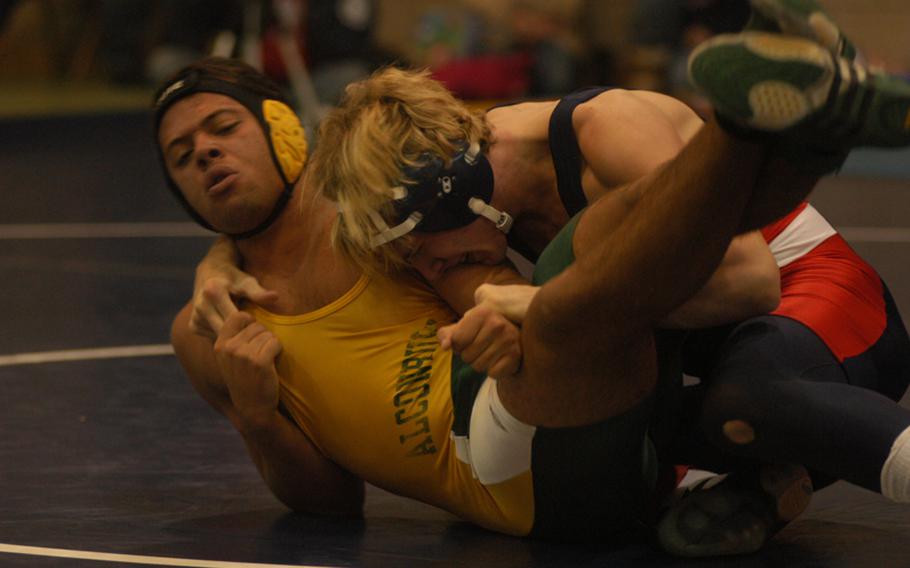 RAF MILDENHALL, England — Four high schools met at RAF Alconbury to go head-to-head Saturday in the first wrestling weekend of the DODDS-Europe winter sports season.
The matches allowed each team's wrestlers and coaches to get a look at the competition, as well as work off any residual effects from the Thanksgiving holiday feast.
Wrestlers from Lakenheath, Alconbury, Brussels and SHAPE hit the mats to begin the season, and the coaches took notes because it was the first action for many.
"This was a chance to see what our strengths are, and our weaknesses," Alconbury coach Bruce Ballard said. "It gives us an idea of what to work on in practice."
Ballard noted that the field of wrestlers was down about one-third due to SAT tests, and there were some wrestlers who hadn't practiced enough due to the holiday break.
"Next weekend will be a better measurement of the competition since all the wrestlers should be participating," he said. Lakenheath will host Menwith Hill, Alconbury, Bitburg and Baumholder.
According to Ballard, junior wrestler Andrew Luong and sophomores Johannes Wimmer and Matt Geronimo will likely be representing the Dragons in the Europeans in February.
Luong was the top wrestler at 130 pounds Saturday, Wimmer was second at 160 and Geronimo was second at 125.
Lakenheath had a strong showing. The Lancers were led by returning European champion junior Adam Carroll, now competing in the 145-pound weight class, and Devon Parrish, Austin Morrow and Nathan Rogacki. Carroll was first in his class, as were Parrish (152), Morrow (140) and Rogacki (160). Tyler Lloyd (119), Shae Emerton (215) and Matt Russell (285) also finished first.
Lakenheath coach Daryl Brock said he expects to have six wrestlers in the finals this year.
Brussels and SHAPE had a good showing as well in the first meet. Brigand coach Tim Mobley has three returning athletes from last year's European finals in Juniors Vincent Alonso and Dakota Deverill, as well as 189-pounder Joe Kren.
SHAPE's Karl Kristensen —first at 125 pounds — led the way for the Spartans.