Wrestlers set to Rumble again this weekend
by
Dave Ornauer
December 12, 2019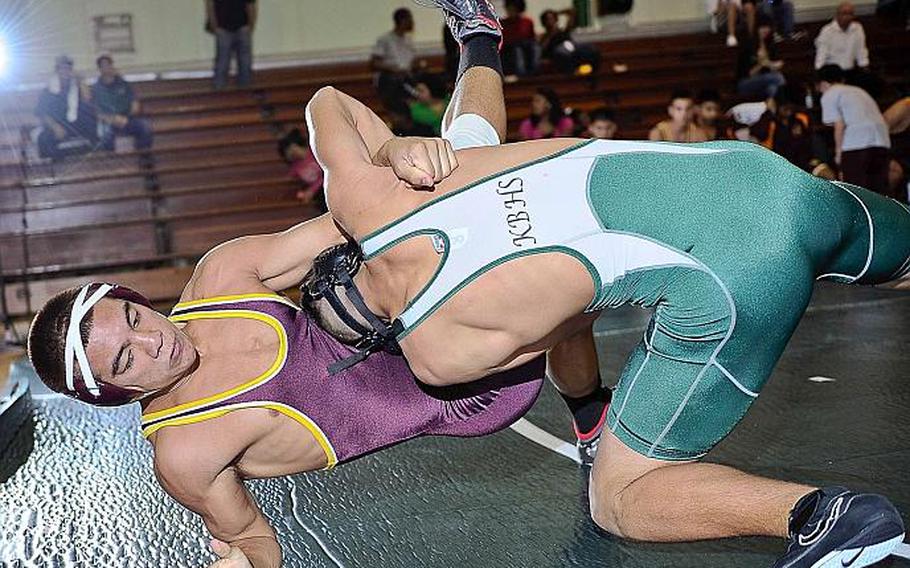 After seven years on the shelf, the Rumble on the Rock wrestling tournament is back on the Okinawa mats, with four regular Far East tournament teams and local Japanese grapplers set for a full day's action Saturday at Marine Corps Air Station Futenma.
Kadena, St. Mary's and Kubasaki – with 49 Far East team titles between them – and Humphreys are set to do battle in an individual freestyle event, organizer and Kubasaki coach Brent Cook said. No team title will be handed out; only individual medals, he said.
Humphreys is entering the event for the first time and the Blackhawks will have nine wrestlers in tow, coach Ben Pak said.
"We're always seeking experience and better competition," Pak said, adding that Rumble is early enough in the season to give the Blackhawks a chance to see what they need to work on. "This will definitely benefit my guys, to work, improve, get better."
That the tournament is in a different environment than they're used to "is always good for wrestlers," St. Mary's coach Shu Yabui said. "And if you can wrestle against wrestlers of different styles and levels, it's even better. Rumble has all of that."
Rumble got off the ground in February 2006 and ran for seven years at Kubasaki before being canceled in 2013 due to competition limits imposed by DODEA-Pacific. That left only the "Beast of the Far East," hosted annually by Kinnick, as the lone in-season invitational.
Schedules have been adjusted over the succeeding years, and finally, Rumble was put back on the current season's schedule, and St. Mary's, Kadena and Humphreys accepted invitations to attend. Humphreys had been scheduled for a quad-meet on Saturday at Osan.
"Of course, we're excited" about Rumble, Cook said. "We get to see how my team looks and get an idea of how much harder we have to work."
"Beast" is scheduled just two weeks before Far East tournament Feb. 13-15 at Osan, he said, which might not have leave enough time to take what they learn there to prepare for Far East.
Saturday marks the last weekend of wrestling among DODEA teams before the winter recess. DODEA-Japan schools convene Saturday at Robert D. Edgren for a dual-meet tournament, while Daegu and Seoul Foreign will join Osan for what now will be a tri-meet.
One of the bigger surprises in last weekend's DODEA-Japan tournament was Zama, which finished sixth in last year's Far East Division II individual freestyle tournament and fourth in the dual-meet portion.
The Trojans went 3-1 last weekend at Perry and hope to do better at Edgren, coach Guy Snyder said. "We got off to a good start, a huge improvement" over last season, he said. "We have a good core of returning veterans and some pretty talented newcomers."
Veteran Eligh Cabe (junior, 148 pounds) went 3-1 as did newcomer Makoa Richardson, at 141. Kaito Hayashi got one of his two wins by pin.
"I can't say that we'll have that weekend every week, but it was a good week," Snyder said.
This weekend is also the last of long-haul basketball road trips for teams in Japan and Korea before the winter break.
In Japan, Edgren's and E.J. King's boys and girls teams play at Kinnick, while Yokota's teams travel to Perry. On the Korea hardwood, Daegu visits Seoul Foreign and Yongsan, and Humphreys travels to Yongsan and Osan.
ornauer.dave@stripes.com Twitter: @daveornauer