Wrestlers set to open postseason action
by
Gregory Broome
February 6, 2020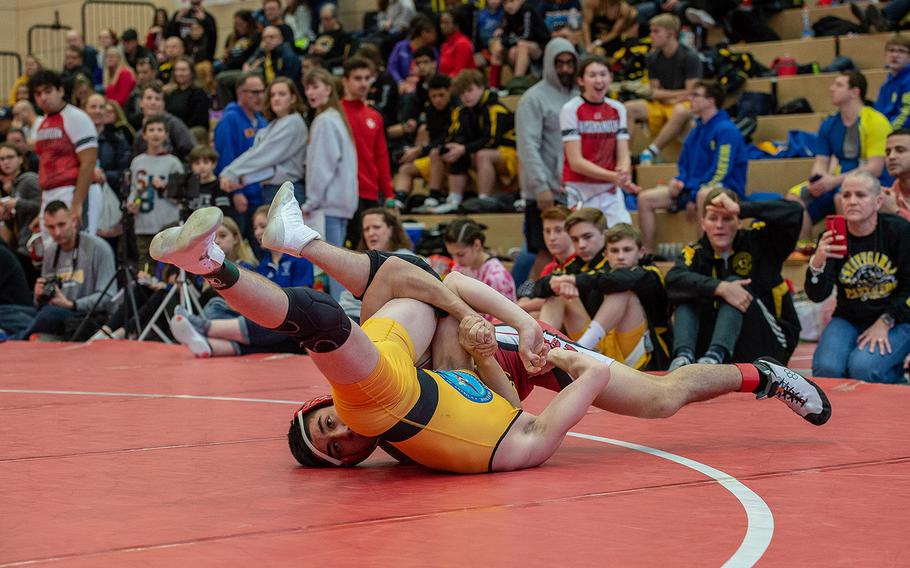 The final act of the 2019-20 DODEA-Europe winter sports season began last weekend with the European championship meet in marksmanship. Now basketball and wrestling are in view of the finish line.
The regular season is over in wrestling, leaving only two weekends of season-defining postseason matches on the mats. This weekend holds the first stage in the form of three sectional meets spanning DODEA-Europe's geographic footprint. Division I power Ramstein begins its ongoing quest for a European team title in Brussels, where it will fill the northern brackets alongside the host Brigands and five other schools, including Division I Lakenheath and SHAPE and Division III Alconbury, AFNORTH and Baumholder.
Reigning large-school dynasty Stuttgart plays host to the central region's sectional qualifier. Kaiserslautern and Wiesbaden will provide the Division I resistance while small schools Hohenfels and Spangdahlem continue their Division III rivalry.
Finally, Aviano plays host to a southern sectional that looks similar to the average regular-season meet with Naples, Sigonella, Vicenza and Spanish neighbor Rota on hand. Ankara and German Division I entry Vilseck, both of which have dropped in on Italian meets during the regular season, are set to visit again Saturday.
The DODEA-Europe girls and boys basketball tournaments are still a week and a half away, but this weekend's slate represents the last full weekend of regular-season action. A handful of matchups from Feb. 11 to 15 define the final path to the Feb. 19-22 tournaments.
As is DODEA-Europe's tradition, the latter stretch of the season will see most teams stay close to home for regional matchups before gathering in Germany for the postseason. Among the key matchups are an anticipated Division I boys rematch between Wiesbaden and Black Forest, a Division III girls showdown between contenders AFNORTH and Ansbach and the latest editions of the eternal Kaiserslautern-Ramstein rivalry.
broome.gregory@stripes.com Twitter: @broomestripes