Wrestler Scott McQuisten made the most of his short time at Bitburg
by
Rusty Bryan
February 19, 2004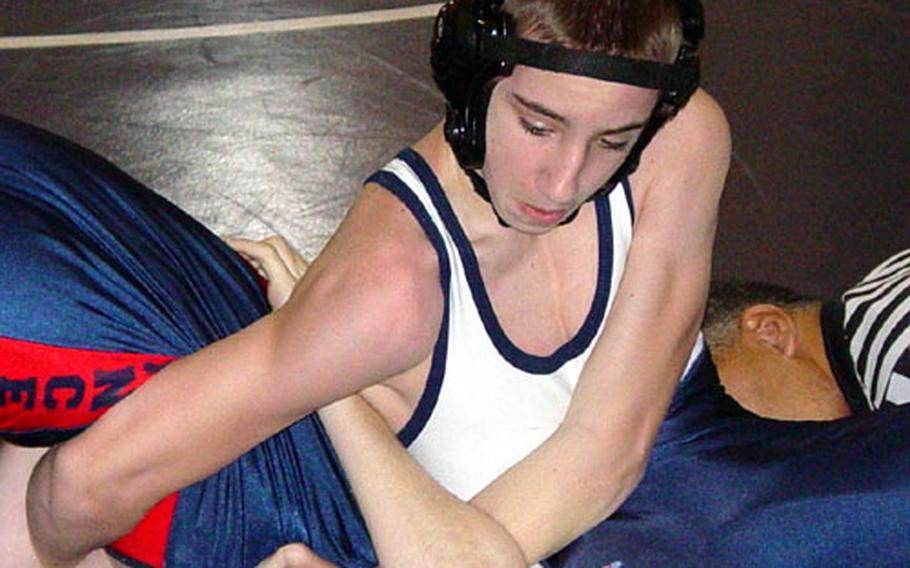 WIESBADEN, Germany — Everyone knew that European 103-pound wrestling champion Scott McQuisten of Bitburg was quick, but even by his standards, last weekend he was a whirlwind.
Friday, McQuisten picked up his records and officially ended his attendance at Bitburg High School. He then traveled to Wiesbaden in time to pin Ramstein's Jeremiah Raveling in 1:37 to qualify for Saturday's semifinals.
In the semis, he claimed a 21-6 technical fall over Ramstein's Nick Grahek and then ended his day by becoming the first freshman to win a European title since Josh Anderson of Patch accomplished the feat in 2001. That distinction came when he downed teammate Daniel Brunal 9-7 in Saturday's championship bout.
Then it was home to pack.
And Tuesday afternoon, McQuisten was on an airplane bound for his new home in Scott Air Force Base, Ill., leaving behind the European portion of his wrestling career which covered four years of Youth Services and middle school competition along with his freshman year at Bitburg.
During that time, McQuisten lost one match ... by one point on Jan. 24 to London Central's Jonathan Scott, who won the European 112-pound championship on Saturday.
"I moved him up [a weight class] to get him some competition," said Bitburg coach Jeffrey Watts, who eagerly waited for McQuisten to gain his high school eligibility.
"He's a competitor," Watts said of McQuisten. "You could see it in his championship match against Brunal. Dan took him down, and the look in Scottie's eye said, 'OK, that's it. It's time to get going.'"
Brunal's takedown was a nifty two-leg that cut McQuisten's lead to 4-3 at the end of the first period. After that, though, McQuisten scored three more takedowns to put the match away.
"We wrestle each other all the time," McQuisten said after the two had embraced following the championship bout. "We know each other's moves inside and out."
Even so, McQuisten said he was nervous before the match. It had been a long time coming for a wrestler who first attracted notice when he was a 65-pound seventh-grader beating bigger high school wrestlers in exhibition matches at the Wolfpack Holiday Classic.
"I began wrestling in sixth grade," McQuisten said, "and then my family got behind me. I liked it better every match."
Saturday night, he might have liked it best of all, if only he hadn't had to beat a friend to win the gold medal.
"It would have been more fun to beat someone from another school," he said.
He'll get that chance now, Watts pointed out.
"It's good for him to be going to the States," Watts said, ignoring the loss his team will suffer from McQuisten's departure. "He'll get tougher competition there."
The kind of competition that will allow McQuisten to make the most of his gifts.
"He's extremely quick," Watts said. "He's good on the mat and on his feet, but he's better on his feet. I would say he needs to add some more muscle to really excel."
---
---
---
---