Wonzina sets pace for boys' All-Europe team
---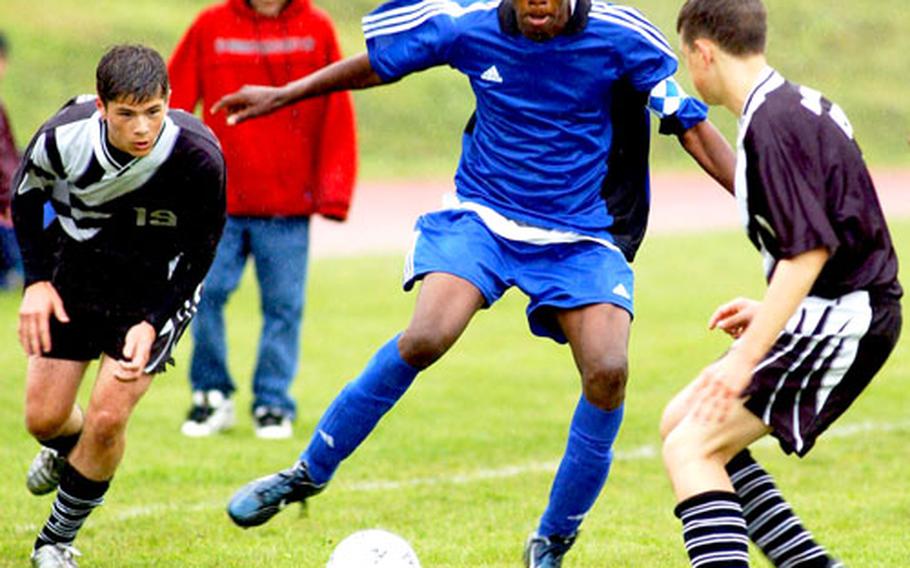 Bamberg striker Collins Wonzina capped his senior year by scoring 21 goals in seven games and making the All-Europe first team for the third straight year.
Four other first-teamers from 2004 join Wonzina on this season's top 15, selected by a panel of coaches.
They are Black Forest Academy senior goalkeeper Scott Custer, who led the Falcons to their second straight Division II crown by allowing only five goals in 13 games; Wiesbaden junior striker Lones Seiber; Vilseck senior midfielder Steven Tracy; and AFNORTH senior striker Pal Skaugen.
Joining Wonzina as a three-time pick is Heidelberg senior striker Kevin Thorne, a first-teamer in 2003 who made second team last year and returned to the top squad in '05.
Seniors dominate the 2005 first team. Wiesbaden teammates Seiber and Collin Limes, a stopper, are the only juniors to make the squad; Hohenfels striker Anthony Marshall is the lone sophomore picked. No freshman cracked either roster.
The second team is more senior-laden than the first, with 13 of the 15 slots going to seniors.
High scorers dominate the first team. In addition to Wonzina, AFNORTH senior Mike Kincaid, a second-teamer in '04, and Skaugen scored 18 and 16 goals, respectively. Marshall scored 13 times and Ramstein midfielder Jason Pollock, who made the 2003 All-Europe second team as a Menwith Hill sophomore, connected 12 times.
But the panel made a vigorous effort to recognize all aspects of the game, according to selector Greg Blankenship of AFNORTH.
"We tried to pick the best athletes," Blankenship said. "We made a conscious effort not to overlook defenders."
Character counted, too.
"We wanted players who respected their opponents," he said, "and respected the game."
Boys' All-Europe soccer
First team
Player Grade Position School Stats or coach's comment
Scott Custer 12 Goalkeeper BFA Allowed 5 goals in 13 games.
Emanuel De Duonni 12 Striker ISB 7 goals, 2 assists
Ryan Fultz 12 Striker BFA "Created plays by hard work"
Tyler Keith 12 Goalkeeper Lakenheath 50 saves; allowed 8 goals
Mike Kincaid 12 Striker AFNORTH 18 goals, 16 assists
Collin Limes 11 Stopper Wiesbaden 1-on-1 on foe's best
Anthony Marshall 10 Forward Hohenfels 13 goals, 7 assists
Jason Pollock 12 MF/forward Ramstein 12 goals, 9 assists
Adam Rasmussen 12 MF/stopper Ramstein 2 goals, 7 assists in tourney
Lones Seiber 11 Forward Wiesbaden 7 goals despite tight marking
Pal Skaugen 12 Striker AFNORTH 16 goals, 10 assists
Kevin Thorne 12 Forward Heidelberg 9 goals, 2 assts; 21 balls won
Steven Tracy 12 MF/striker Vilseck 5 goals in 3 games as striker
Collins Wonzina 12 Forward Bamberg 21 goals in 7 games, 4 assists
Tom Zajac 12 Sweeper Lakenheath "Team commander"
Second team
Goalkeeper—Kevin Pollock (Vilseck).
Sweepers—Chris Adams (Black Forest Academy), Joe Conway (Heidelberg), Christian Peel (Bamberg), Levi Porter (London Central), Jacob Spraggins (AFNORTH).
Midfielders—Tommy Appel-Schumacher (Ramstein), Andre Clayburn (Patch), Shawn Newby (Black Forest Academy), Ryan Puppolo (Heidelberg), Jay Sison (Iceland), Neal Stainbrook (London Central).
Strikers—Mike Monaco (Naples), Chris Perez (Lakenheath), Chris Purdin (Würzburg).
---
---
---
---