Wolfpack Classic a good test for Europe's wrestlers
by
Rusty Bryan
December 18, 2005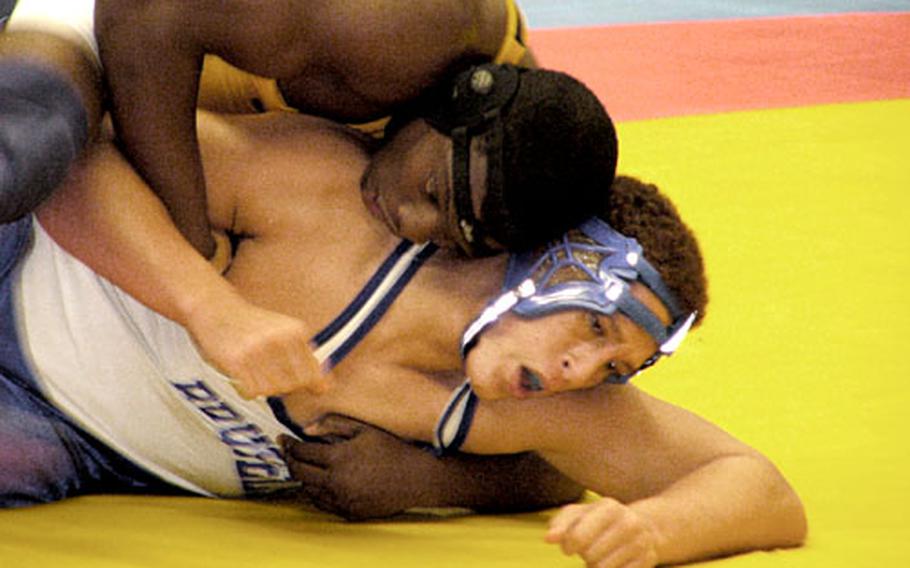 WüRZBURG, Germany — Just like each previous edition, Saturday's 15th annual Wolfpack Holiday Classic wrestling tournament was a yardstick for the best wrestlers in Europe to see how they measure up.
"The thing about holiday tournaments is that most good wrestlers come out for them," Ramstein sophomore Coty Reinhart, the defending European 135-pound champion, said after he nailed down the 152-pound crown by pinning Wiesbaden's Steven Ponte in 1:31.
To prove Reinhart's point, no fewer than 12 podium finishers from last February's European championships, led by returning champs Reinhart and teammate Noah Sheppard, braved icy roads and snow to test themselves on Saturday.
"Everybody likes the Wolfpack Classic. It sets you up for Europeans," added Kaiserslautern's Madison Hayes, third in Europe at 171 last season. He pinned Patch newcomer Tony Gorry in 5:32 to win his weight class round-robin.
"What has evolved here since our first tournament in 1991 is an event where wrestlers can gather to see where they stand," tourney founder Duane Werner said.
Werner, who built the Würzburg wrestling program into a perennial power, has moved on to become an assistant principal at Patch. But he couldn't stay away from the Wolfpack tournament. On Saturday he was a referee for matches he once organized and coached.
"It's a little different," he said of his new role. "It's good to be part of it. I can't get too far from wrestling."
The tournament gave an idea of what wrestlers and fans have to look forward to. Heidelberg's Brandon Simmons, fourth in Europe at 215 in his first try at wrestling last season, won at 215 on Saturday, defeating Eric Popp of Brussels 10-9 in a match that whetted observers' appetites for this year's European championships Feb. 17-18 in Wiesbaden.
Saturday's 160-pound champion, Elliott Boltz of Heidelberg, got exposure to some competition from far-off places.
"It helps to know who your opponents are," Boltz, third in Europe at 160 last season, said after downing Kyle Lucas of Alconbury, a contender he won't see again until February.
Boltz said he'll be wrestling 152 when the season resumes in Janaury, setting up a possible collision in the Europeans with Ramstein's Reinhart, ranked among the nation's top 20 freshmen and sophomores by USA Wrestling.
Vicenza wrestler Shane Hinton used the Wolfpack as a scouting opportunity for the second straight December.
"I learn whom to look out for," said Hinton, who brought younger brother Kyle to wrestle in the middle school division Saturday.
"I won't get to face wrestlers from Germany before regionals, and then only Ansbach and Würzburg. Even though our whole team wasn't here, I can go back and tell my teammates about the people I wrestled here."
Traveling the farthest for the Wolfpack was Menwith Hill eighth-grader Bryce McClain, who wrestles with a British freestyle club.
Even with all the competition he gets with club wrestling, McClain finds this event worth the trip.
"It opens my mind," he said. "It gets me seeing new things. It's fun to see new people and different skills."
Wolfpack Holiday Classic
WüRZBURG, Germany — Top finishers Saturday in the 15th annual Wolfpack Holiday Classic Wrestling Tournament at Leighton barracks gym. Weight classes 103, 119, 125, 135, 140, 145, 171, 189 and 275 drew five wrestlers or fewer and were wrestled as round-robins. Records are listed for top 3. Other weights were single elimination.
High school division
103 pounds: 1, James Ricks (Patch) 4-0; 2, Jerry Archuleta (Bitburg) 3-1; 3, Zachery West (Heid) 2-2.
112: Chris Spencer (Wiesbaden) def. Jarrod Branch (Patch) 17-11 (championship); Albert Sostre (Hanau) pin Kuani Tilman (Heid) 1:46 (3rd place).
119: 1, Trey Fortuanato (Ramstein) 4-0; 2, Stephen Oen (Hanau) 3-1; 3, Daniel Taylor (Patch) 2-2.
125: 1, Ryan Gough (Rams) 3-0; 2, Paul Moseman (Brussels) 2-1; 3, Mike Brady (Patch) 1-2.
130: Noah Sheppard (Rams) pin Andrew Moon (Heid) 3:13 (championship); David Crow (Baumholder) pin Nathan Buckley (Patch) 1:08 (3rd place).
135: 1, Brandon Foster (Wies) 3-0; 2, Daniel Herring (Bamberg) 2-1; 3, Reid Olmstead (Wies) 1-3.
140: 1, Ron Peebles (Wies) 3-0; 2, Jeremiah Raveling (Rams) 2-1; 3, Shane Hinton (Vicenza) 1-2.
145: 1, Doug O'Meara (SHAPE) 4-0; 2, David Lock (Rams) 3-1; 3, Ronnie parker (Wzbg) 2-2.
152: Coty Reinhart (Rams) pin Steven Ponte (Wies) 1:31 (championship); Josh Emerson (Baum) pin Michael Fuentes (Kaiserslautern) 5:24 (3rd place).
160: Elliott Boltz (Heid) def. Kyle Lucas (Alconbury) 10-2 (championship); Daniel Renaud (Bitburg) maj. dec. Adam Harper (Kais) 18-5 (3rd place).
171: 1, Madison Hayes (Kais) 4-0; 2, Tony Gorry (Patch) 3-1; 3, Corey Targos (Patch) 2-2.
189: 1, Michael Beuckens (Patch) 2-0; 2, Doug Bagnall (Alc) 1-1;3, Marcus Cherry (Rams) 0-2.
215: Brandon Simmons def. Eric Popp (Brussels) 10-9 (championship); Nick Pettit (Rams) maj. dec. Bryant Pingo (Wzbg) 17-6 (3rd place).
275: 1, Brian Bowles (Patch) 3-0; 2, Troy Price (Kais) 2-1; 3, Jordan Britten (Wies) 1-2.