Wrestling AOY
Wirth turned rare loss into motivation for another title
---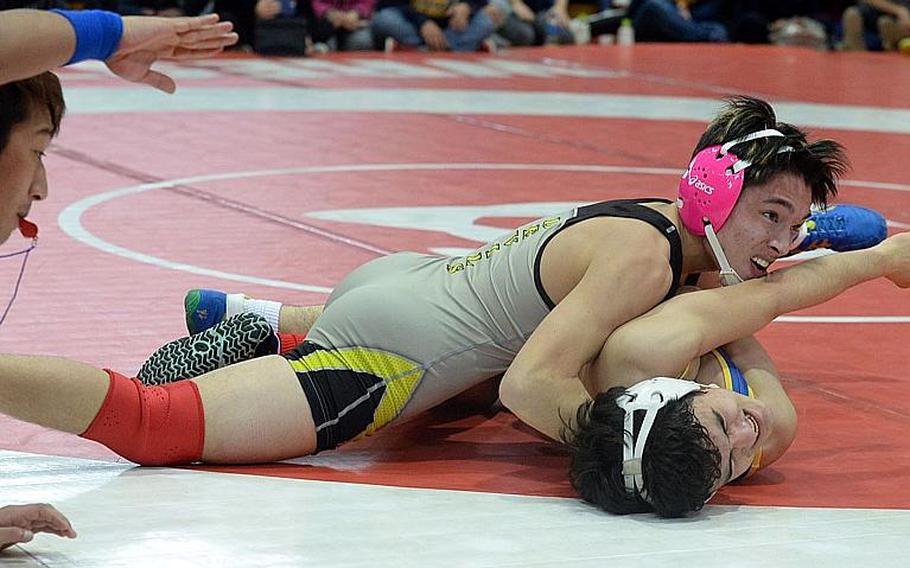 YOKOSUKA NAVAL BASE, Japan – Sometimes, one down moment in a wrestler's season can be enough to motivate them for the rest of their high school career.
Take Lucas Wirth and his double-elimination finals defeats in the 2017 Far East tournament last February 17. Then a Nile C. Kinnick junior, the 122-pounder lost, 10-0 and 4-2, to his chief rival, St. Mary's Rio Lemkuil.
Immediately, a fire was lit inside Wirth.
"It was a revenge tour from the start, since the end of the last one," Red Devils coach Gary Wilson said.
As a 129-pounder, Wirth went undefeated, from the opening tournament at Matthew C. Perry on Nov. 17 to a pinfall victory over Lemkuil in the Far East tournament dual-meet final Feb. 3.
Kinnick won all its events but the Kanto Plain finals on Jan. 20, capturing the banners in both the Far East dual-meet and individual-freestyle tournaments for the first time since the 2001 season.
For all those achievements, Wirth has been named Stars and Stripes Pacific's Athlete of the Year for wrestling. He beats out Hunter Lane, a Daegu senior who became just the second wrestler in Far East's 41-year history to be named the tournament's Outstanding Wrestler.
On the flight back to Japan from Osan last February, Wirth said he sat quietly in his seat, stewing over how losing to Lemkuil was the "worst feeling in the world."
He especially rued how he was denied two points late in the second final bout which could have given him the win. And it also ended any possibility he had of becoming a rare four-time Far East champion.
"It was a tough call," Wirth said, adding that he has looked at the video "over and over again."
"I feel I let the team down," Wirth said. "It came down to one placing. If I don't lose, then we win as a team and that would have changed everything."
All of that was what gave him the determination for 2017-18, "that I wasn't going to lose," he said. "It set me straight."
"Last year, he felt like things would naturally happen," Wilson said. "This year, he went out and got it."
His unbeaten run began that Nov. 17 evening before the home crowd, when the Red Devils edged the Titans 29-26. Wirth downed Lemkuil 6-2 in their 129-pound bout.
"I couldn't wait for that first dual meet, St. Mary's, at home," Wirth said.
Still, it was just one bout, and Wirth said he knew there would be more against the one guy who'd beaten him during his four years at Kinnick. He needed to do something, Wirth said, to stay a step ahead of Lemkuil.
Wirth says he approached Kinnick assistant Dan Joley, who told him he needed to change his style.
"Instead of coming straight up with him, go in from the side, make sweeps and stuff, instead of trying to power everything," Wirth said. "I went for more finesse, coming in quicker instead of trying to muscle everything."
A change of training partners also helped, Wilson said. Wirth spent much time working against 135-pound champion Devoney Stanley. "He picked some stronger partners to partner up with," he said.
He also stopped being nervous every time he got on the mat with Lemkuil, Wirth said. "I was like, 'what's the point of being nervous?'" he said. "You've been doing this for so long. Just go out and wrestle."
But Wirth was not only in it for himself; as a team captain, he also worked with other wrestlers during practice to better their game, such as 101-pounder John Lanzilotta.
Lanzilotta went on to finish second in the individual and beat St. Mary's Jasjot Bedi 5-3 to lead off Kinnick's 30-28 Far East dual-meet banner-winning victory over the Titans.
Now that it's over, now that Wirth will no longer wear the red-and-white of Kinnick, he says the way it ended couldn't have gone better.
"I still feel like I'm on top of the world," he said. "It's very, very special."
Twitter: @ornauer_stripes
---
---
---
---