Winless Panthers turn to technology
by
David Josar
October 4, 2003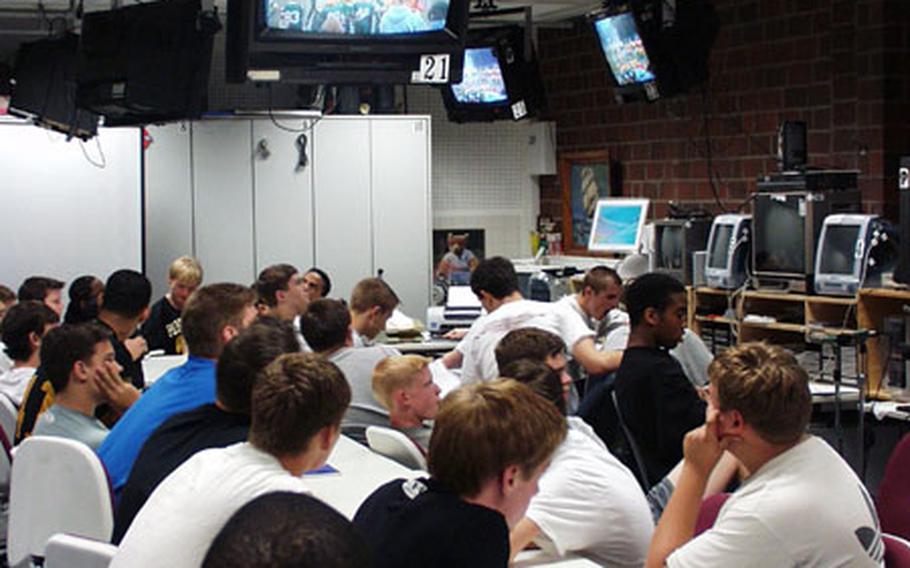 STUTTGART, Germany — Patch High School football coach Billy Henry needed something to help his struggling team, and he turned to the school's video production class for help.
Now instead of reviewing the prior week's game with a VCR and TV, Henry and his coaches use the cutting-edge equipment in the school's video production classroom.
Every Monday, Henry uses what is essentially the same tool — the telestrator — that John Madden uses on Monday Night Football that allows players to review a videotape of the game but the coach can then circle players, make Xs and Os and draw lines to show players what they should have done.
"See that?" Henry asks his team of players as they sit, many with sneakers off, around a giant classroom table and peer at the TVs suspended from the ceiling.
Henry is angry because his defensive line and linebackers weren't in their proper positions when they played Naples. The team is 0-3 this season.
The second-year coach, who also teaches special education classes, is able to note where players should have been. He sits in the room that the school uses to produce in-house TV news magazines. His players sit in the adjacent classroom and see their coach's notations replicated on the many TV screens that hang from the ceiling.
"We can get this to work," Henry said, and his players echo in unison "coach."
Patch teacher Walter Fritz, who teaches video production, said the sharing of resources helps the team and is another example of how video production expertise can help everyone — from athletes to budding journalists.
Although the game reviews can be emotionally punishing — players are noted by name when they miss a tackle or an assignment — players say it is helping the team get better.
"Maybe we'll be able to win one," running back David Kennedy said this week before practice. On Saturday the team will play Aviano in Stuttgart and is still trying to get its first win.
Kennedy also noted that the coaches point out good plays too.
"It's hard to watch, but I think we can learn from it an get better," Kennedy said.