Wing soars to big victory in round-robin
by
Dave Ornauer
July 18, 2003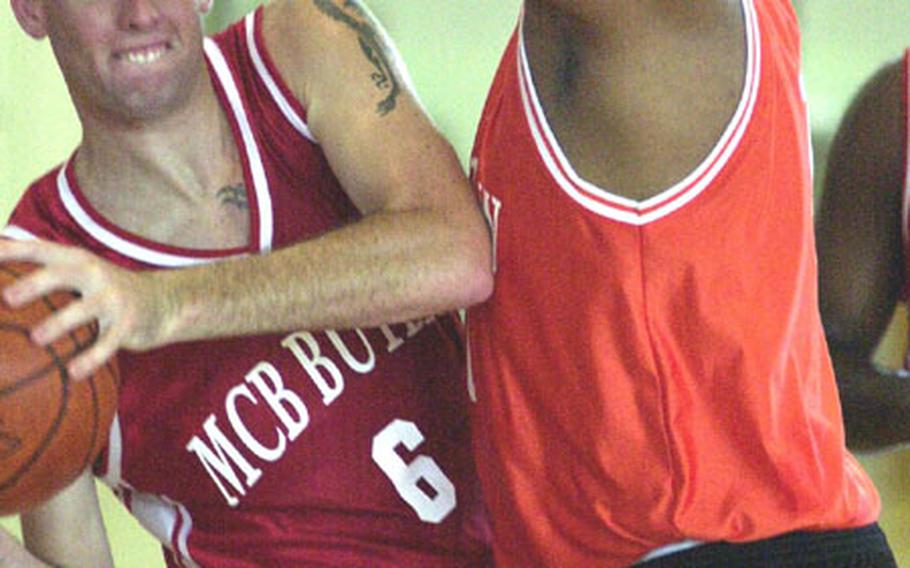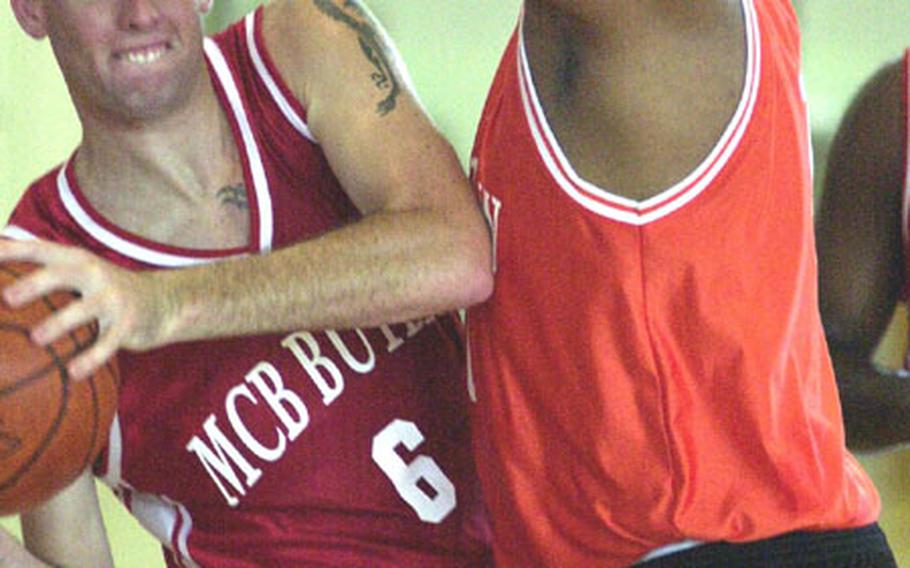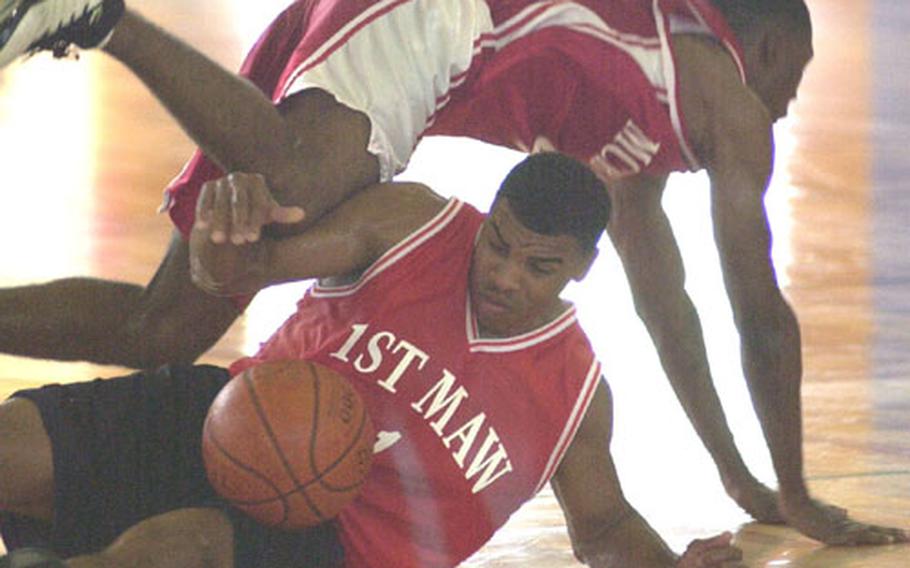 CAMP KINSER, Okinawa — At last, somebody found a way to beat high-flying Hawaii.
Man-to-man defense, good rebounding position and a penetrating offense, along with a late 13-point run, helped 1st Marine Aircraft Wing solve the puzzle that had stumped the rest of the field in the Marine Forces Pacific Regional Basketball Tournament.
Hawaii had beaten four teams by an average of 42.3 points until Wing grounded the Islanders 70-67 on Wednesday night to end the tournament's round-robin phase.
"(We played) Fundamental basketball," veteran guard Kevin Cochran said. "We played a man-to-man defense against them. Most of the other teams played a zone; we were the only one that played them man the whole time. We were able to box out their big guys underneath. And on offense, we were able to penetrate inside."
The victory scrambled the final round-robin standings, with Hawaii, Wing and 3rd Force Service Support Group of Okinawa at 5-1.
Hawaii gained the top seed for the single-elimination playoffs, which begin Thursday, by allowing fewer points in games against Wing and 3rd Force (136). Wing permitted 146 and 3rd Force gave up 180.
But Hawaii finally lost that aura of invincibility. Cochran feels Wing can beat Hawaii again, or anybody else.
"As long as our big men don't get hurt, we can do this," Cochran said, citing former four-time All-Marine Kendall Evans, who's nursing a bad right ankle. "We need Evans' rebounding. Otherwise, I don't get the ball."
Though vanquished, Hawaii coach Garland Woodard said his team doesn't plan to go away.
"We'll be back," he said, suggesting the loss might energize his team. It's a young bunch, he added, with only one player over the age of 25 and none holding a pay grade above E-5.
"We made some crucial errors down the stretch," he said, noting that Evans was injured and three-point specialist Thomas Johnson had fouled out. "But we gained some experience, playing with adversity."
Wing isn't the only resurgent team in the regionals.
3rd Force, routed 104-66 by Hawaii in the tournament opener, closed round-robin play by winning five straight.
"After that first loss, I told the guys we would use round-robin as practice, to jell, get our defense going, put our players together, so when the playoffs start, we'd know what we've got," said 3rd Force coach Roy Morris.
To overcome Hawaii, 3rd Force must play solid defense, slow down the tempo and get the islanders out of their quick open-court game, Morris said.
"More than half their points against us were in transition," he said. "If we do all that, we have a chance. It will be a different game when we get to the finals."