Wrestler of the year
Wilder carries on Zama mat legacy
by
Dave Ornauer
March 8, 2012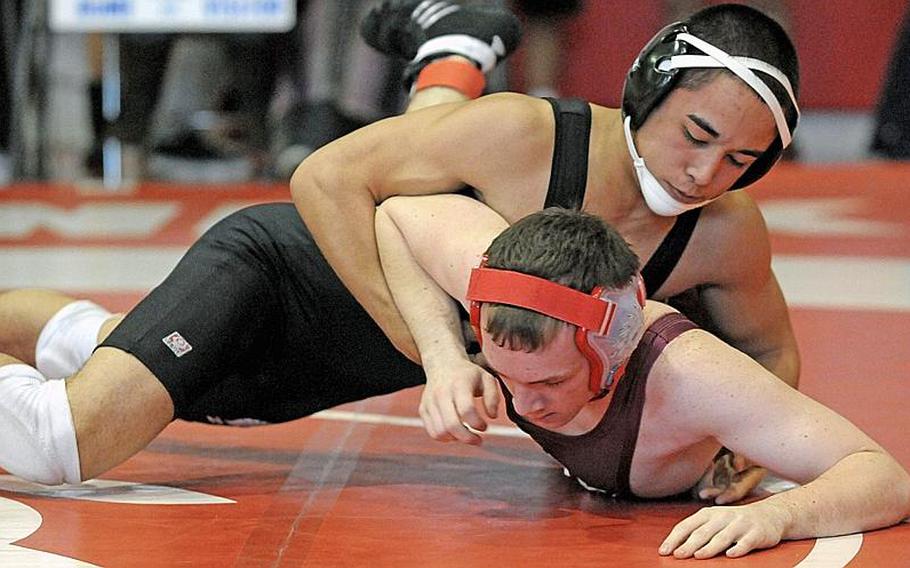 It could be argued that Zama American's Chad Wilder picked up where three-time Far East gold medalist Michael Spencer left off. Or that Wilder wrote a championship postscript of his own.
Whichever, the junior transfer from Florida rewarded his coaches' faith in him, as he captured gold at 141 pounds in the Far East High School Wrestling Tournament, capping a 35-1 season that included four tournament titles.
For his efforts, Wilder has been named Stars and Stripes Pacific high school Wrestler of the Year for 2011-12.
"He had a great year, he did a lot of great things," said Steve Scott, a Trojans' assistant coach for several years who ascended to head coach this season. "He did the job as a team captain this season and he did a good job with the wrestling."
Wilder capped his individual freestyle campaign by beating perhaps his greatest rival, JP Kwak of St. Mary's International, with a two-period decision in the 141-pound Far East final on Feb. 15 at Yokosuka Naval Base, Japan.
After missing most of his sophomore year with an injury back in Florida, Wilder became just the fourth wrestler in Zama American history to earn Far East tournament Outstanding Wrestler honors.
He also joined Spencer in being named Outstanding Wrestlers from Zama American in consecutive years. David Burnett (2005) and Mike Greeson (1990) also received that recognition for Zama.
Not one to sit idly by, Wilder has already begun preparations to defend his title and perhaps help the Trojans reclaim the Far East Division II individual freestyle and dual-meet team titles they won in 2011, Scott said.
"We expect even more great things from him next year, and he'll give it to us," Scott said.
2011-12 Stars and Stripes Pacific high school All-Star wrestling team
101 pounds — Justin Duenas, Kadena108 — Steven Walter, Kubasaki115 — Quincy McCants, Nile C. Kinnick122 — Brett Hammontree, Osan American129 — Yuma Fuseya, Christian Academy Japan135 — Trenton Traylor, Yokota141 — Chad Wilder, Zama American148 — Zach Lacaria, Nile C. Kinnick158 — Brendan Hymas, St. Mary's International168 — Jeffrey Koo, St. Mary's International180 — Darnell Vinson, E.J. King215 — Fred Suniga, KubasakiHeavyweight — Chidi Agbo, St. Mary's International
---
---
---