Wild weather, pitching come together at Aviano
---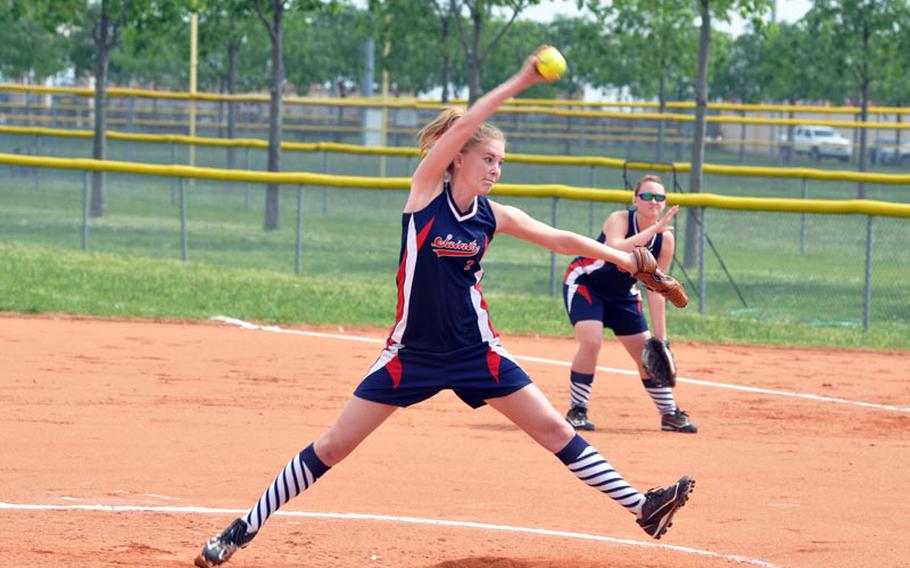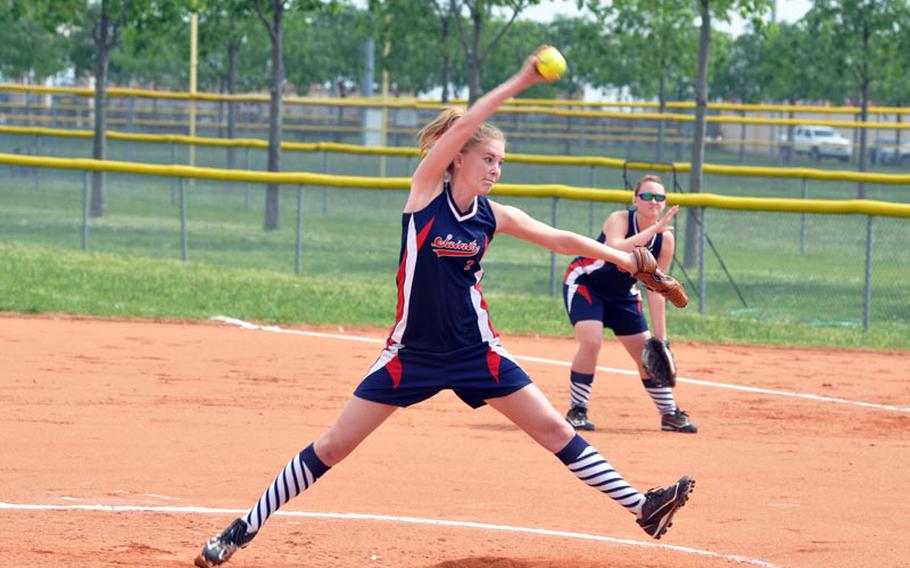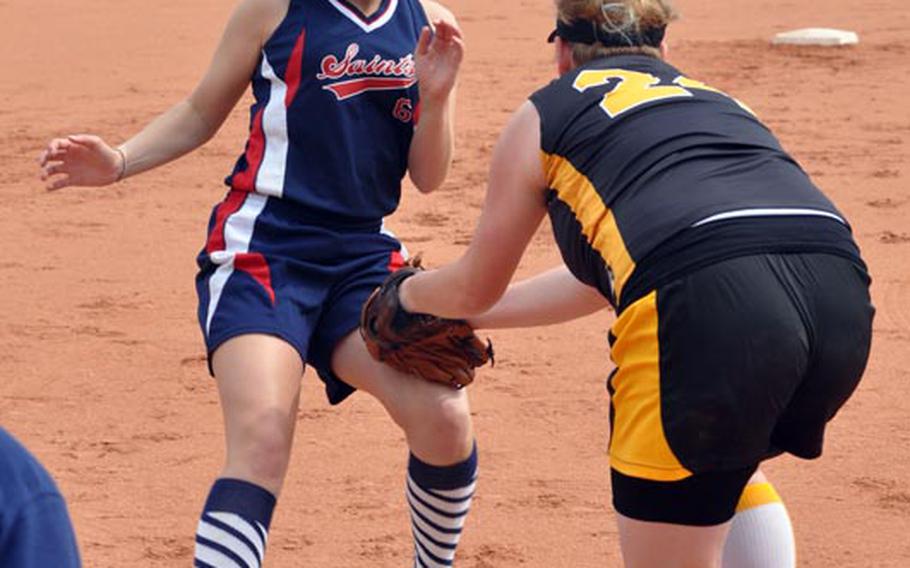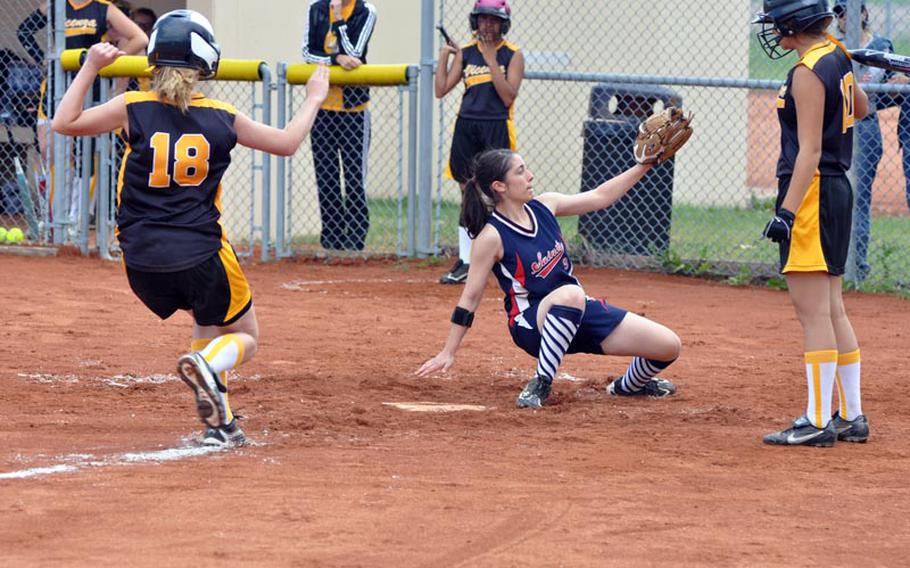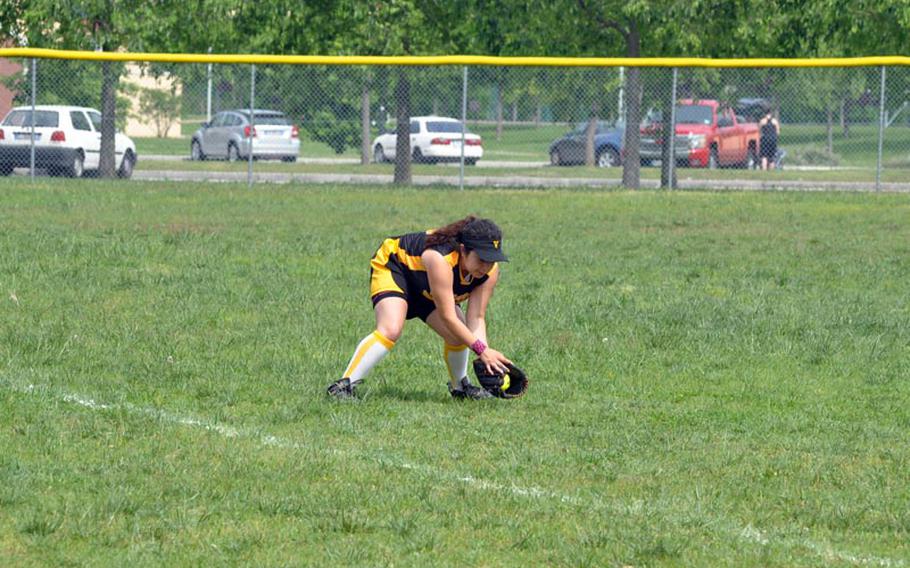 AVIANO AIR BASE, Italy — Put the ball in play in softball or baseball, as the saying goes, and you never know what will happen.
That was true Saturday in a softball doubleheader between the host Aviano Saints and their nearest neighbors in Italy, the Vicenza Cougars. But it was also true when the ball wasn't technically put into play.
Aviano senior Lauren Cox and Vicenza freshman Megan Buffington were often dominant on the mound, combining for 32 strikeouts. But they were also as unpredictable as the spring weather, issuing 16 walks and 17 wild pitches. Add two hit batters and 12 passed balls allowed by catchers, and players were running all over the bases — and scoring — without the ball put in play much of the time.
Aviano won the opening contest 7-4 behind a two-hitter from Cox, who had two of her team's five hits. But the Saints committed six errors in the sixth inning of the second game as Vicenza prevailed 16-12.
Aviano coach Mark Baldwin said he couldn't point to a single play in that nine-run inning that was the most crucial. But change just one of them and Aviano could have swept.
"You don't get that one out or make that one play and it can snowball," he said.
The Saints, like the Cougars 5-5 on the season, made more errors in that inning than they did in the other 13 combined (four). And Vicenza took advantage.
Trailing 12-7 in its final at bat, the Cougars sent 12 batters to the plate. Three reached on errors. Katie McKeever drove in two with a single, and Stacey Kaiser also drove in one on a single, then later capped the rally with another single to left that was misplayed for a three-base error clearing the bases.
Aviano had taken its lead with four runs in the fourth and six in the fifth. Brenna Fischer had two-run singles in each inning, and Jordan Leach added a two-run single in the fifth. Vicenza had used three hits and five walks to score six times in the third and fourth.
Vicenza coach Julie McClellan said she was proud of the way her team battled back for the victory.
"Especially since we're such a young team," she said. "Most of them are freshmen or sophomores."
In the first game, Buffington struck out six batters in the first two innings. But the Saints went up 3-1 after one of the strikeout victims reached base on a passed ball, with two other runs scoring on wild pitches. Cox and Bailey Spaulding each drove in runs as Aviano built its lead. Each finished with two hits.
The two teams play each other again May 19 in Vicenza before taking part in the DODDS-Europe championships in Germany the following week.
---
---
---
---