Wiesbaden's Harris out to make a lasting impression
by
Rusty Bryan
December 15, 2005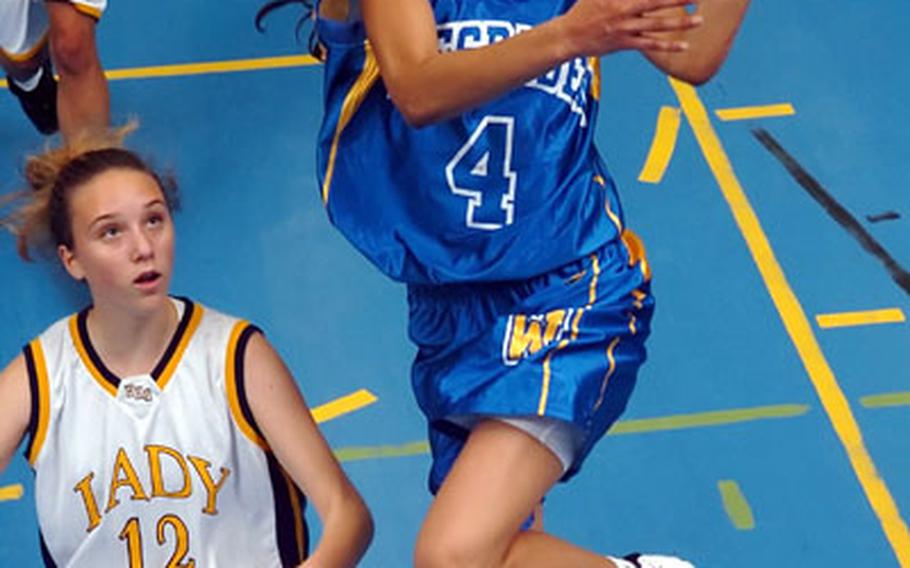 WIESBADEN, Germany — With the end in sight, the picture has come into focus for Wiesbaden senior Brittany Harris.
"For some reason I'm more focused and more motivated this year," Harris said about the improvement her game has shown this season. "In the past, I always thought there'd be another year. Now, I realized that there are no more years left. This is it."
The realization set in during volleyball season. Harris, always an effective player, elevated her game enough to make the All-Europe second team this year, and the impetus of that has carried over to basketball. The 5-6 guard, who averaged just over 14 points per game last season, is scoring at a 20-point clip four games into the current campaign.
The increased production has proved vital to an inexperienced Wiesbaden team. Although the Lady Warriors dropped two decisions to Division I contender International School of Brussels last weekend, Harris sees lots of positives for this year's team, which beat Heidelberg on the road in its opener Dec. 2 and dropped a two-point decision to Ramstein the next day.
"It's surprising how well the team's doing," she said. "We only had four returning players, but everyone learned how to play with each other quickly."
Harris was a large part of that process, according to her coach, Jim Campbell.
"She's our team leader," Campbell said. "We look to her for scoring and to show our team how to play defense."
For her part, Harris is glad to contribute.
"I like it all," she said of the game her father, retired soldier James Harris, has been teaching her since grade school, "but I like to play defense. I like for the other player to know that I can defend her and go to the hole. I like getting on a girl and making her turn the ball over."
When Harris does get the turnover, Campbell said, she does it against the best the opposition has to offer.
"I put her on the other team's best scorer," he said, adding that the foe is likely to return the favor.
"I told her that as the season goes along, she's going to have a big target on her," Campbell said. "The other team's going to put its best defender on her."
Campbell didn't say what Harris' response was, but it's reasonable to assume from her hard-nosed attitude that it was the equivalent of "Bring it on."
Harris gave a glimpse of her mindset on Monday, when it was observed that a basketball drill that involved merely slapping the floor must be more enjoyable than the belly-flops to the hardwood volleyball drills require.
"Actually," she smiled, "I love getting on the floor."
And on the court. Harris said she'd use the winter holidays to hone her game in daily workouts against her father.
Can she beat him yet?
"I don't think I'll ever beat him," she smiled.
Harris has simple goals for her final high school season, both personal and team.
"I just want to know that I gave the team all I could," she said. "The team goal is to win Europeans, but it's more important that we just give it our all. We have so much potential."