Wiesbaden's Bryant knocks heads with soccer stars
by
Rusty Bryan
January 15, 2004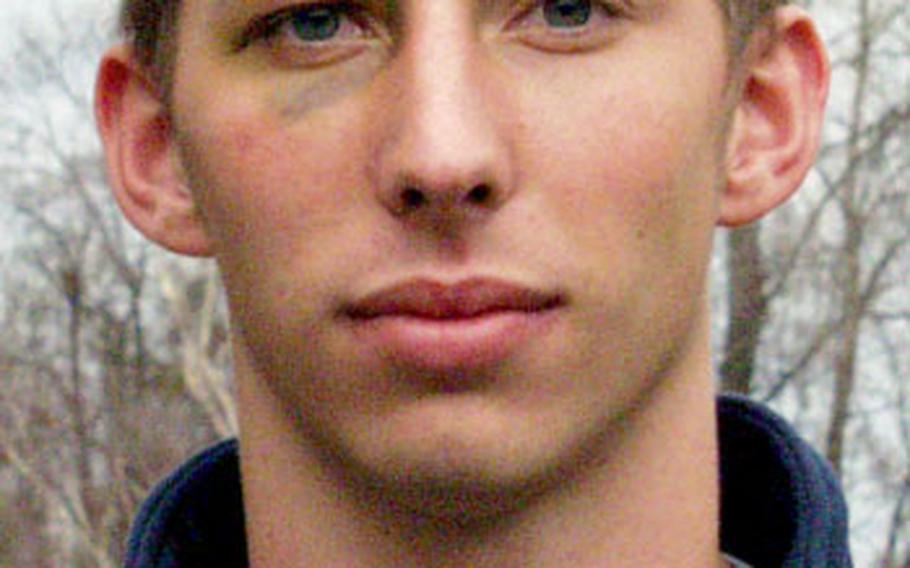 WIESBADEN, Germany — When Cooper Bryant returned to class at Wiesbaden High School last week, he was proudly sporting a black eye.
The 18-year-old Warriors senior had just capped the soccer year of his life by being selected for the adidas all-star team at the Olympic Development Program Interregional tournament played at Carson, Calif., Jan. 2-4.
He suffered the black eye in a head-to-head collision, but he refused to let it slow him down against some of the world's top young soccer players.
The defensive midfielder was selected for the all-star team — composed mainly of NCAA Division I players — because of his work in a 2-0 loss to the U.S. National under-17 team and a 1-1 draw against the U.S. National under-20 team.
And tough work it was.
In the game against the under-20 team, Bryant found himself marking Memo Gonzalez of the Los Angeles Galaxy of Major League Soccer.
Then things got really tough: he got a chance to defend highest-paid youth player in the world, Freddie Adu of D.C. United.
For a player whose previous career pinnacles had come while manning the back row on the A Youth team of SV Mainz-Gonsenheim of the German Southwest Regional League, playing against that pair of big-leaguers was rarefied air, Bryant said.
"I really didn't know what to expect," Bryant said. "I thought about their big contracts and played cautiously at first, but as the game went I began to play them as I would anyone else."
His play was noticed.
Soon after the tournament, Bryant's father, Monty, received a letter from a parent of one of the under-20 national team members.
"Your son did a great job this morning in a 1-1 draw," the parent wrote. "He was playing defensive midfield and had to mark Memo Gonzalez of the L.A. Galaxy in the first half and none other than Mr. Adu in the second. Neither one of them was effective during play. Cooper was able to keep both of them in check."
Bryant began his soccer career as a 5-year-old in Panama City, Florida. By the time he was 12, he was criss-crossing the state to play on a youth club near Tampa.
The family moved to SHAPE, Belgium, in 2001-2002, where Bryant reported for a tryout with a Belgian junior team in Mons.
"I didn't know anyone on the team and didn't speak a word of French," Bryant said, "but once I got onto the field, everything was all right."
Bryant joined his regional league team when the family moved to Germany last year. This time, he at least had had someone to introduce him, a Wiesbaden High grad who played for SV Gonsenheim. Bryant quickly took over at center back for his new team, and spent last summer at an Olympic development camp in Binghampton, N.Y.
"It was an 'ID' camp of about 35 pool players," Bryant said of the gathering designed to identify the top 16-18 players to go to events like the one in California. "I got a call back in November inviting me to the event in California. I knew it was a huge opportunity for me."
Huge enough that he wasn't going to let a black eye, slow him down against the U.S. National teams.
Despite his sore head, "he was good in the air as well," the under-20 parent wrote. "At halftime, he had an icepack on his forehead and got his foot taped up, but that didn't keep him from taking care of business."
And because of the way he took care of business against nation's best at the start of 2004, it's likely that the November call-back was just the first in a series of huge opportunities.
Holding his own against Division I college players — some of his fellow all-stars play for schools such as UCLA, St. Louis, Notre Dame, Seton Hall, North Carolina, Cal and Wake Forest, among others — and against professionals, Bryant now knows he can hold his own at the game's higher levels.
"It made me feel good," said Bryant, who hopes to play for one of those Division I programs next year and at the professional level later. "I'm kind of psyched about what might happen."