Wiesbaden prevails in USAREUR tourney behind Bates, Williams
---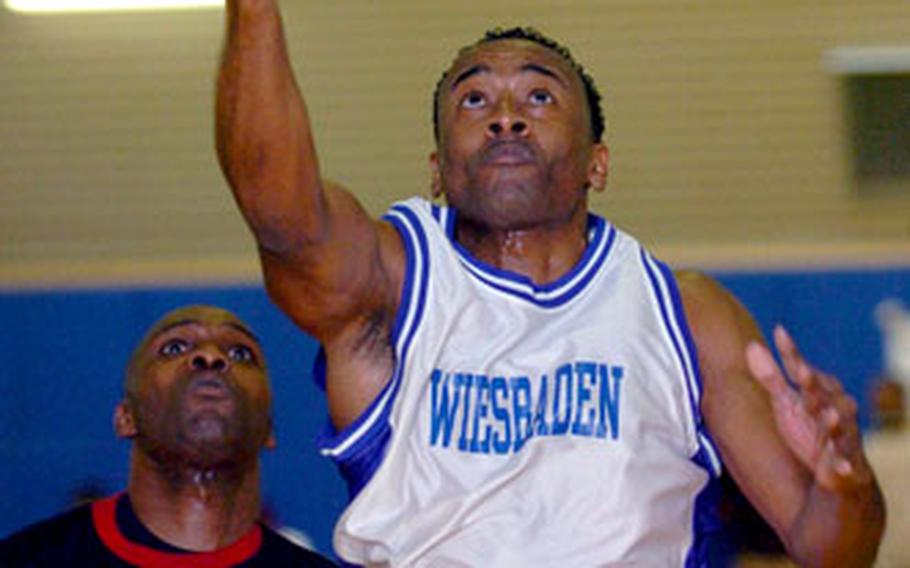 HANAU, Germany — The Wiesbaden Eagles used a variety of weapons Sunday in completing an unbeaten run through the 2006 Army-Europe community-level basketball tournament with a 107-91 championship game victory over Kaiserslautern.
"I've got three guys who can penetrate, and all my guys can shoot," Wiesbaden coach William Satterwhite said. "But the key to today's game was our defense. Every player who came off the bench knew exactly what to do in our man-to-man defense."
Satterwhite's players were coming off the bench, however, because of a three-point binge by Patrick Bates. Bates, who hit one of four attempts in the first half, was 6-for-8 in the final 20 minutes. He sank four in a 2½-minute span which saw Wiesbaden widen a 50-42 halftime lead to 72-54. Bates finished with 29 points.
"He's a pure three-point shooter," Wiesbaden's Londaryl Perry said of Bates.
Gates was open on the perimeter because of the play of 6-8, 320-pound Philea Williams on the inside. Williams, who displayed the grace and footwork of a much smaller player, scored 16 points and pulled down 22 rebounds.
"He's real smooth," Perry said. "He's a basketball player. He has a great touch and soft hands. He can even bring the ball up the court."
He's also a good target for Wiesbaden's quick first-step penetrators, led by Perry.
Perry scored 19 points in the first half before turning the scoring duties over to Bates, then resumed that role when Kaiserslautern — which got 28 points from veteran Vincent Williams and 25 from Larry Bailey — closed within 12 down in the late going. Perry finished with 31.
"It helps to be able to hit the big man down low," he said.
Kaiserslautern, which dropped its winners-bracket game to Wiesbaden 103-99 on Friday, downed Hanau 88-68 in Sunday morning's losers' bracket final. The expenditure of energy, however, left the Panthers too tired to cope with Wiesbaden.
"We got some rest last night," Perry said. "Today, we were on all cylinders."
Satterwhite, who just two weeks ago took his company-level team to the Army-Europe unit-level title, had a different explanation.
"All my guys were hungry," he said.
Both teams will take their basketball appetites to the upcoming Army-Air Force Final Four tournament March 31-April 2 in Kaiserslautern, where Satterwhite plans to make it a clean sweep for 2006.
"I want to win them all," he said.
Wiesbaden was attempting to make it an Army-Europe sweep in Sunday's late "if-necessary" game between the Lady Eagles and the Kitzingen Lady Rattlers. Kitzingen forced the if-game earlier Sunday with a 65-49 victory over previously unbeaten Wiesbaden.
Wiesbaden 107, Kaiserslautern 91
Army-Europe championship, Sunday at Hanau
Halftime: Wiesbaden 50, Kaiserslautern 42.
Scoring: Wiesbaden: Londaryl Perry 31, Patrick Gates 29, Philea Williams 16, Sean Thornton 11, Matthew Royal 9, Deon Pearman 6, Saleem Alwadduud 5. Kaiserslautern: Vincent Williams 28, Larry Bailey 25, Damon Rush 19, Antonio Johnson 6, Derek White 6, Tossell Oliver 5, Chuck Hammond 2.
---
---
---
---