Wiesbaden men win U.S. Forces Europe title
by
Rusty Bryan
April 3, 2007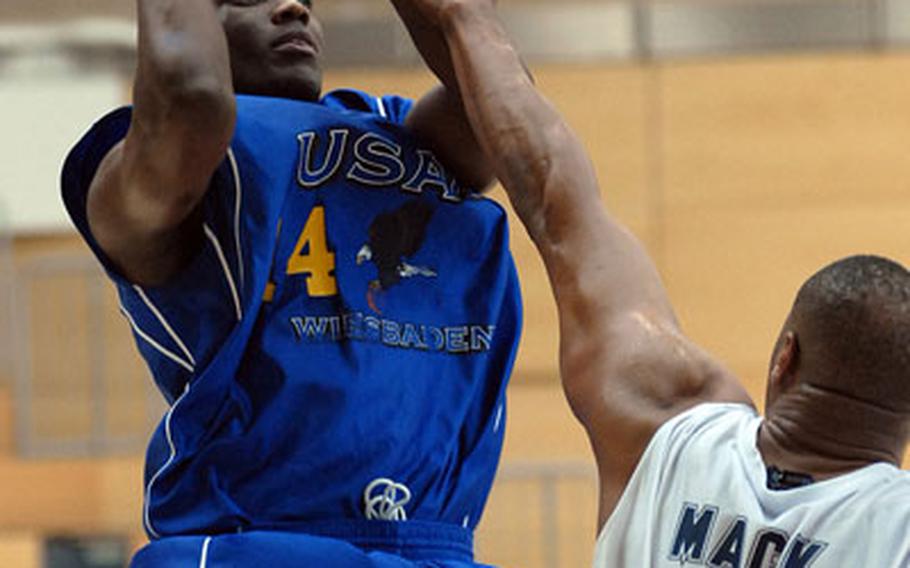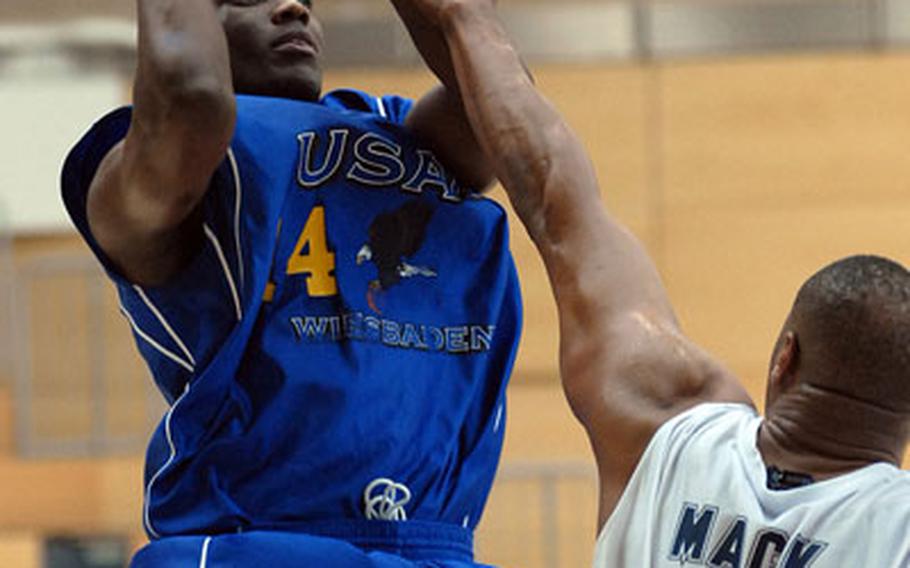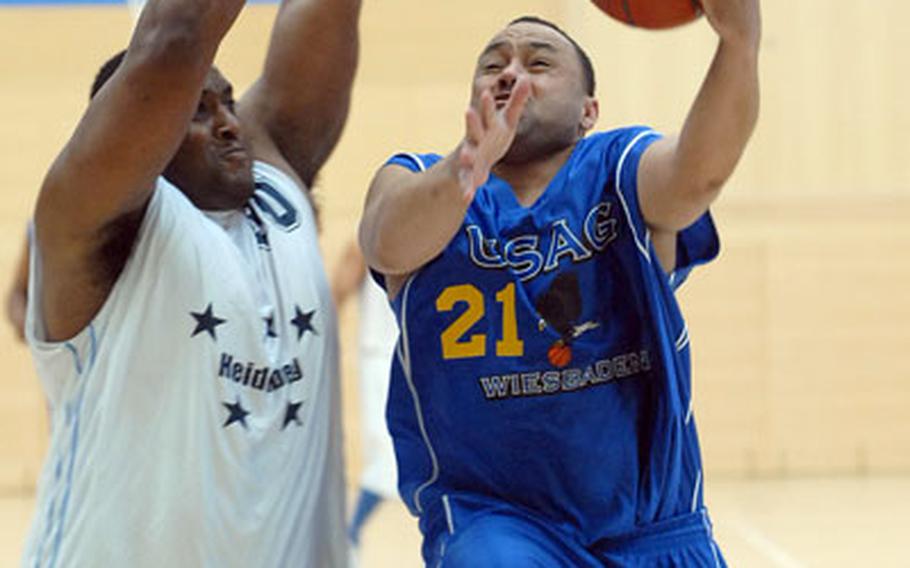 WIESBADEN ARMY AIRFIELD, Germany — For the second time in as many weeks, the Wiesbaden Eagles won a command-wide basketball crown. And for the second time in as many weeks, the Eagles had to beat the Heidelberg Generals twice to do it.
Wiesbaden, which was taken to the if-game March 18 before downing Heidelberg and successfully defending its Army-Europe title, stopped Heidelberg again in the if-game Sunday 69-56 to win its second straight U.S. Forces Europe crown.
"We got a lot of defensive help and played as a team on the boards," Wiesbaden coach William Satterwhite said of the third game between the two foes. The Eagles fell 82-61 to the Generals earlier Sunday.
Heidelberg forced Sunday's if-game behind 23 points from Shedrick June and 17 from Ayo Lawson. The Generals, who led 40-32 at halftime thanks in part to collecting six unanswerable points on fouls followed by technical fouls, pulled away after intermission on backdoor cuts and multiple shot opportunities derived from Heidelberg's almost complete control of the boards.
"We made some defensive adjustments to take away the backdoor cut," Wiesbaden's Chris Evert said of the day-night difference between the two games. "We concentrated on packing in the zone."
And, he added, kicking things up a notch on offense.
"We jelled as a team in the second game," said Evert, who scored 15 points and grabbed 14 rebounds in the clincher. "We began pushing the ball up the floor again."
The up-tempo style, ideally suited to Wiesbaden speedsters such as tourney MVP Deon Pearman, was the option the Eagles chose against Heidelberg in the Army-Europe finale, too.
"We knew that was how to beat them," said Pearman, who scored a team-high 18 points in Sunday's finale. "That's how we beat them last time — pedal to the metal."
Pedal to the metal was particularly damaging to the Generals, a veteran team which was, as it was on the final day of Army-Europe, playing its third game of the day. Sunday morning, the Generals eliminated USAFE runner-up Lakenheath 31-30 in a 20-minute losers-bracket final.
"Age played a factor," said Heidelberg coach Bobby Seaberry. "Their bench is deeper than mine. They go 12 deep. There's no one on their roster you can say, 'We don't have to guard him.'"
Pablo Reid topped the Generals' score sheet with 19 points. Veteran 6-9 center Rodney Bailey added 10.
U.S. Forces Europe championship
Wiesbaden 69, Heidelberg 56
(Sunday at Wiesbaden)Halftime—Wiesbaden Eagles 40, Heidelberg Generals 32Scoring—Heidelberg: Pablo Reid 19, Rodney Bailey 10, Shedrick June 9, Ayo Lawson 8, Tony Adams 7, Kenyatta Mack 3; Wiesbaden: Deon Pearman 18, Chris Evert 15, Marquis Berry 8, Patrick Bates 7, Saleem Alwaduud 8, Phileas Williams 4, Albert Nick 3, Pat Turner 2, Michael Joyner 2, Elder Lebron 2.