Wiesbaden earns win, tie in matchup with SHAPE
by
Dan Stoutamire
April 22, 2017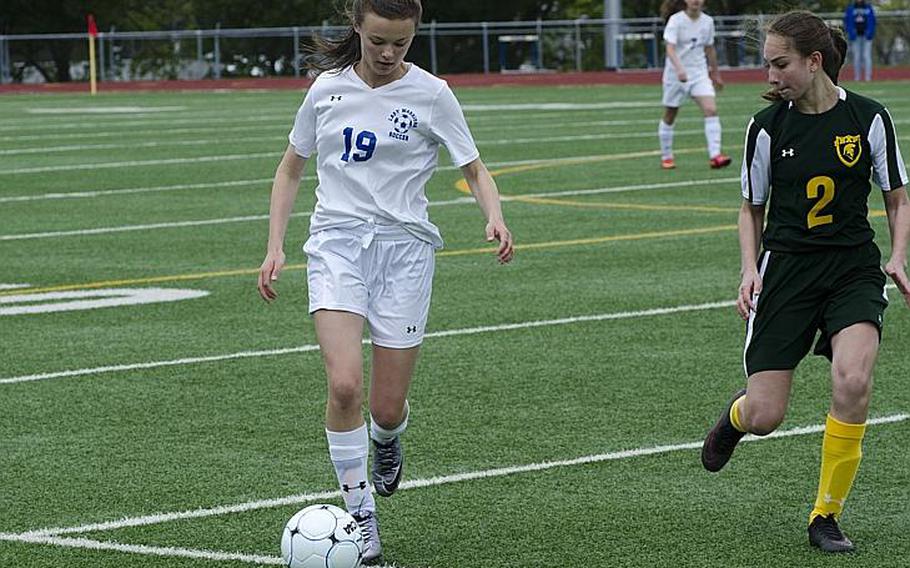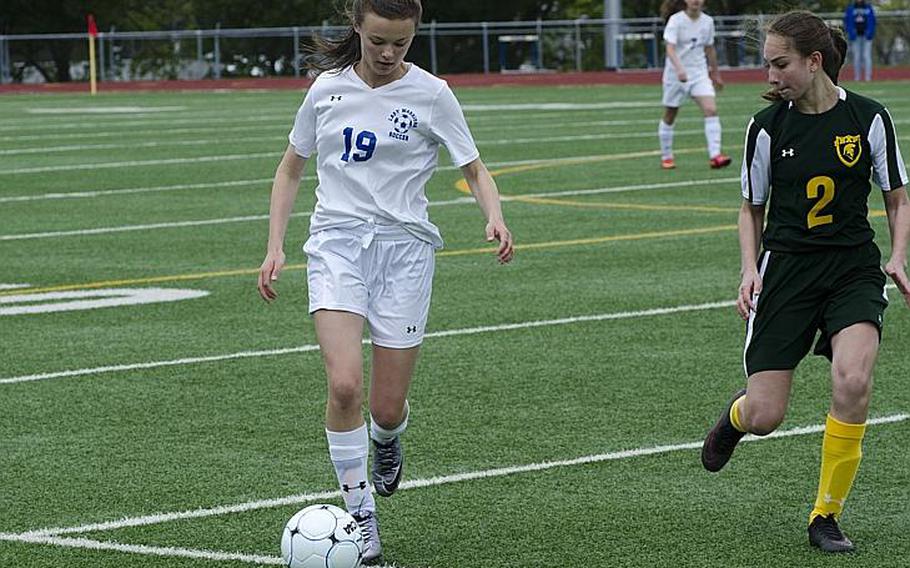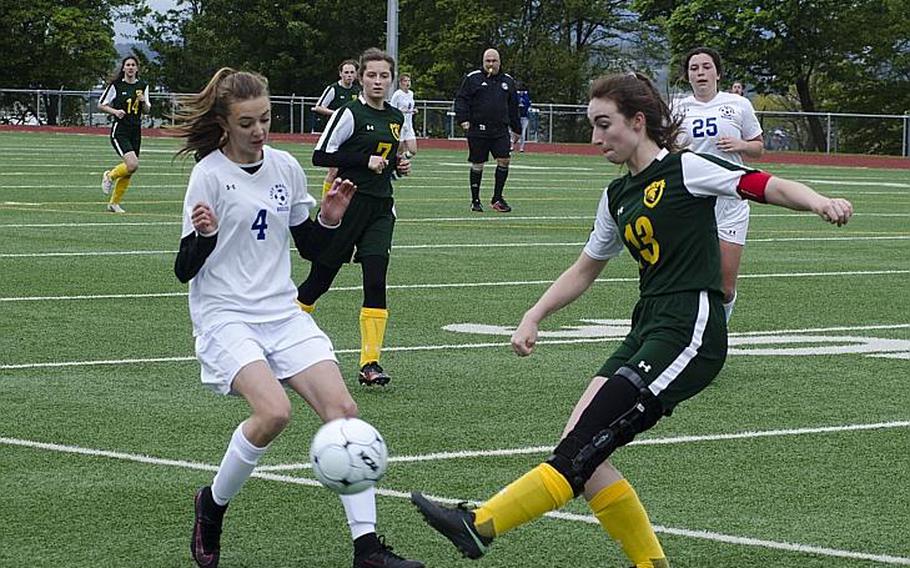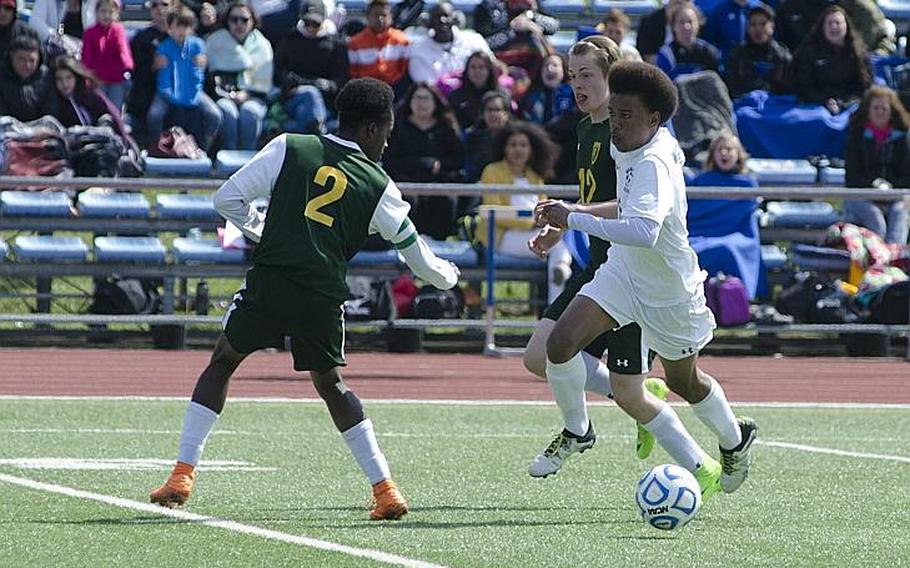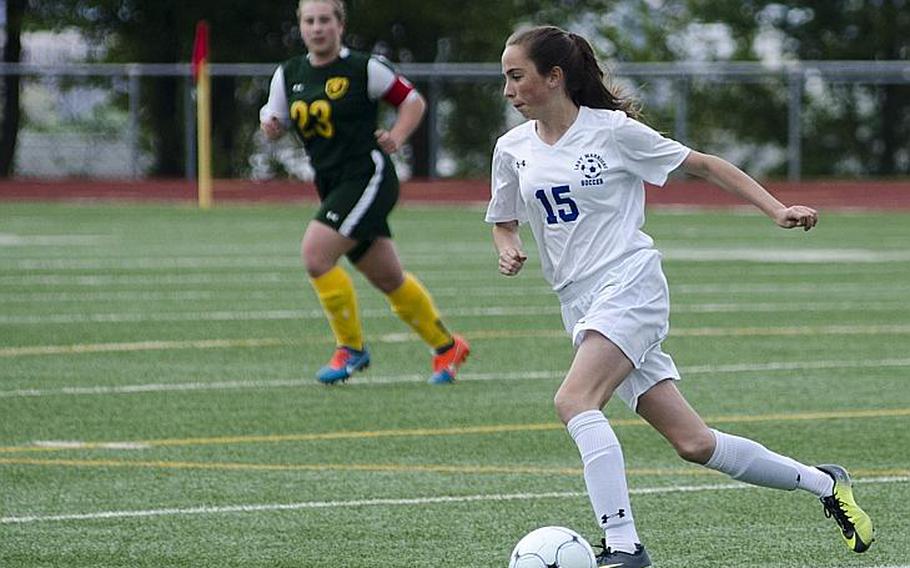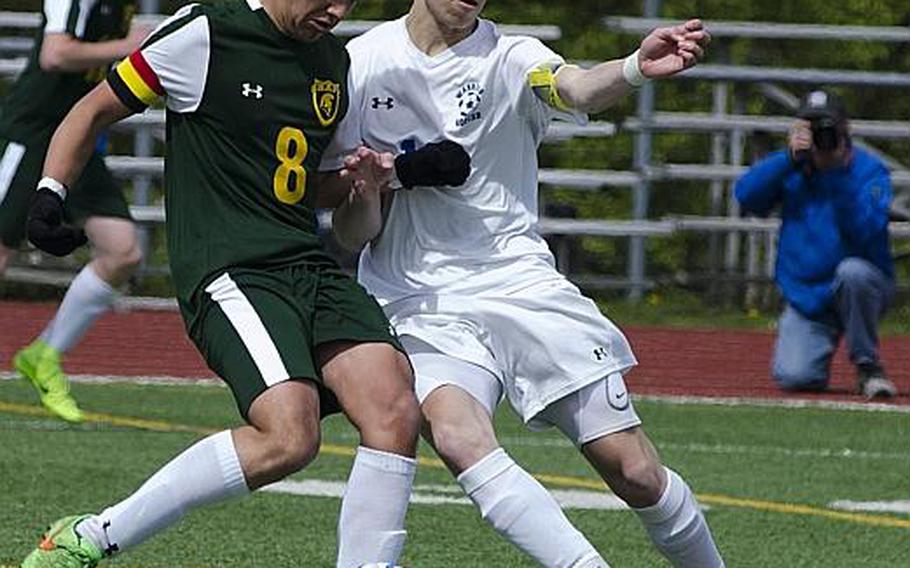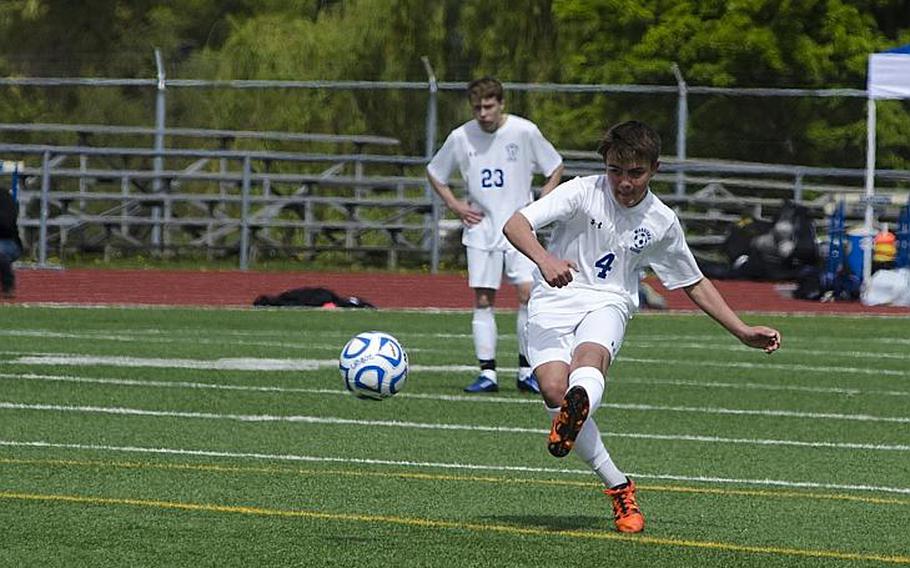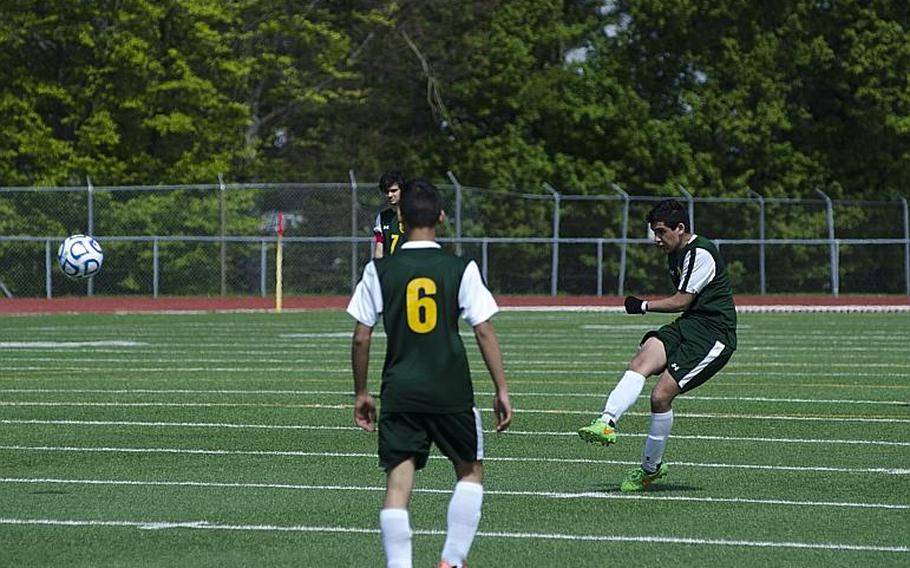 WIESBADEN, Germany — Led by the precise dribbling and passing of midfield duo Erin Goodman and Peggy Sue Mathis, the Wiesbaden girls soccer team defeated SHAPE 2-0 behind a strong second-half performance Saturday.
The first score was a curling outside-of-the-box effort by winger Kendal Stopinski, before Mathis put the game to bed with another goal less than 10 minutes later.
The Warriors were dominant in both halves, but were unable to make that dominance tell until midway through the second half when Stopinski made the breakthrough. They outshot the Spartans 23-4, with Spartan goalkeeper Megan Vanheuckelom busy throughout.
Wiesbaden coach Nicole Angel said her team just needed a little confidence boost at halftime.
"I just told them that I knew they needed to dig deep and play the game they knew how to play and turn it on a little bit," she said.
They did just that, with Mathis key in controlling the play in the midfield. The sophomore was consistently able to take the ball on the turn and run at the Spartan defense, causing them all sorts of problems.
"I think we woke up and realized we needed to win this, we worked more as a team and made some great passes and had some more fight," Mathis said of her team's second-half performance.
Goodman made a remarkable dribble down the left in the first half, beating several Spartan defenders before running out of steam. But it was her assist that led to Stopinski's goal that broke the Spartan resistance. The Warrior defense did the rest to see out a shutout.
"We have good aggression and are good passing the ball, we know when to shoot and when to pass," Goodman said. "Our defense is great, our defense is definitely a strength for us."
For the Spartans, it was a tough matchup away from home. Defender Quinn Kilrain said her team will need to work on some things, despite a strong performance from the defense overall.
"I think we did well on defense considering they were pushing us on their offense, and I think we cleared the ball well, [goalie] Megan [Vanheuckelom] did really well with what she was given, and I feel like we moved well around the field," she said. "We could have worked on moving to the ball, we lost a lot of 50-50 balls."
Boys
A see-saw battle saw the Spartans and Warriors play out a 2-2 draw in which a frenetic second half saw three goals and two players sent off late.
Both teams had a player dismissed for two yellow cards – SHAPE's Roberto Llano and Wiesbaden's Stefan Pinkston – in the final 15 minutes with all goals already scored.
It was SHAPE which opened the scoring after only 10 minutes, with Riccardo Pellegrino scoring off of a free kick past Wiesbaden keeper Matias Chavez. As SHAPE continued to apply pressure, Chavez was called into action with a fine save only a few minutes later as Pellegrino attempted a chip.
"We did well passing the ball around, we were organized, and we came together even with people playing in unfamiliar positions and overcoming the loss of a player to a red card," said SHAPE coach James Cers, whose team is a cosmopolitan mix of nationalities. "I have Turkish, Italian, Spanish players – it's a different style, more of a passing game, and more organized. It pushes all of us to be better together."
The game really opened up in the second half, with Wiesbaden attempting to use the speed of wingers Tyrese Harris and Asa Moncivais to pry open the SHAPE defense, and SHAPE playing through the midfield and looking for through-ball opportunities patiently.
It was a direct pass from a free kick which led to Wiesbaden's equalizer, from striker Steven Morrow, and a second goal soon followed from Harris after a goal-line scramble from another free kick. The Warriors' lead was short-lived, however, as Llano poked an equalizer in for the Spartans with 20 minutes left to play.
A combative end to the match saw the two red cards, but no more goals as both defenses held fast.
"I'm not disappointed in the team but disappointed in not winning," Wiesbaden defender Chad Thomas said. "I feel like we played really well together, we're improving over each game."
Twitter: @DKS_Stripes
---
---
---