Golf preview
Wide-open field set to vie for team, individual golf titles
by
Rusty Bryan
September 13, 2011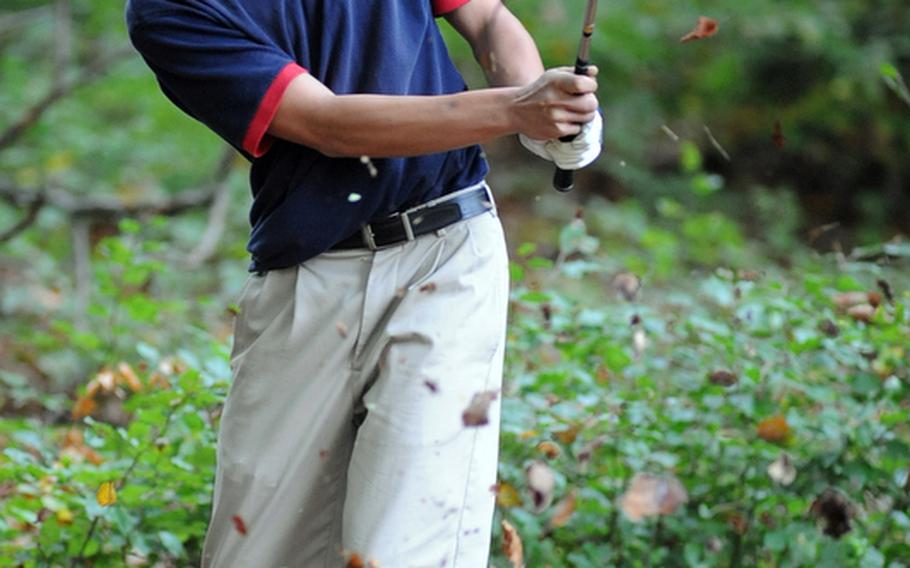 Different champions will be crowned on a different course when the high school golf season, which begins Thursday, winds up its five-week season.
Those new champions will succeed 2010 winner Elizabeth Ward of Ramstein, who graduated, and Mackenzie Bradley of Kaiserslautern, who has accelerated his golf career by choosing to play his senior year at a high school in South Carolina.
"He'll being playing for a school near Myrtle Beach with a strong golf program," said Kaiserslautern coach Gerry Oyan by telephone of Tuesday. "He was playing in a summer tournament and someone asked whether he'd like to live there. He never came back to Europe."
Ward and Bradley aren't the only top golfers from 2010 to depart the premises. All top-3 finishers of each sex also are gone, opening the way for fresh talent to emerge at this year's European tournament to be held at the Heidelberg Golf Club.
That's a change from the past few seasons, when the Rheinblick course near Wiesbaden was the site for Europeans. DODDS-Europe athletic director Karen Seadore had kept all regular-season play off the challenging Rheinblick layout in an attempt to keep the playing field level for every school in the tournament, but that wasn't possible this year because of the scheduled closing of nine holes at Rheinblick for renovations.
"The course could not promise that they would still have 18 holes for the European Championships," Wiesbaden coach and athletic director Jim Campbell emailed. "Rheinblick is a much better place to hold the championship, but Heidelberg will be OK. At least the scores will be better."
Moving the tournament to Heidelberg, a course Ramstein coach Jeff Pellaton describes as "less punitive," might also help the highest returning girls' finisher, Heidelberg's Aileen Donnelly, move up from last season's fourth-place slot.
In the boys' field, numbers from last year have 2010 fifth-place finisher James Cho of Ramstein as the preseason favorite. With Cho and returnee Lucas Rockwell, 11th in 2010, and newcomer Everett Plocek to lead the way, Ramstein also figures heavily in the boys' team race.
Last year's champion K-town will try to replace the points of 2010 champ Bradley and graduated 2010 runner-up Caleb Hayes with contributions from Stephen Lewis, No. 18 overall last year, sophomore Cody Barnes and freshmen Nick Tremaglio, Scott Doyle and Graham Stubbs.
Lakenheath will be led by 2010 Euro qualifiers Kwan Yee and Kenyon Twing, according to new coach Louis Martin, who's also expecting big things from Benjamin Enterman, Alex Clark and Timothy Dodson.
Heidelberg, led by Joseph Patrick, 14th in 2010, is "down in numbers," according to coach Jim McCauley, and Rota is in development mode, summarized coach Greg Jacobs.
Summarized Pellaton in a Tuesday E-mail, there "seems to be quite a vacuum left with the departure of our defending champions. (The team race) seems wide-open until someone claims supremacy."
That assessment might also apply to the girls' competition. In addition to Donnelly, Heidelberg returns Celina Frye, No. 7 in 2010, and Lakenheath's Martin says of his entries on the women's tees, "Kellie Dodson and Gabby Rodriguez are the ladies to look out for this season and next."
But Ramstein always figures prominently into any title picture. The Lady Royals, led by returning qualifier Michelle Turner, have eight girls out for the team.
Part of the 2011 picture will start to clear up this week, when nine of the 12 golf-playing schools are schedule to tee off their seasons. Baumholder, under new coach Spencer Bean, Bitburg, Kaiserslautern, SHAPE and Wiesbaden will try the Rolling Hills layout at Baumholder; Heidelberg, Patch, Ramstein and Vilseck will tee it up at the Woodlawn layout at Ramstein Air Base.
The other three golf schools – Lakenheath, Naples and Rota – will have to wait. Rota is scheduled to travel to Lakenheath on Sept. 22-23, and Lakenheath is to visit Rota on Sept. 29-30. Both of those schools, along with Naples, then will join the main-frame nine at Heidelberg on Oct. 13-14.