... while girls defending champs try to hold on
---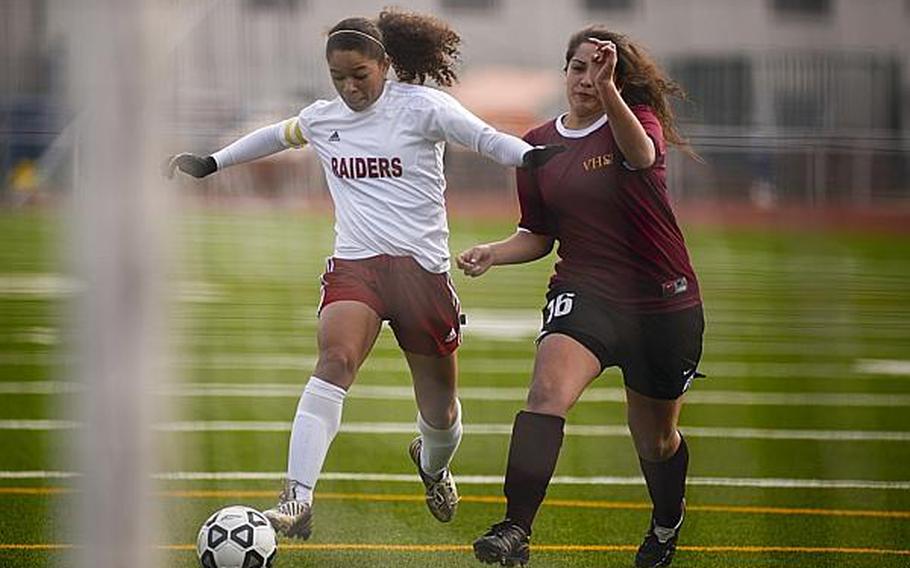 The 2013 DODDS-Europe girls soccer championship tournament will be held May 20-23 at four sites around the Kaiserslautern Military Community in Germany, culminating in a day of championship games at Kaiserslautern High School's freshly-opened new field.
Three strong defending champions will strive to keep their hard-earned titles, but each has displayed just enough vulnerability to give the field cause for hope. Here's a look at the field, based on the season's results and input from participating coaches.
Division I: While nobody could touch Ramstein in a perfect 7-0 Royals season, large-school rivals can take solace in the relatively thin margin by which Ramstein escaped unscathed.
Patch, which lost 1-0 to Ramstein in the 2012 title game, came up a goal short again in a 2-1 loss April 26. Kaiserslautern and Lakenheath both lost to the Royals by a respectable 2-0 score, while Wiesbaden gripped Ramstein in a scoreless tie May 11 before things went awry in the second half.
But the Royals' suffocating defense is a cause for widespread concern among the Division I contenders. Ramstein posted five shutouts in seven games and yielded a goal apiece in the other two.
If their showdown March 23 was any indication, familiar rival Kaiserslautern might have the best chance to unseat the Royals. All-Europe Raider senior Ally Murphy missed the game due to injury, while Ramstein earned its two goals under relatively fluky circumstances, a penalty kick and a goalkeeper miscue.
Patch and Heidelberg have added motivation to win a championship. Each school's tenured head coach – Tom Manuel of Patch and Jim McCauley of Heidelberg – will retire at season's end, and their players would love to send them off with a championship as a parting gift.
Division II: The streak lives on, barely.
Naples' three-year streak without a loss is still active after its slight six-game 2013 regular season. But tie games against Aviano and Sigonella have dimmed the Wildcats' aura of invincibility as they pursue a fourth straight European title.
In fact, the trend of evenly-matched Naples non-losses began in last year's title game, a 1-0 win over AFNORTH. And it continued this season with a 1-0 win over AOSR and the above-mentioned deadlocks.
But almost beating the Wildcats is not the same as wresting the title away from the ongoing dynasty. To that end, several aspiring champs have a real shot at supplanting Naples.
AFNORTH is playoff-proven after finishing second a year ago. SHAPE brings a 7-0-1 record into the postseason, a mark that includes five shutouts. BFA has performed well in an arduous schedule featuring the likes of Kaiserslautern, Ramstein and Wiesbaden. Hohenfels sports wins over Division I foes Heidelberg and Vilseck. AOSR's only loss came in that heartbreaker at the hands of Naples.
By week's end, either the Naples streak will be over, or it will feature a lot more impressive victories.
Division III: Brussels emerged from a muddled small-school field to claim the 2012 European title in front of runner-up Rota and semifinalists Menwith Hill and Sigonella.
Each of these teams will be back in the hunt in 2013. But they'll have a new contender to deal with in rising United Kingdom power Alconbury.
A perennial lower seed, the Dragons have risen to the top of the Division III bracket behind second-year head coach Armando Cordero and a well-rounded group stocked with accomplished defenders and strikers.
The mix yielded a 5-2-2 record, a nearly-unprecedented winning percentage for a Division III team pitted regularly against larger schools. The Dragons' signature performances included wins over ISB and AFNORTH and ties with Lakenheath and SHAPE.
But Brussels isn't ready to slide over just yet. Brussels and Alconbury met twice this season; each team came away with one win.
Twitter: @broomestripes
---
---
---
---