Welch setting up Yokota's outstanding soccer season
by
Dave Ornauer
April 27, 2006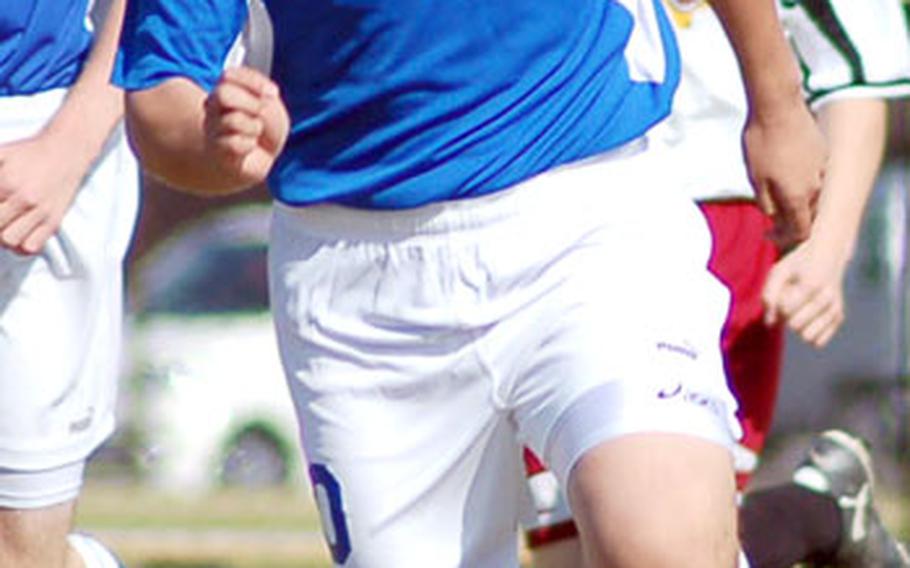 If assists are about helping teammates shine, then the Yokota Panthers' Stefan Welch is the Japan Soccer League's truest measure.
The junior center-midfielder, part of a Yokota team off to its best start in three years (12-1-1), has assisted on 23 of the Panthers' 85 goals.
That's only two assists shy of his high school total, 12 as a freshman, 13 as a sophomore.
But Welch says the only numbers that matter are those in the stat column with the "W" over it.
"I don't care about trying to get more assists or score goals," he said. "I just want to help Coach P (Tim Pujol) win" the JSL and Kanto Plain Association of Secondary Schools league and Far East Class AA tournaments.
Pujol said that epitomizes Welch as player and person. "He has a really good understanding of the game," Pujol said.
Welch, who's lived in Japan almost all his life and has played for off-post Japanese club teams, "sees the game really well. He would love to score goals but he is really interested in distributing the ball," said Pujol.
"He's humble in the way he speaks," Pujol said; English is Welch's second language, behind Japanese. But on the field, Welch "plays the game in a way that demands that the teams we play against disrupt what he does.
"There's a quiet confidence in the way he plays. The thing that comes through time and time again."
Welch plays center-midfield — what coaches term the "general's position." The do-everything player directs traffic, sets up plays and can be called on to strike or drop back and defend.
"They're always one pass away from the ball," Pujol said. "They have to be ready to defend, attack, make runs. If you can win the midfield, you can win the game."
Pujol said Welch's assists are a true indicator of how well he "sees the field and gives his teammates so many opportunities to score. And he has a strong leg, both right and left; that's a plus. All his skills you would put mostly in the offensive category."
Opposing coaches have taken notice, calling Welch key in Yokota's JSL title run in 2004 and second-place finish in 2005.
"He has great technical ability and he seems to make the players around him better," said coach Michael Callahan of Kadena. "If you have a center-mid with 23 assists, it means he's getting everybody involved. … He's creating and his teammates are finishing their opportunities."
Assistant coach Reinhold Geist of JSL rival Zama American calls Welch a "triple threat:" He can pass, dribble around defenders or launch a deadeye shot from 30 yards over defenders at the net.
"He's fast, he has the skills and is very knowledgeable of the game," Geist said. "He's the man who makes it work for his team."
Thanks in large part to Welch's generosity, Yokota for the first time during Pujol's coaching reign has five players with at least 10 goals: Andreas Cabral (19), Bronson Bailey (14), Scott Monahan (13), Welch (12) and Tom Gass (10).
Pujol agrees it may be his most balanced team but said his charges need work before hosting the Class AA tournament May 15-19.
"The skill is there. (But) last year, we had a young, physically small team that had difficulties in games with teams that were more physical than we were," Pujol said. "We have three weeks left to improve on that. A lot of that is mentality. We're going to move in that direction as best we can."
And indications to date are that wherever the team might move, Welch will be in the middle of the field and the action.