Weight limits for youth football to be lowered in Europe
---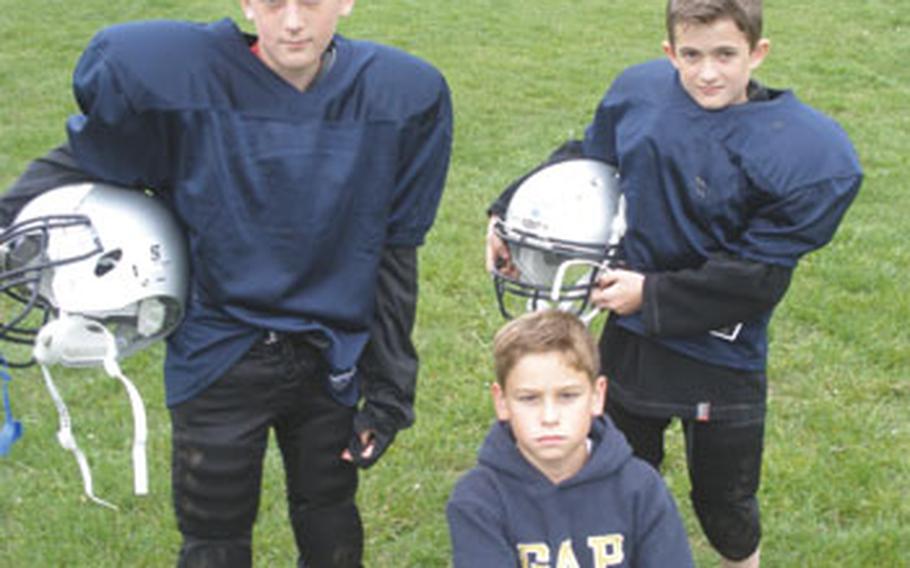 GRAFENWÖHR, Germany — Weight limits for youth football teams at European garrisons will drop next year to allow smaller children to participate, according to the Installation Management Command-Europe.
At U.S. Army Garrison Grafenwöhr, the new weight limits have already been introduced in response to complaints from parents whose bantam-weight kids were barred from playing this season.
"As we registered children this season, many children were excluded from play based on the weight restrictions," USAG Grafenwöhr spokesman Nick D'Amario said in an e-mail.
The garrison requested and received an exception to policy to enable more children to participate, he said.
The new rules lower the weight limits from 75 to 65 pounds for 10-12 year olds and from 95 to 90 pounds for 13-14 year olds. Ten year olds not meeting the minimum weight requirement will be allowed to play in the 8- to 9-year-old age group, D'Amario said.
IMCOM-Europe spokesman Ken White said the new weight limits will apply Europewide from next season.
Joe Marton, an IMCOM-E urope Child and Youth Services Program specialist, said that the weight limits are a safety measure.
"The risk that an underweight child will lose the love of the game by waiting until he meets the minimum weight standard to play is slight, but the risk that an underweight child will be injured if allowed to play is real," he said.
Several Grafenwöhr mothers contacted Stars and Stripes to complain about the weight restrictions before the policy change.
One of them, Anna Van Zant, of Bristol, Tenn., said her sons Cody, 12, and Nathan, 10, were affected.
Cody, who weighs 67 pounds and Nathan, who weighs 57 pounds, were as eager as the rest of the boys at football practice last Friday.
"I'm 77 pounds with pads on," said Cody as he warmed up with his larger teammates.
Van Zant said her sons eat a lot and are healthy.
"They get physicals every year from the military doctors for sports. Nobody has ever questioned them. We just have small children in our family," Van Zant said.
The boys' weight was not an issue last year, when both played football at Grafenwöhr. But this year they were weighed during pre-season training and told they could not play, she said.
The news upset the boys, both avid fans of the Tennessee Volunteers, who have played football for four years, she said.
"They were confused and angry. They have friends from last year playing this year who were asking them: 'Why aren't you playing' and this was quite embarrassing for them," she said.
---
---
---
---