Boys soccer
Wegman boots Sigonella past Aviano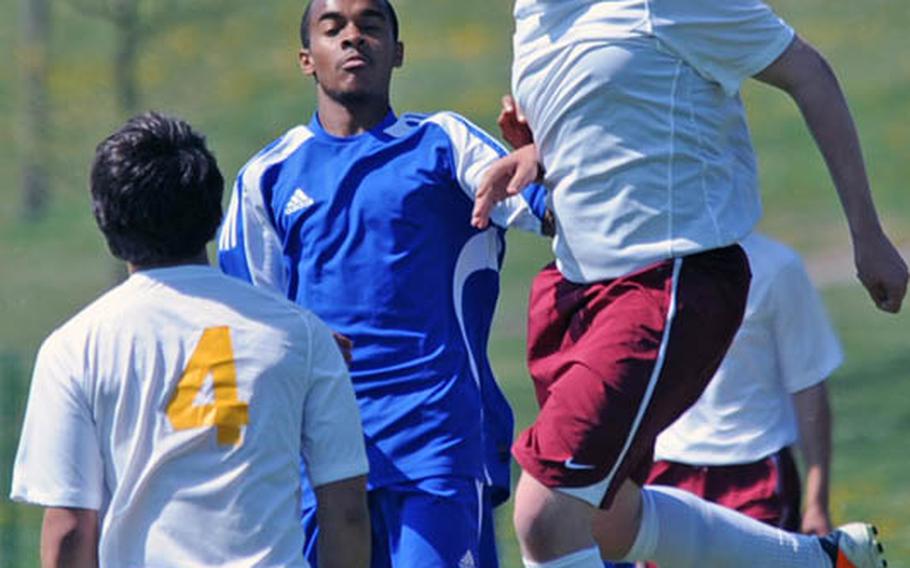 AVIANO, Italy – Jack Wegman scored twice and his teammate Peter Swisshelm added a long-ball strike Saturday as the Sigonella Jaguars set up this weekend's showdown against the American Overseas School of Rome with a 3-0 victory over the Aviano Saints.
Alessandro Thomas assisted on both of Wegman's scores, and Swisshelm gunned a 50-yard free kick into the Aviano net to lift the Jaguars of Division III to the victory over their hosts from Division II. Sigonella will take a 3-1 record into this Saturday's game against visiting AOSR, the defending European D-II champions. AOSR, idle this week, is 4-0.
Offensive fireworks weren't the whole story, however, for Sigonella, according to Jaguars coach Phil Andre. Andre credited his keeper, Antonio Garcia, with stopping 13 shots on goal by the Saints.
Next up for Aviano (0-4) is a Saturday game at 2010 European D-II runner-up Marymount international School of Rome.
In other boys' soccer of note as most schools ended their two-week sports hiatus:
Ramstein 5, Baumholder 1: Saturday at Baumholder, Jake Matisson banged home two goals and assisted on a third as the Royals upped their record to 2-0-1 overall and in Region II.
Baumholder, next scheduled to host Bitburg on Saturday, was limited to Alexander Shadrin's penalty-kick conversion and fell to 3-1-1 overall and 2-1-0 in the region.
"Ramstein's midfielders played at a high tempo," Baumholder coach Jeff O'Neil analyzed in a Saturday email, "and did an excellent job of closing down opposing ball carriers and stopping forward passes."
Next up for Ramstein are home games Friday against AFNORTH and Saturday against Mannheim.
Lakenheath 5, Bitburg 1: Saturday at Lakenheath, Evan Reed scored twice to lead the Lancers to the non-regional victory.
Chris Davis, Jordie Davis and Archie Robertson added the other three goals for Lakenheath, 2-1 overall. Bitburg fell to 0-4.
Alconbury 2, Brussels 1: Saturday at Sterrebeek, Belgium, Tyler Grissett and Peter Rydzynski banged home first-half goals that carried the 2010 European D-III runners-up to the Region I victory.
"This was a good, hard-fought game that could have gone either way," Brussels AD Mark McVicker quoted Alconbury coach Jeff Black as saying. "The heat (upwards of 80 degrees Fahrenheit, according to McVicker) definitely played a factor for both teams."
Both teams next are bound for a weekend round-robin at Alconbury, where they'll be joined by Rota and Menwith Hill.
Wiesbaden 5, Mannheim 0: Friday at Mannheim, Quinton Torke scored twice, and Drew Polson added a goal and an assist as the Warriors won for the first time since March 26.
Jermaine Barnett and Dennis Ringgold also found the net for Wiesbaden (2-1-1 overall, 1-1-1 in Region II), but the real story for the Warriors was their defense, which Wiesbaden coach Ben Arcila said drew its strength from the work of Ryan Fisico and Nate Morris.
Next up for Wiesbaden is a non-regional clash Friday against visiting Patch.
Mannheim (1-3-0, 0-2-0) moves on to a Region II game Saturday at regional leader Ramstein.