Weekend could determine pecking order in D-I
by
Gregory Broome
September 26, 2019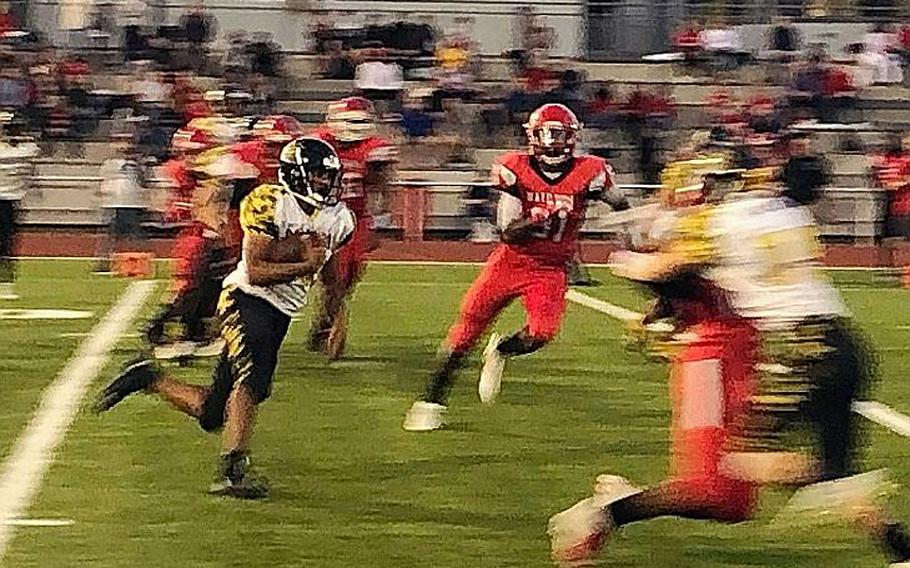 The 2019 DODEA-Europe Division I football regular season is already a third of the way over, and its six teams have sorted themselves into three clear tiers of contention.
Oddly enough, the two members of each of those competitive tiers will face off directly this weekend in hopes of elevating their status, or at least not losing it.
Stuttgart at Ramstein, Friday
The clear standout teams of the division are the Ramstein Royals and Stuttgart Panthers. The two programs have accounted for the last five European championships, and one or the other is likely to claim this year's edition.
Stuttgart claimed a narrow 31-28 non-conference victory Sept. 6 in a game that both evoked past Royal-Panther playoff clashes and possibly previewed an upcoming meeting for the 2019 crown. Though the teams have alternated titles since 2014, they've met in the championship game just once, namely Stuttgart's 26-21 defeat of Ramstein in the 2017 final.
Both teams have distinguished themselves early this fall with dominant 2-0 starts to the conference schedule. Stuttgart won its first two games by a combined score of 78-6, while Ramstein is close behind with two wins by a total margin of 65-6.
Kaiserslautern at Wiesbaden, Friday
The Wiesbaden Warriors and Kaiserslautern Raiders enter their weekend matchup locked at 1-1 in conference play and with a manageable path to the semifinals. Each team has lost to one of the above-mentioned powerhouses, with Wiesbaden coming up short against Ramstein and Kaiserslautern falling to Stuttgart.
The winner of this Friday-night matchup will enjoy a considerable bump in the playoff race, to the point that the winner, having vanquished two opponents in the six-team league, is all but assured of reaching the semifinals. A playoff berth is important to each program. Kaiserslautern would like to maintain the momentum it built in snapping its postseason drought last year, while Wiesbaden, once a mainstay of the large-school title scene, would like to avoid turning last year's failure to qualify for the playoffs into a trend.
Vilseck at Lakenheath, Saturday
Time is running short for the 0-2 Lakenheath Lancers and Vilseck Falcons to mount a playoff push. This weekend's losing team will clinch a losing conference record and would face a near-impossible climb back to the top four.
Vilseck is in particularly dire straits. Losses to middle-tier teams Kaiserslautern and Wiesbaden are already on its ledger, and juggernauts Stuttgart and Ramstein both loom on the Falcons' schedule after the league's Oct. 5 weekend hiatus. Lakenheath, last year's European runner-up, has a little more wiggle room. The Lancers have already absorbed losses to Ramstein and Stuttgart and retain the potential to edge ahead of the Warriors or Raiders if they can crack the win column this weekend.
broome.gregory@stripes.com Twitter: @broomestripes