Baseball Athlete of Year
Weaver propelled Lions to best finish
---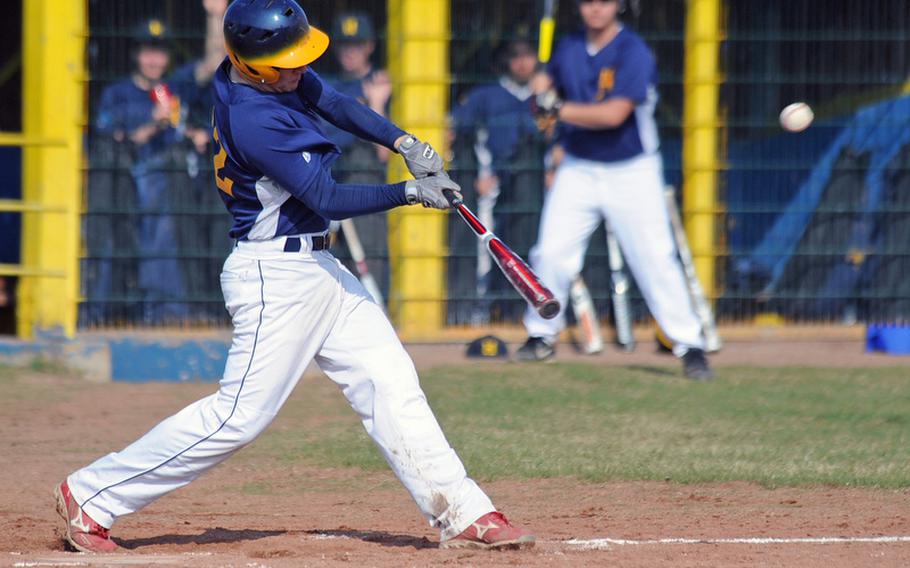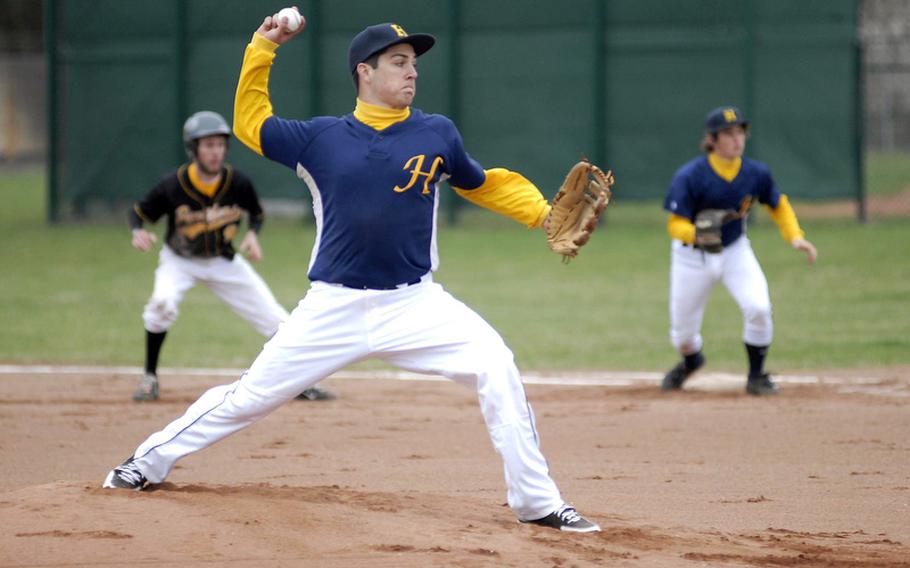 Of European baseball's 2012 Big Three – pitchers Jon Grotelueschen of Ramstein, Dylan Measells of unbeaten Patch and Alex Weaver of Heidelberg – Measells had the best statistical season, capped by his second straight title-game victory, and Grotelueschen impressed opposing coaches enough to be voted MVP of the D-I tournament.
So why is Weaver the 2012 Stars and Stripes baseball player of the year?
In a nutshell, it's a matter of doing the lion's share of the heavy lifting for his team.
"This year, Alex was the main reason the Lions were able to make such a deep run into the tourney (third place)," emailed Wiesbaden coach Steve Jewell in support of his nomination of Weaver, "and play so well during the season (10-2 in Eastern Region play)."
Here's how Weaver bore his share of the Lions' success – a 7-1 record, with a 1.01 earned-run average and 59 strikeouts in 41.2 innings pitched. Among the wins were two complete-game victories in the D-I tourney; the loss was a 5-4 verdict against Patch on March 31 in which he statistically outpitched Measells, according to Heidelberg coach Justin Bates.
And while Measells can compare his 0.91 ERA, unbeaten record and .686 batting average more than favorably to Weaver's numbers, "… (Measells) did not have to carry his team like Alex did," Jewell asserted. "Dylan is a great ballplayer, but I think Alex's play this year makes him slightly more deserving."
In addition to his pitching heroics, Weaver also carried the Lions at the plate (.580 batting average with 13 stolen bases) and in the field, Jewell wrote.
"He hit lead-off for the Lions and was an extremely tough out," reported the Wiesbaden coach. "When he got on base, which was very often, he was one of the best base runners in DODDS. While playing shortstop, Alex was a lights-out fielder…"
In spite of three losses to Patch this season, Weaver said through pain medication as he recuperated from wisdom-tooth removal on Wednesday, Heidelberg's third-place finish in retrospect constituted a satisfying season.
"We exceeded expectations," said Weaver, who went the distance in the Lions' 8-2 consolation-game victory over Lakenheath. "It was Heidelberg's best finish ever."
Even so, pain medication could not assuage completely the hurt of the Lions' 0-3 mark against three-peat champion Patch.
"It was disappointing," Weaver said. "We had the lead in all three games, but we didn't get it done,"
Heidelberg coach Bates summarized what Weaver did get done this season.
"…Statistics are not everything," Bates wrote in an email. "Alex has a high baseball IQ, which gives him an edge over other players of his caliber. He knows when to drop a bunt down for a hit and how to work pitchers from in the box and while on base. He always knows where the play will be…"
Next for Weaver is walking on at Penn State.
"It's my dream school," he said, adding that he'd play anywhere the Nittany Lions want him to. "I love just being out on the field."
---
---
---
---