Prep roundup
Watson races to another record
by
Dave Ornauer
April 9, 2011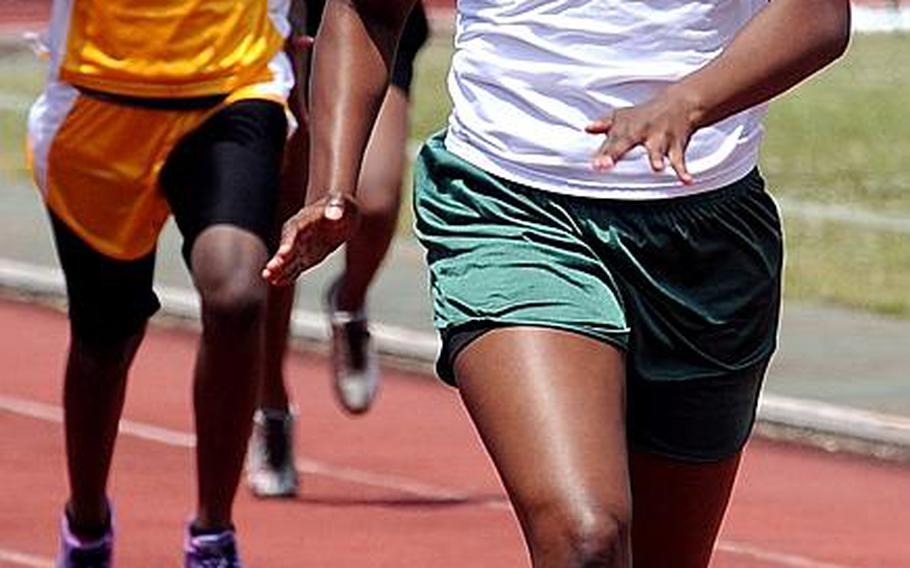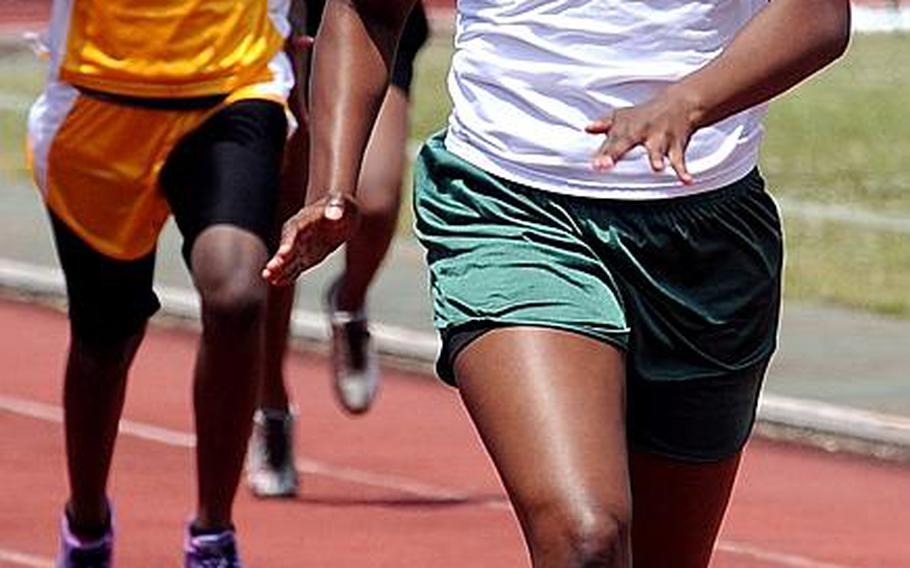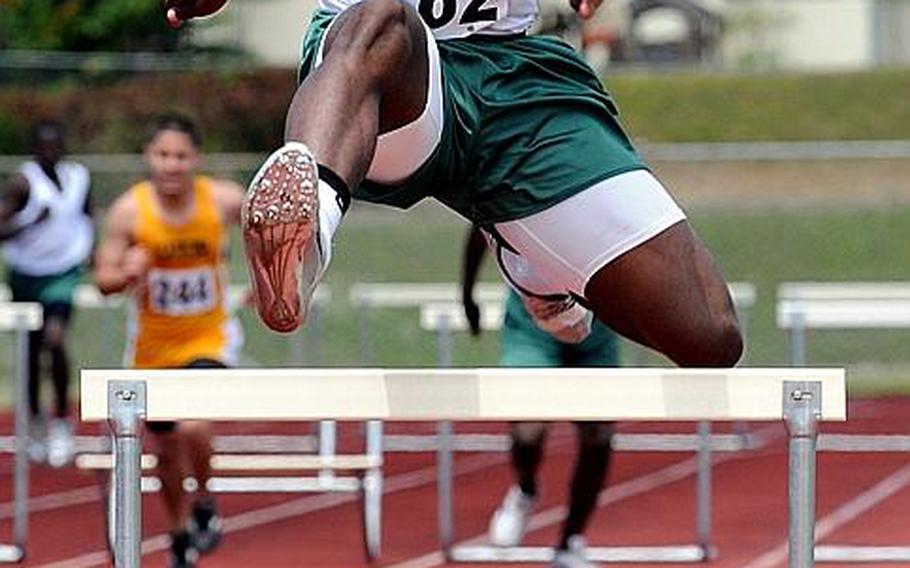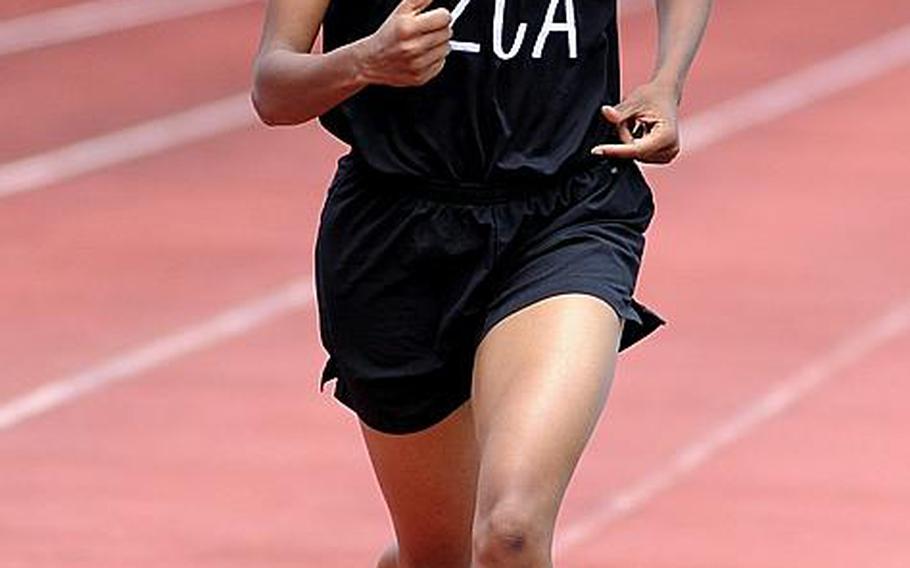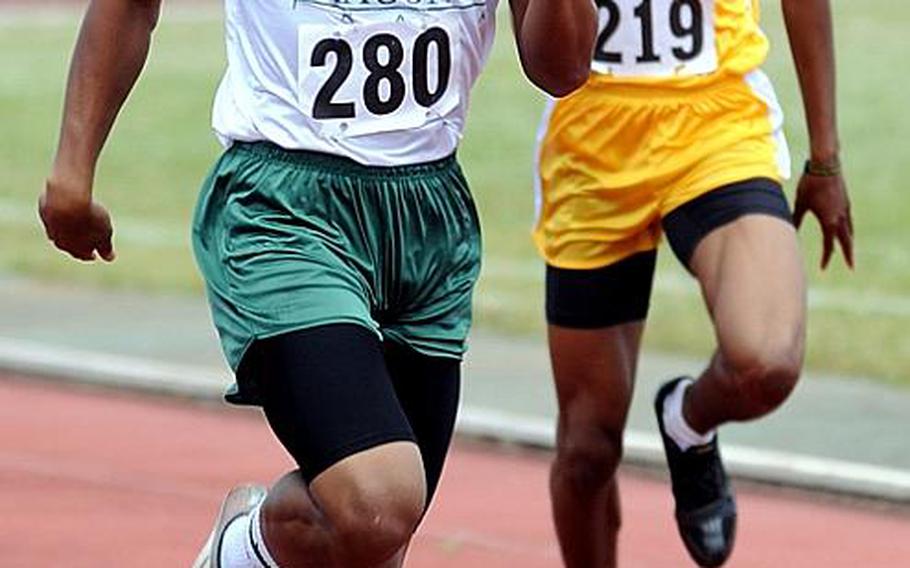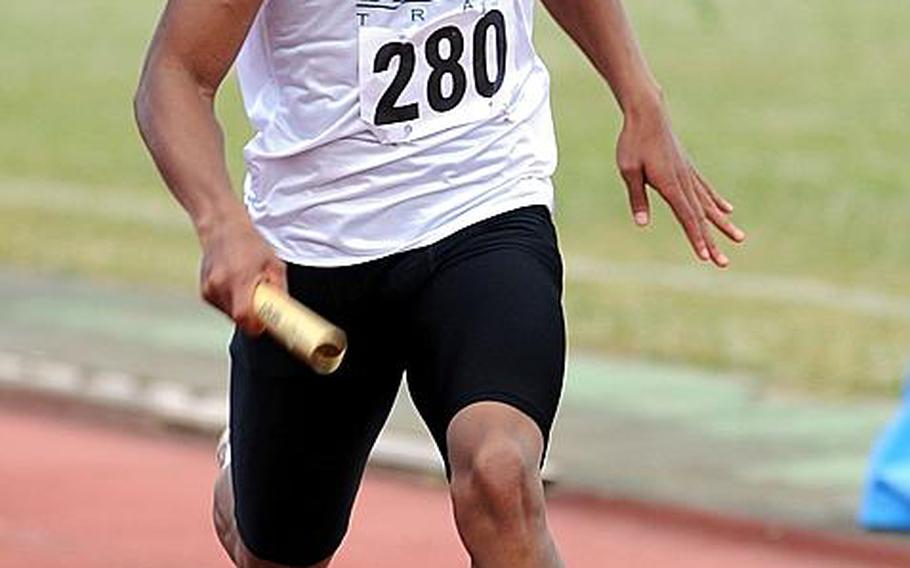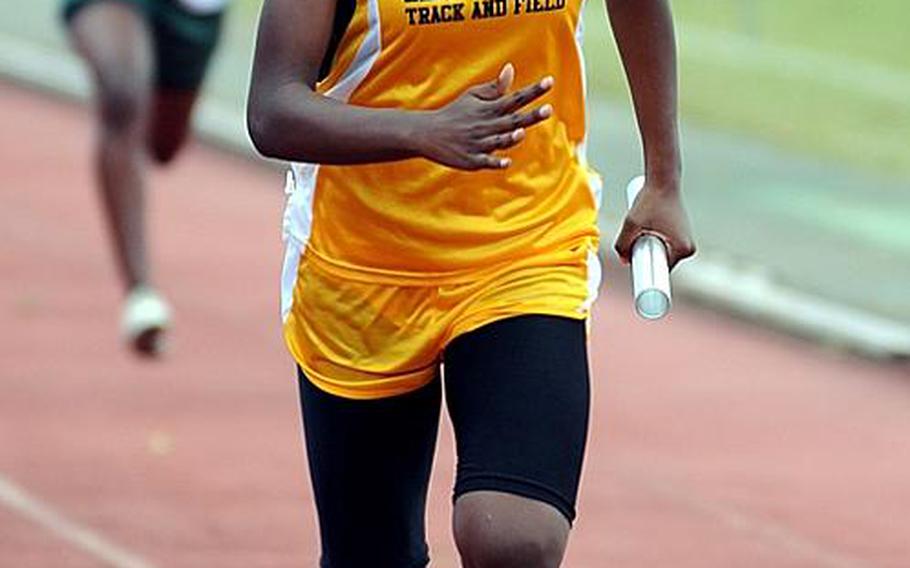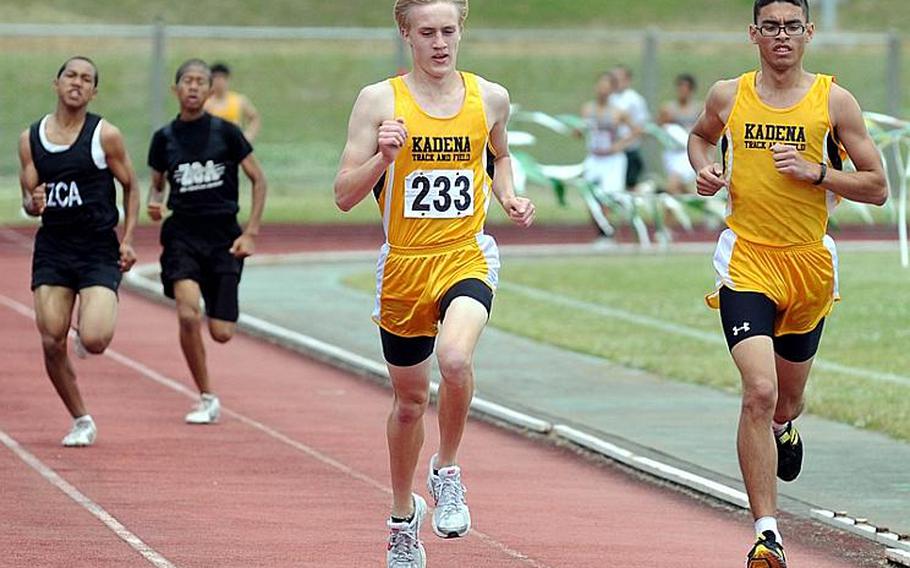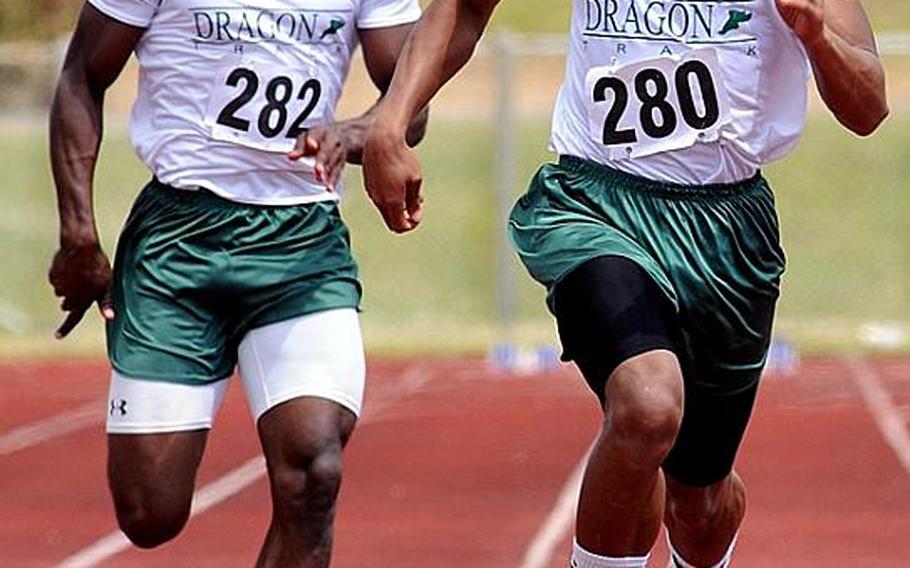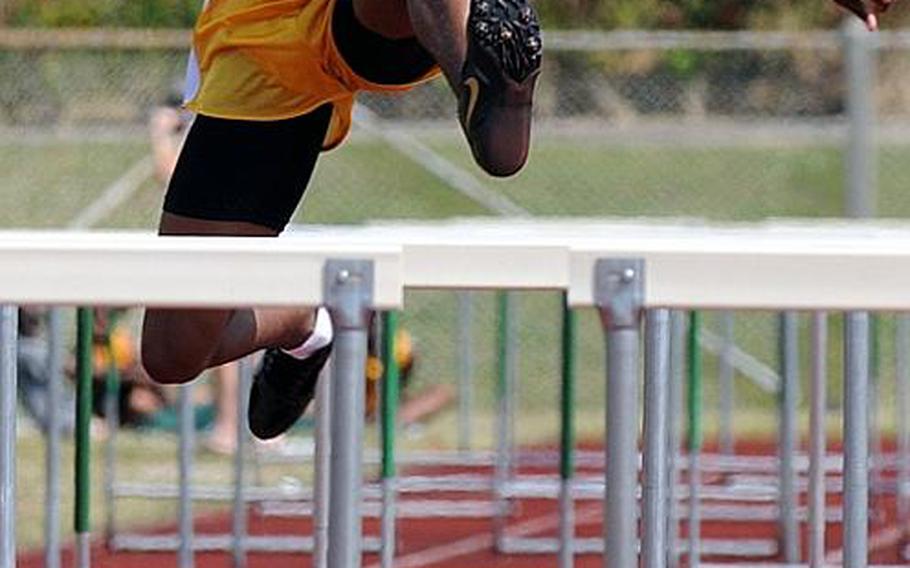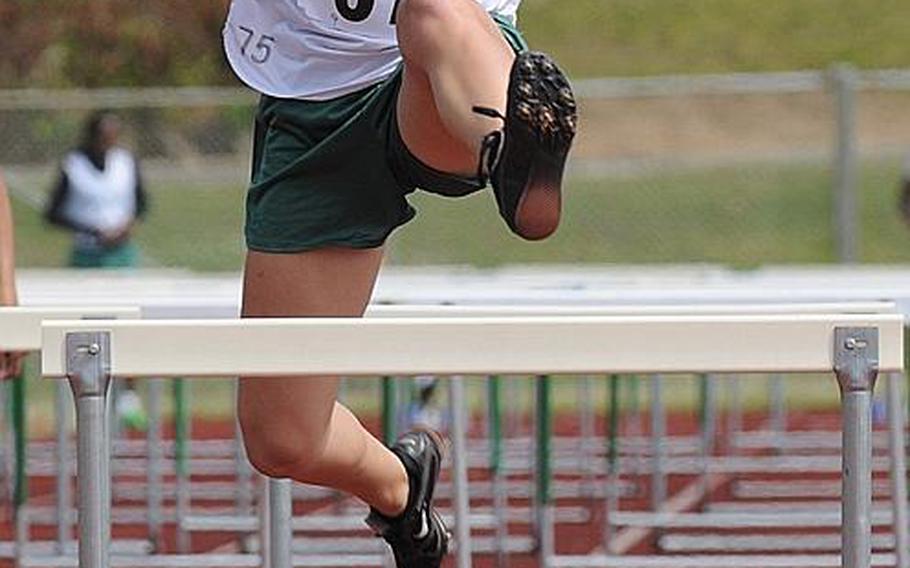 CAMP FOSTER, Okinawa – A.J. Watson only thought about one thing Saturday, even inscribing the number 10.55 on his leg to remind him of his goal for the 100-meter final in the Okinawa Relays: beat the Pacific record.
But in no way did the junior sprinter expect to clock the time he did at Kubasaki's Mike Petty Stadium.
"Oh my gosh!" he said, dropping to his knees and eyes welling up after surpassing the 23-year-old record with a time of 10.27 seconds, topping by .28 the mark of 10.55 set in 1988 by Tim Gardner of Yokota.
"I knew I could break it today. I knew in my head; that was all I could think about. I wrote it on my leg just to keep it in mind. (But) that was not what I had in mind; 10.4, 10.5, maybe."
After two false starts, with one runner scratched, Watson exited the blocks and held the lead from start to finish, with teammate Jalah Patten, who clocked a 10.74, on his right shoulder the whole way. Rahman Carnes of Zion Christian Academy placed third in 10.99.
Watson's result, achieved in 80-degree weather under sunny skies with little breeze, surprised his coach Charles Burns as well. "A 10.5, yes; 10.27, no way. Not today," Burns said.
It's the second Pacific record that Watson has topped this season. Three weeks earlier, running in strong crosswinds with temperatures hovering around 60, Watson surpassed the 34-year-old 200-meter mark with a 21.18, beating Zama American's Kenny Allen's 21.4.
According to Athletic.net, Watson's time Saturday would have been the fastest non-wind aided time high school run thus far this season in the United States. He came in .01 seconds behind the wind-aided time of 10.26 clocked by fellow junior Marvin Bracy of Boone, Fla.
"That is great company to be in," Burns said. "Unbelievable. That is great."
Watson now owns the DODDS worldwide record as well, shattering by .23 seconds the DODDS-Europe mark of 10.5 set in 2001 by Isaiah Fluellen of Ramstein, Germany, who went on to a football scholarship at Nebraska.
"The guy is running with something in mind and he's going to prove it to everybody before it's all said and done," Burns said. "He's in a world unto himself. Everybody else is running for second and third."
Watson also won the 200 and 400 and anchored Kubasaki to victory in the 400 and 1,600 relays as the Dragons edged Kadena, 89-88, in the boys team standings. Kubasaki's and Kadena's girls finished in a dead heat, 94-94.
The two-day Okinawa Relays was a substitute for the 9th Alva W. "Mike" Petty Memorial Meet, canceled last month by DODDS-Pacific in the wake of the March 11 Tohoku-Kanto earthquake which would have prevented many Japan teams from traveling to the meet.
While no other records fell, many personal bests and milestones did tumble, including Tomas Sanchez of Kadena going under 2 minutes for the first time in the boys 800, clocking a 1:59.58.
"An amazing run, but still early in the season," he said, adding that he's looking to approach 1:56, which would better the 1:57.3 run by Christian Academy Japan's Blake Bannister three years ago. "I'm trying. I just have to step up."
Distance remained Kadena's property for the most part. Jacob Bishop edged Sanchez in the boys 1,500 and Ana Hernandez captured the girls race. Teauna Baker of Zion Christian Academy stayed unbeaten in the 800. Sanchez and Baker will run for the Merchant Marine Academy next year at Kings Point, N.Y.
"She works hard every week and she puts in the time," Zion coach Keefe Wilson said of Baker.
Hernandez has been fighting shin splints, but qualified for next month's Far East meet with a time of 5:24.57. "I'm proud of her effort," coach Sergio Mendoza said of the freshman. "It's going to be exciting to see what she can do in four years."
Kadena's Chinyere Turner topped the girls 100 field with a 12.68 and the 400 in 1:03.34. "She's a workhorse and never complains, never asks to be scratched," Mendoza said. "Really proud to be working with her."
Kubasaki sophomore Micaela Sherman continued her march toward 16-second territory in the girls 100 hurdles, running a personal-best 17.34. And she says she has the Pacific mark of 15.2 set by Kubasaki's Serafina Smith in her sights.
"I'm working toward that for my junior and senior year," she said.
Kubasaki also won the girls 1,600 relay while Kadena's girls took the 400. Derrick Taylor of Kadena won the 110 hurdles and Patten the 300, while Milyka Dees of Kubasaki took the 300 hurdles.
After taking the ACT in the morning and missing the girls 100, Kubasaki's Bianca Johnson clocked a 27.08 to capture the 200.
"Play For Japan" tournament raises $1,430At Foster Field 4, Kubasaki and three Japanese baseball teams raised $1,430 for relief effort after the March 11 Tohoku-Kanto earthquake and tsunami, according to Dragons coach Randy Toor. Kubasaki lost, 8-2, to Naha Spirit before edging Naha Diamonds, 4-1, in the two-day "Play For Japan" Tournament.