Home Team
Watson geared for shot at sprint records
by
Dave Ornauer
March 16, 2011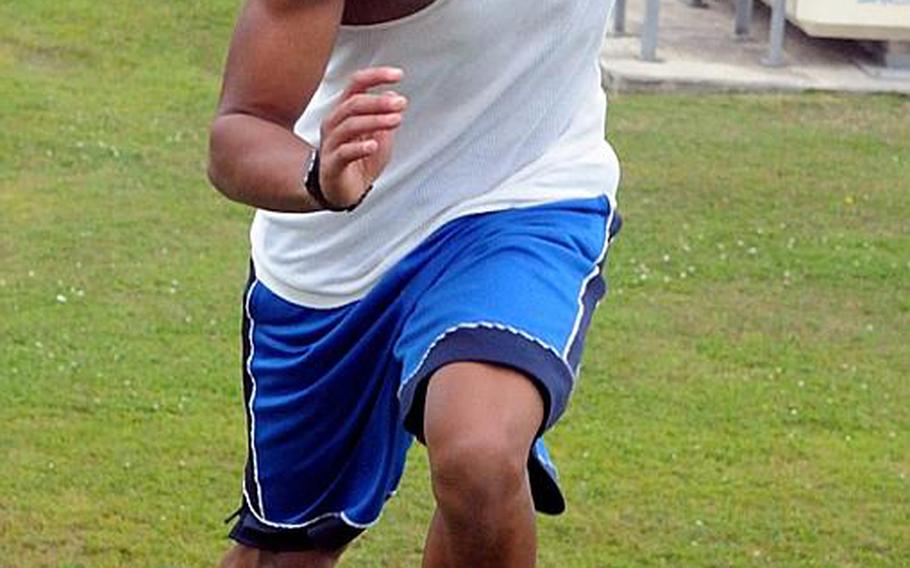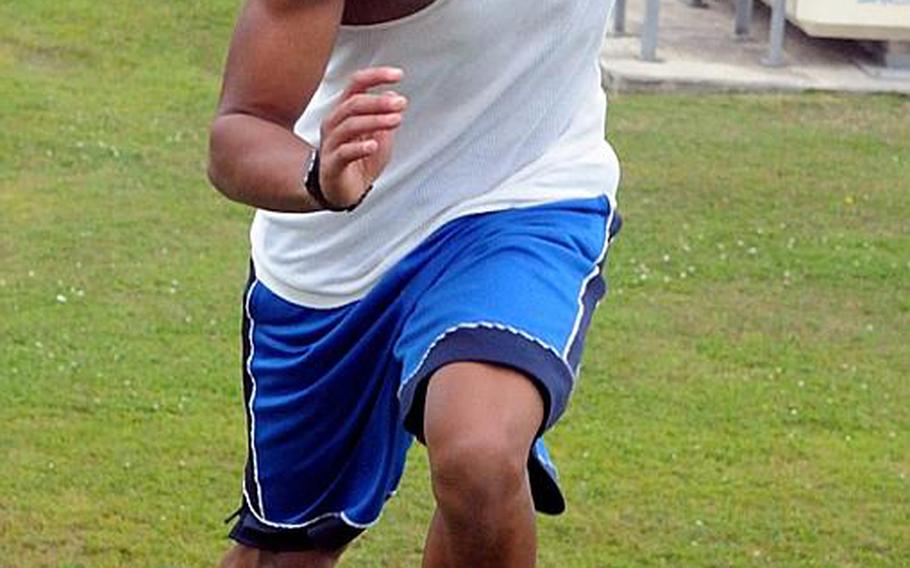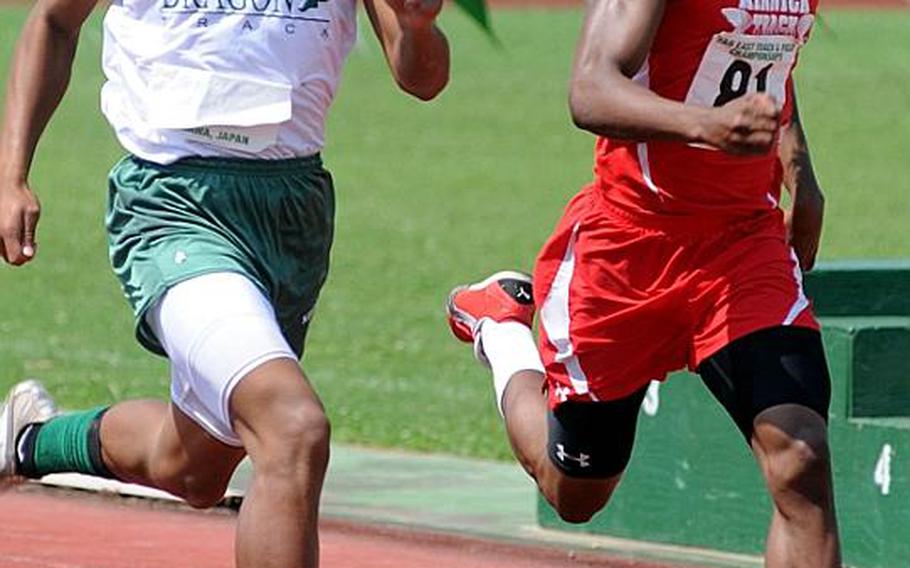 CAMP FOSTER, Okinawa – A.J. Watson pushed toward the finish line, running for all he was worth into the teeth of a southerly wind gusting at times to 20 mph.
"Head down, body straight. Imagine myself cutting through the wind, fighting through the wind," the Kubasaki Dragons junior sprinter told himself as he pounded for home at Mike Petty Stadium.
He clocked 11.18 seconds in the 100 during Saturday's season-opening Okinawa Activities Council track and field meet.
A wind-hindered 11.18.
What his coach Charles Burns referred to as a mid-season time.
This, on top of a 22.81 in the 200, plus victories in two relays. All wind-hindered. And within striking distance of two Pacific records, 10.6 in the 100 and 21.4 in the 200.
"I was thinking I could go 10.6 or 10.5" if there were no wind, said Watson, who last year ran a wind-aided 10.49 at Ryukyu Middle School.
What of the 200? "Last year, I ran a 21.8; I can beat that," he said.
And the 400? "Maybe a 52.5," he said.
It's that need for speed that has propelled Watson to the top of the Pacific's sprint heap. The reigning Far East meet's 100- and 200-meter champion, Watson hopes to add the 400 to his pile of gold come the next Far East meet in late May, also at Mike Petty.
If there is one.
Last week's devastating earthquake in northeastern Japan and its aftermath, with military resources tied up in the relief effort, with gasoline and transportation shortages and questions of radiation concerns, have called into question whether there will be a Far East.
It's something Watson says he wants before he transfers to South Carolina this summer, something to prepare him for stateside competition. "If that happens, it's going to be a big upset," Watson said of the chances of Far East being called off.
DODDS Pacific officials said a final go or no-go for Far East spring tournaments will likely be issued at the start of spring break April 8.
If Far East ends up a no-go, the region will "probably miss one of the best performances by any kid in the Pacific in history and in the top 10 in the United States," Burns said.
Watson's 11.1 in last year's Far East 100 put him in the top 12 among sprinters overseas, according to Athletic.net.
Such success didn't come early for Watson, who as a freshman won a couple of races here and there.
"He was sort of like the diamond in the rough you had to shave the edges off of," Burns said. "He had the talent; you just had to bring it out of him. It took him a year before he understood. It takes hard work. And you won't win all of them."
Watson gave Kubasaki "something close" to what Burns wanted out of him, working hard and outworking the opponent, during that freshman year. But it all clicked from that point on, and he ran the table during his stellar sophomore campaign.
"He was, 'Yeah, I get it. I do have to work hard and outwork the opponent to keep the edge,' said Burns, who's coached track and field in Texas and on Okinawa for a combined 35 years. "You have to lose every once in awhile to understand. That makes a difference. That's life. The guy who works hardest wins."
Competitors, especially his chief rivals from the OAC's other major power, Kadena, have certainly taken notice.
"His legs are powerful, and he has those long strides, good leg endurance, and he's a tall kid," said Kadena senior sprinter and relay runner Shariff Coleman. "He worked on it a lot since his freshman year, then all of a sudden as a sophomore, it took off."
"He looks so beautiful, like a stallion running that 400 and he was hardly breathing," Burns said of Saturday's meet. "He's a rare breed, the kind you find once or twice in 40 years."
---
---
---
---