DODDS-Europe track - Day 2
Walker, Harris pile up gold medals
by
Kevin Dougherty
May 21, 2011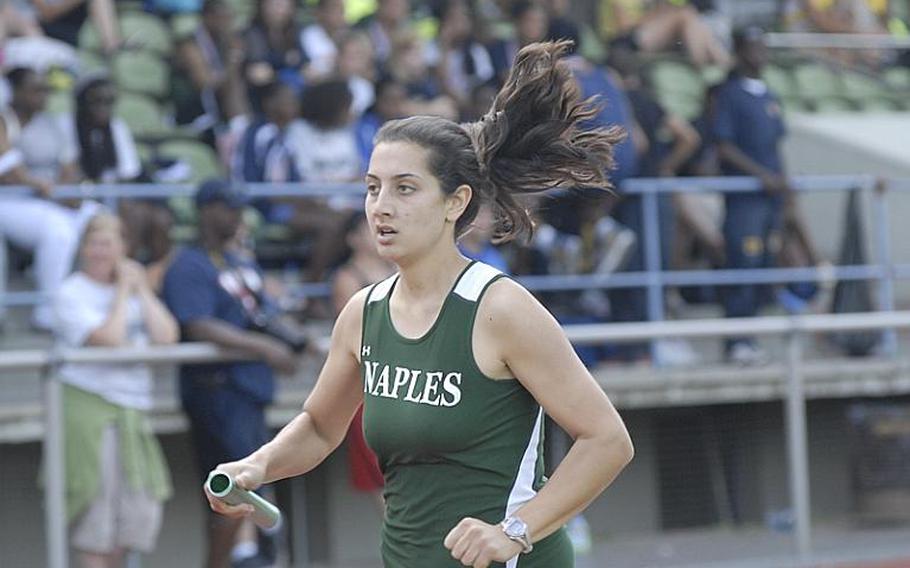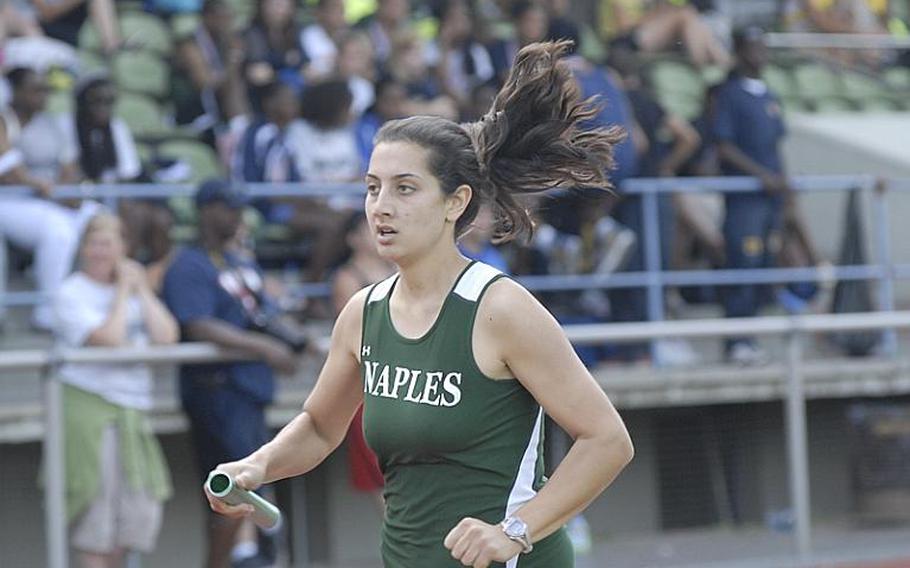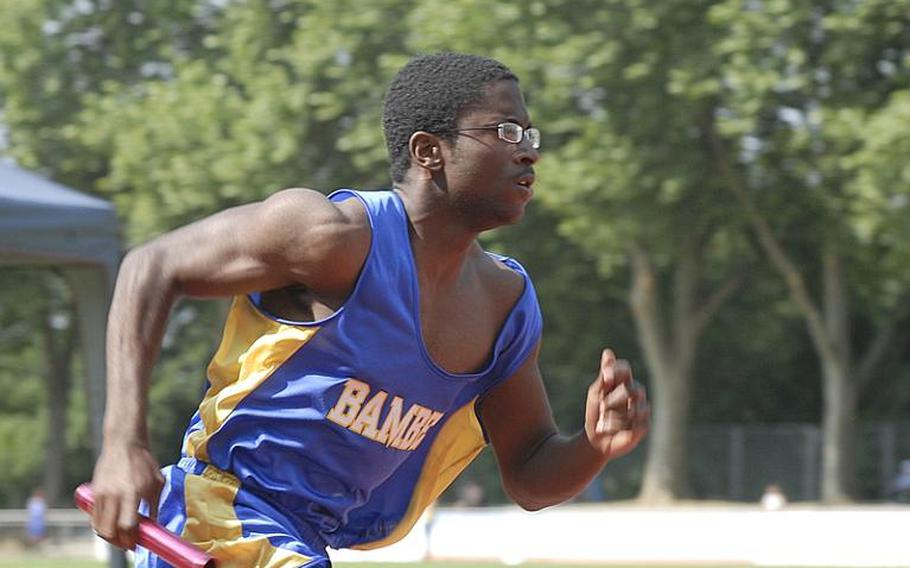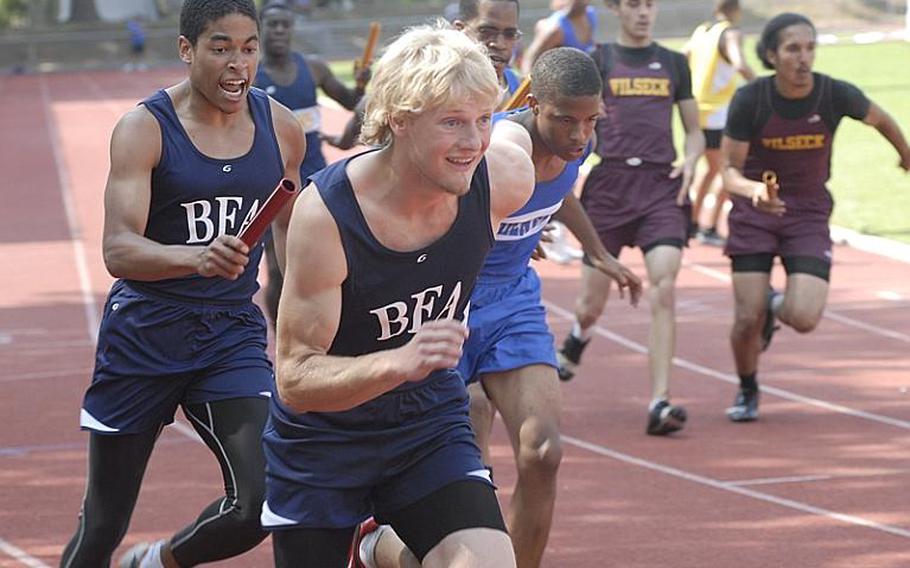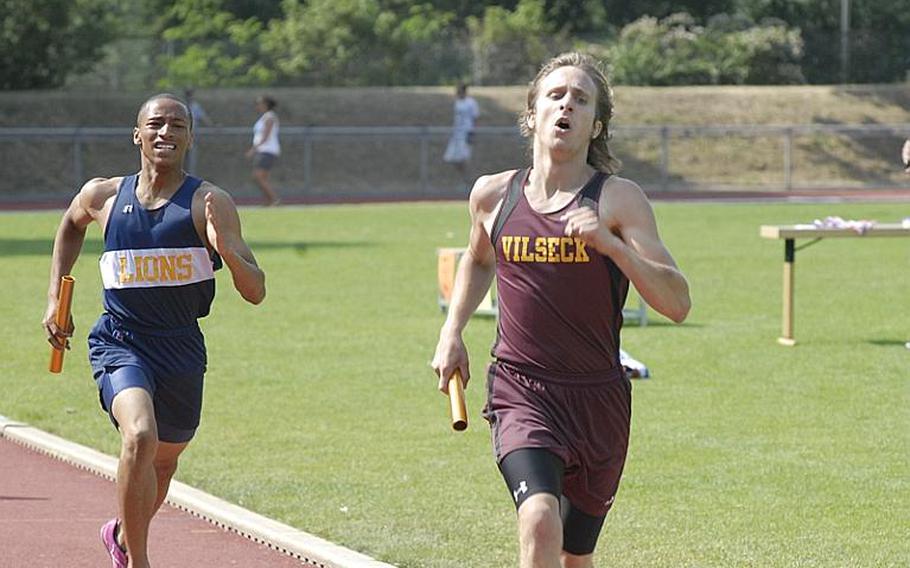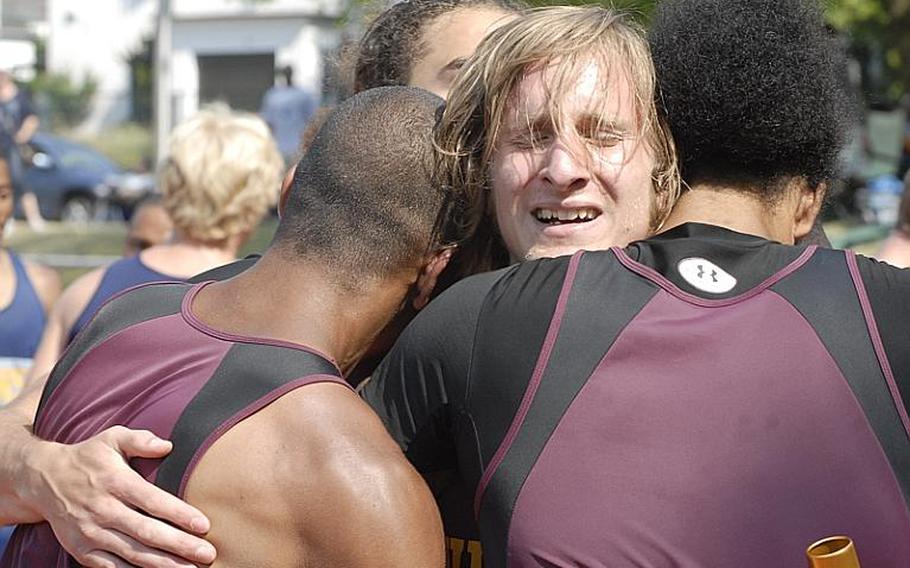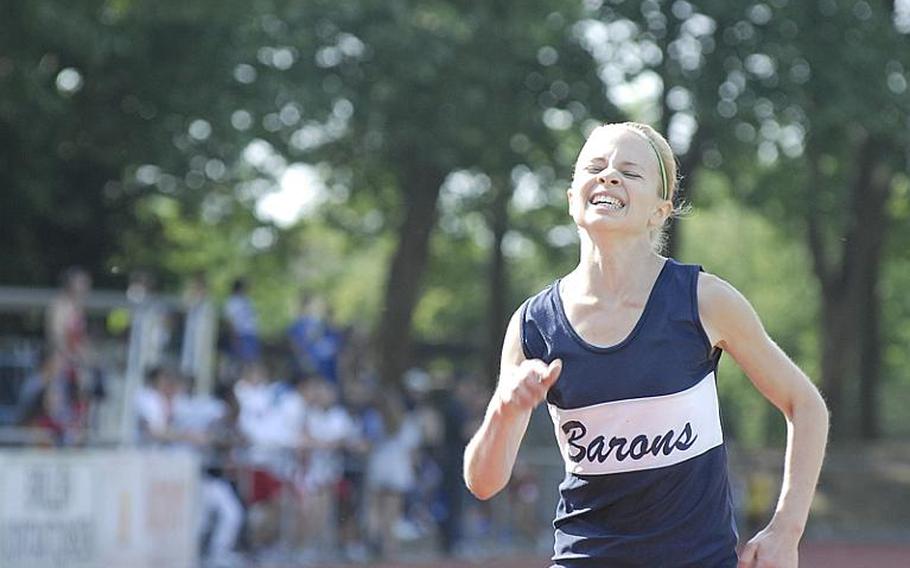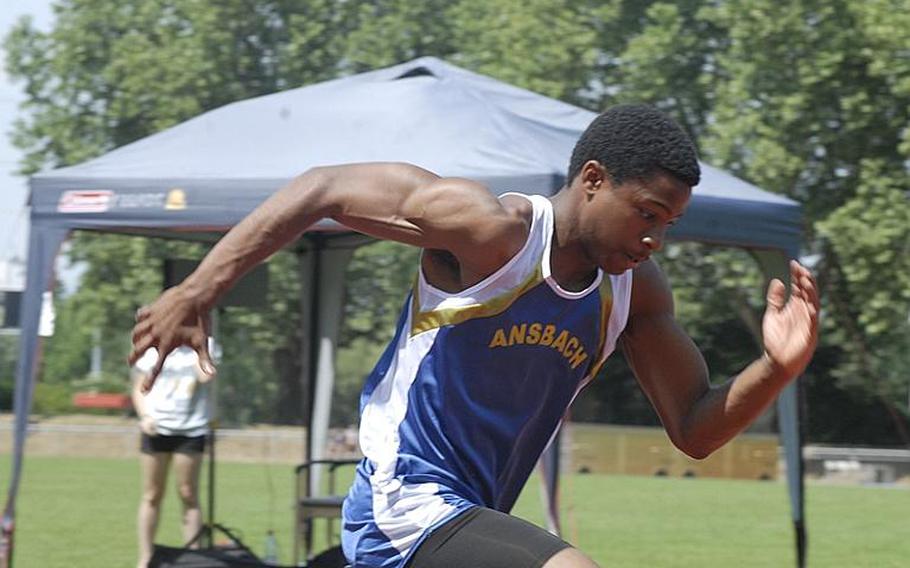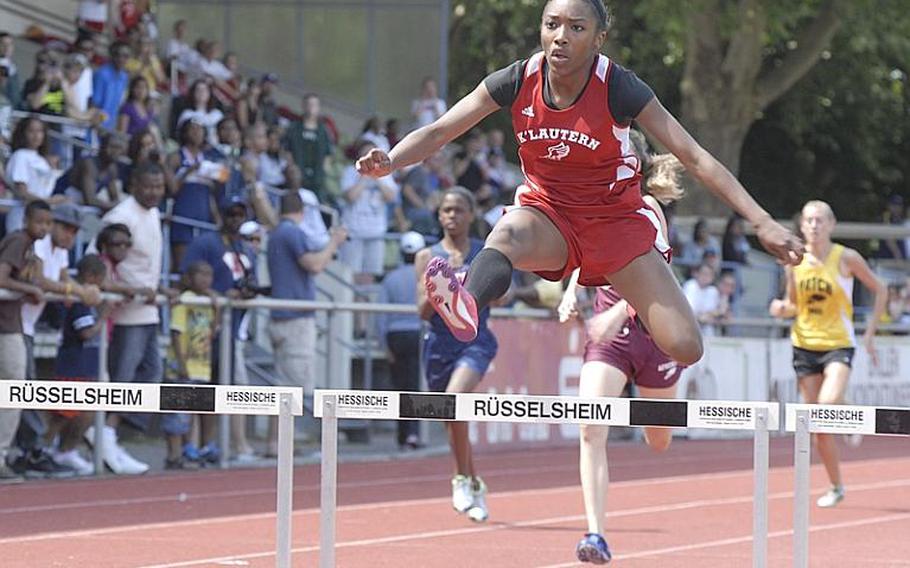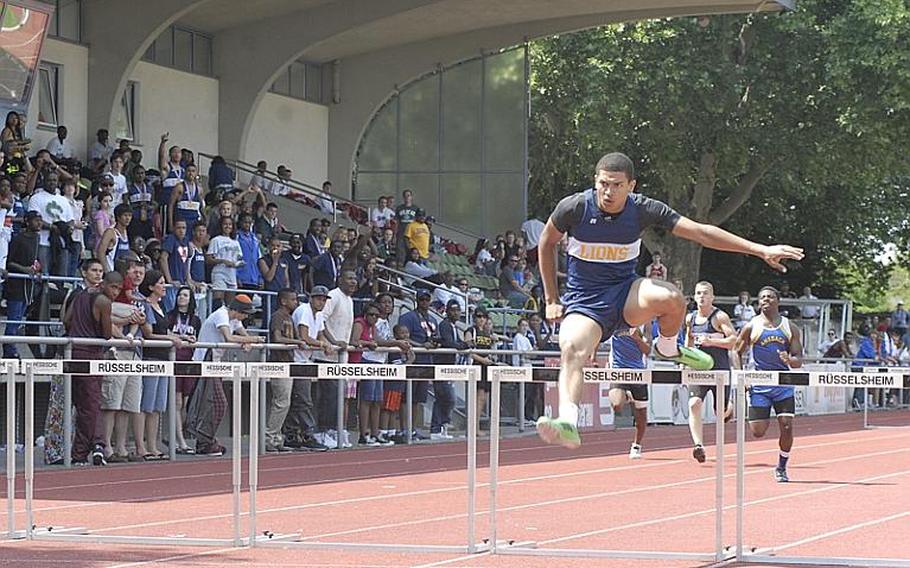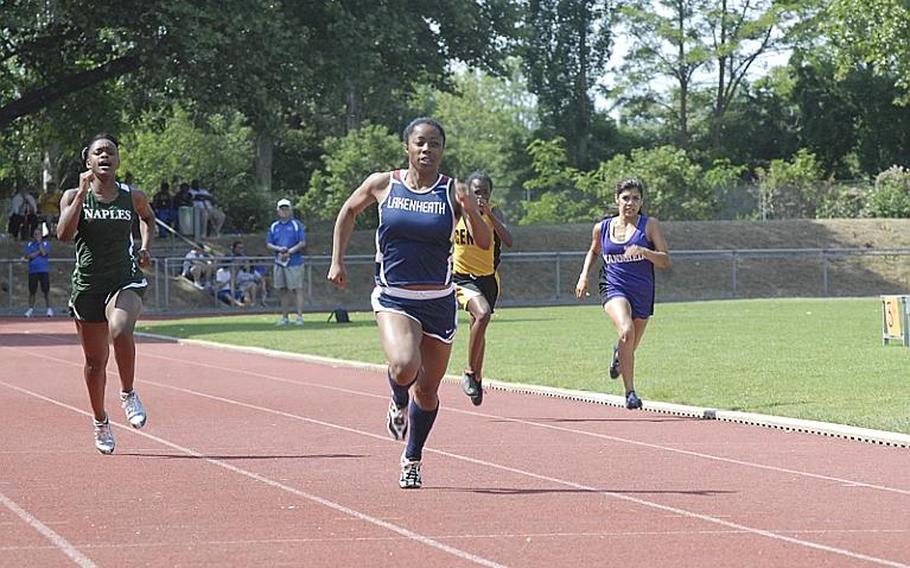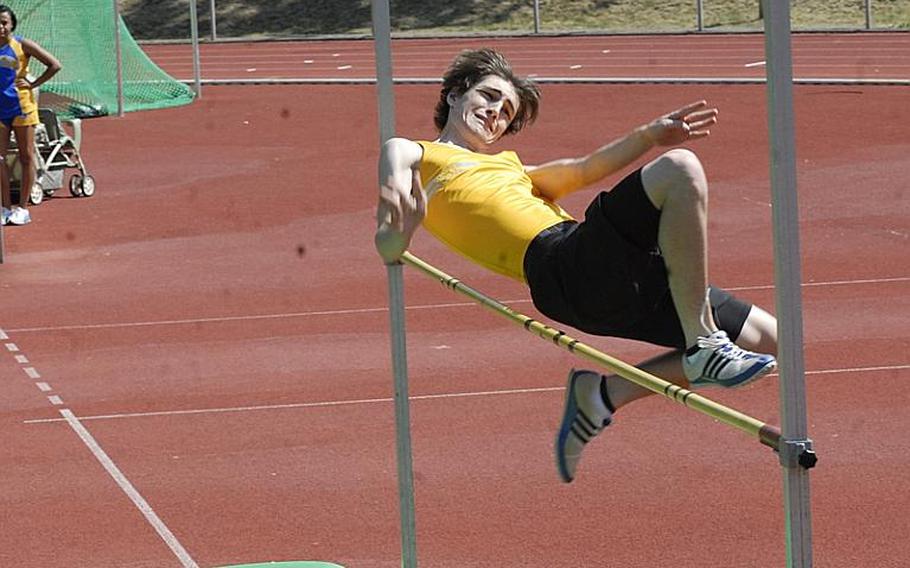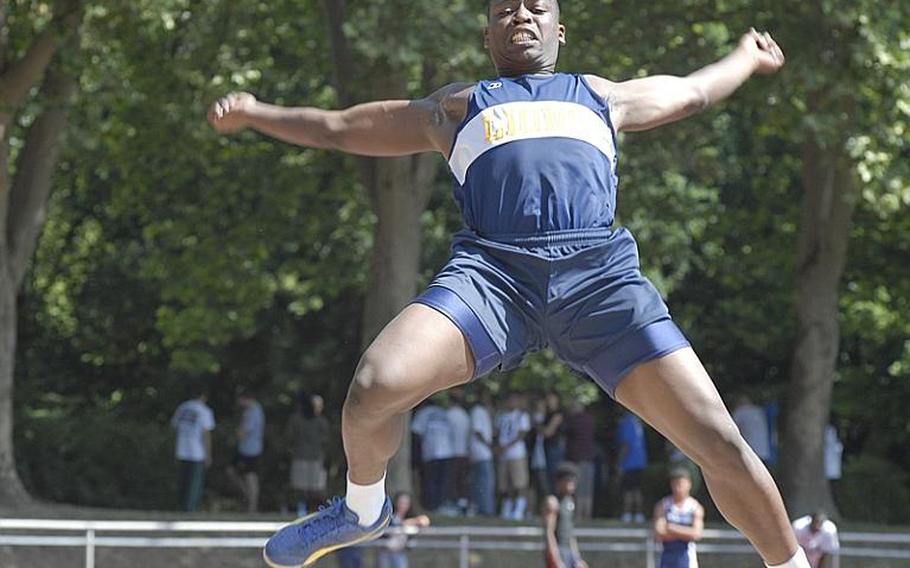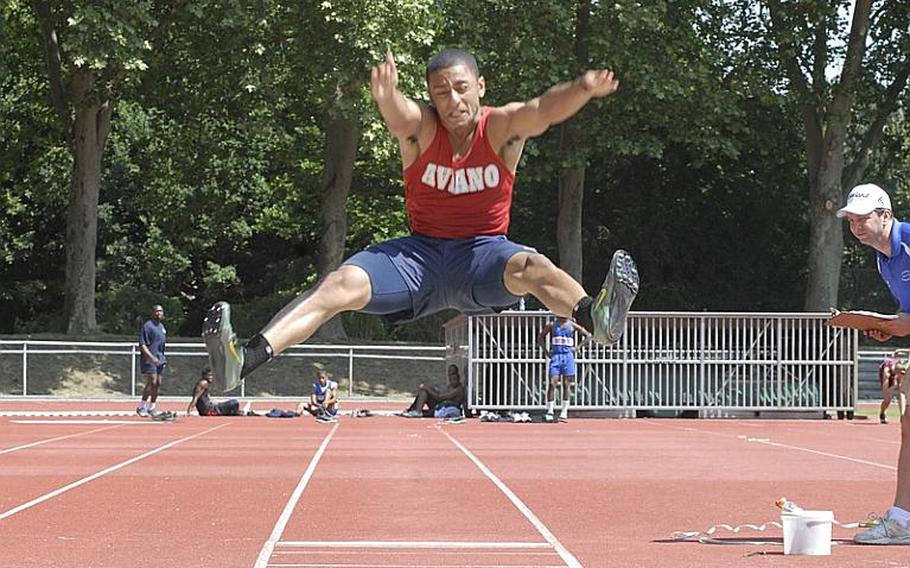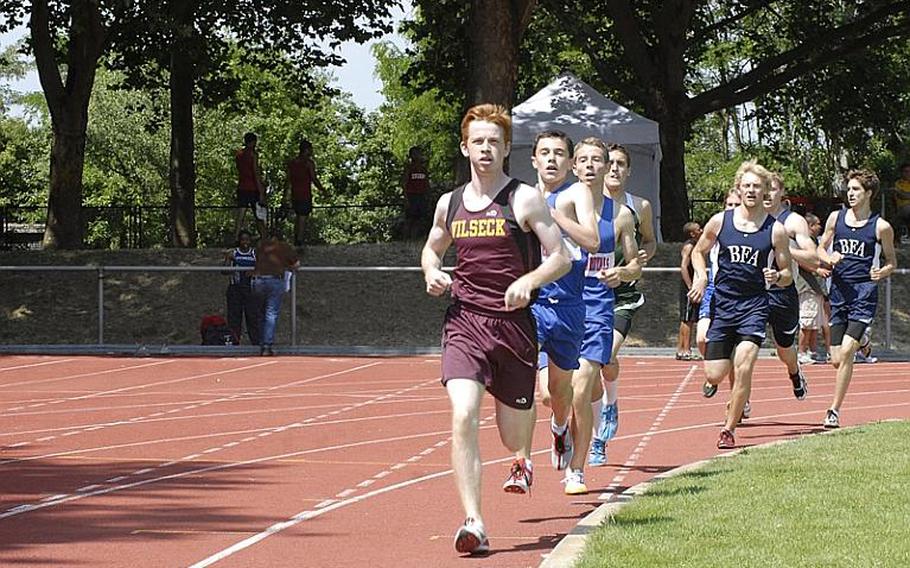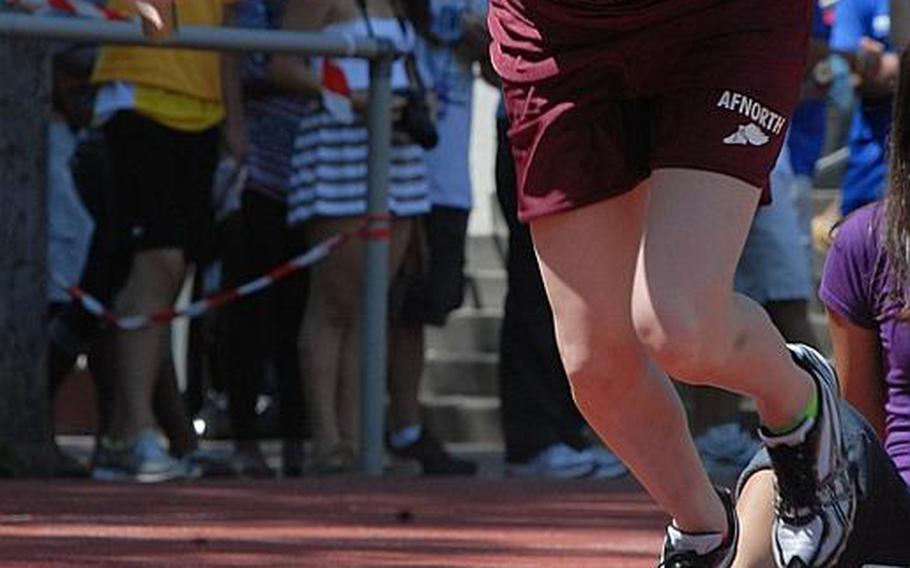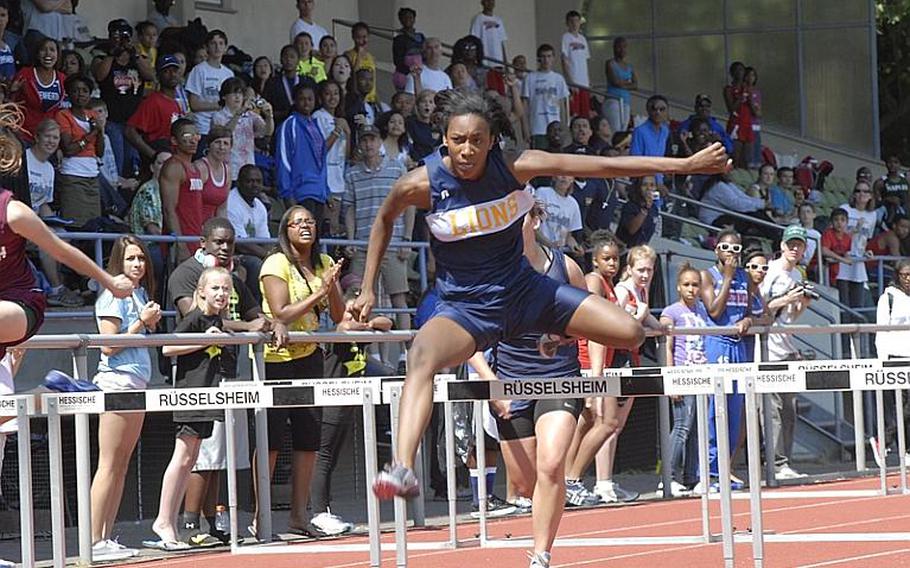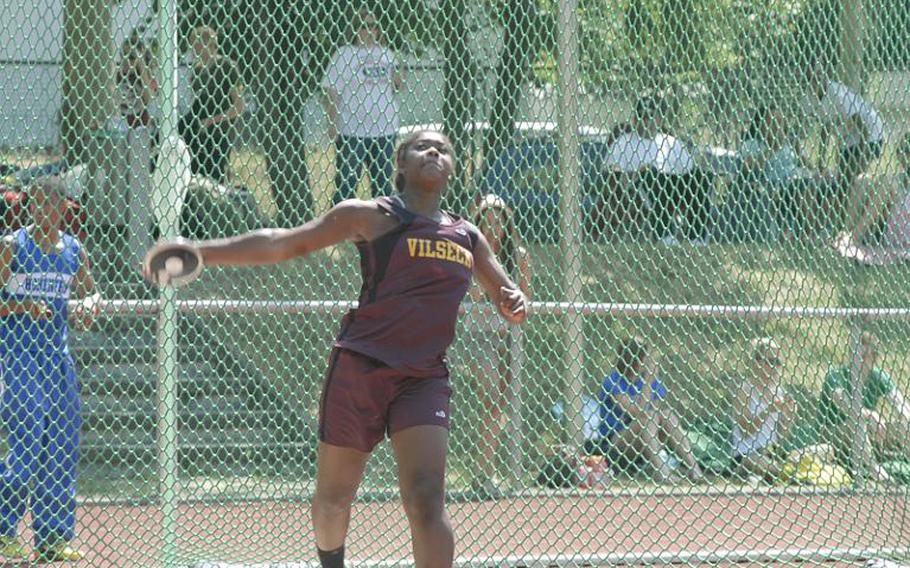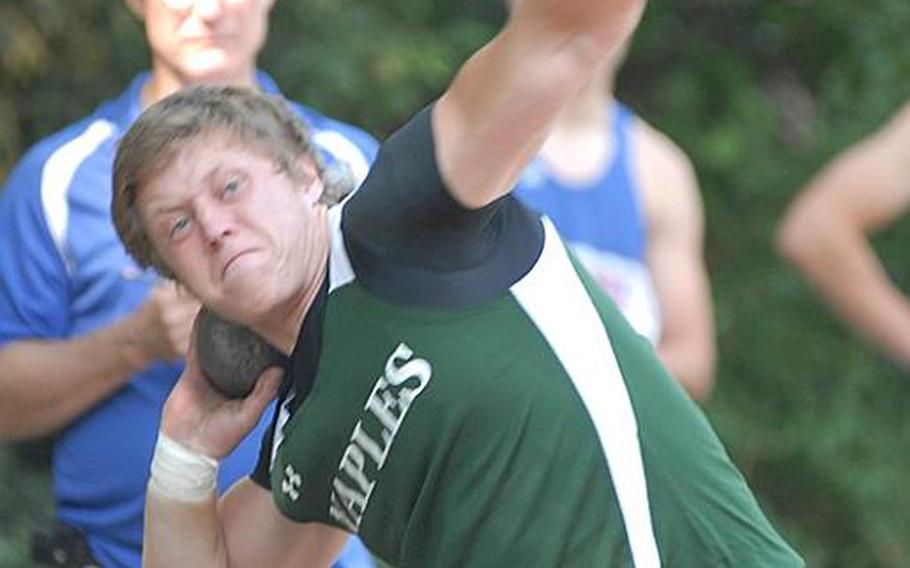 RÜSSELSHEIM, Germany — Jasmin Walker sweats the details, while Rio Harris admits to having a nervous streak.
But despite their worries the two seniors capped off a remarkable end to their high school athletic careers with four gold medals apiece in the 2010 DODDS-Europe Track and Field Championships in Rüsselsheim, Germany.
"This is the last meet of my high school career," said Harris, a member of the Kaiserslautern track team. "It's been fun: four races and four firsts."
One of her gold medals was extra special. It came as part of a record-setting performance in the girls 4x800 meter relay.
The quartet of Colleen Davis, Ruby Plummer, Ashley Santos and Harris, finished in 9 minutes, 55.02 seconds, breaking their own mark of 9:58.43 set last year. Ramstein finished second in 9:57.50 — also better than the old record.
The only other record set during the meet was in the boys 4x800 re;ay, set Friday by Black Forest Academy.
Harris also won the 800 and 400 meter races and ran anchor on the gold medal sprint medley team, an event that covers 1,600 meters.
Walker, of Lakenheath, showed how multi-dimensional a track athlete can be. She claimed the top podium spot in the long jump, triple jump, 100 meter dash and 200 meter dash.
"One little mistake can cost you the race," Walker said after migrating from the track to the sandbox for the triple jump. Walker had just completed the 100-meter dash in 12.28 seconds, a bit off the 11.80 DODDS record she had hoped to break. "I just wanted to come out fast and strong."
Jessica Edmondson of Naples and Grace Gonzalez of Mannheim took second and third, respectively, in the race.
In other championships Saturday, starting with field events:
• Dane Gray of Vilseck bested fellow senior Logan Mckee of Frankfurt International School by two inches in the boys high jump. Gray's leap was 6 feet 2 inches.
• In the boys long jump, Darien Cornett of Aviano beat out Jamil Pollock of AFNorth by nearly a foot.
• Bitburg shot putter Darian Billups held off Naples' Brennan Goodnature for a second straight year with a toss of 46 feet 9 inches.
• Mariah Morris, a Vilseck junior, won the girls discus throw by five feet over Zora Brown of Aviano.
• In the girls 100 meter hurdles, Veronique Henry of Heidelberg won the gold over Ashely Hughes of AFNORTH.
• The boys 110 meter hurdles went to Aaron Tribble-Knowles of Heidelberg, followed closely by Renanzo Williams of Vilseck.
• Andre Brown, a sophomore at Heidelberg, triumphed in the boys 100 meter dash with a time of 11.25, edging Darius Whitehead of Vilseck. Brown said his plan was simple: "Get out, stay up front and just run as fast as you can."
• Ramstein sophomore Jack Scranton won his second gold medal of the meet, this time in the 1,500 meter run. On Friday, Scranton finished first in the 3,000 meter race.
• Mannheim, participating in its last DODDS track meet, took home the gold in the girls 4x100 meter relay. The relay team featured Jackie Headley, Grace Gonzalez, Infinity Baisden and Kadedra Lea. The girls said they spent all season setting their sights on this event. "This was our last year," Gonzalez said, "We wanted to bring the gold medal to Mannheim."
• Vilseck won the boys 4x100 meter relay with a time of 43.63. The team consisted of Darius Whitehead, Eddie Stokes, Daniel Arroyo and Shawn Peebles. "We expected to win," Peebles said.
• The boys 400 meter dash went to Derrick Flake of Ansbach, followed by Jaap Vangaalen of Ramstein and Lamar Benjamin of Hohenfels.
• Ashley Santos of Kaiserslautern won the girls 300 meter hurdles. Finishing second was teammate Plummer and Ashely Hughes of AFNORTH.
• David Hoke of Heidelberg beat out Michael Johnson of Ramstein in the boys 300 meter hurdles.
• In the boys 800 meter run, Trevor Hope of BFA prevailed over Tyler Holderby of Vicenza and David Lance of Vilseck.
• Eddie Stokes of Vilseck won the boys 200 meter dash, beating out teammate Darius Whitehead. "It was close," Stokes said. "You have to have a good mindset when it comes to these things."
• Kaiserslautern won the girls sprint medley, while the boys version of the race went to Vilseck.
• The girls 3,000 meter race went to Kaitlyn Miller of Bitburg. She stumbled just a bit at the beginning, but righted herself and went on to beat a talented and determined foe in Jessica Kafer of Ramstein.
• In the 4x400 meter relay, the AFNORTH girls claimed the gold while the Heidelberg boys nudged out the Vilseck team in a thrilling race. Just 12 1/100ths of a second separated the two teams. "I wasn't going to accept second place," said Heidelberg's Sharaud Gallman, who ran anchor.
In the team standings, Kaiserslautern finished first in Division I girls with 97 points, followed by Ramstein with 88 and Patch with 52. Heidelberg won the boys race with 102 points, followed by Vilseck with 97 and Ramstein with 89.
In D-II girls, AFNORTH won with 46 points, followed by Mannheim and Naples. Black Forest Academy led the boys with 35 points, followed by Naples and Hohenfels. Division III results are pending official review.
---
---
---